After green fields, stone walls, blue-flag beaches, and ancient monuments, one of the most iconic features of the Irish countryside is the traditional thatched cottage. Their sturdy painted walls, expertly crafted thatched roofs, and smoking chimneys are the visual embodiment of "Cead Mile Failte," one-hundred thousand welcomes.
Irish thatched cottages are the products of centuries of history and tradition, passed down through the generations. The materials used in construction varied depending on the era, region, and resources. Walls were made of lime mortar or mud tempered with strengthening agents. For the roofs, overlapping layers of sod were placed on the timbers and topped with straw thatch, derived from a variety of materials such a wheat and flax, carefully cut and threaded by a thatcher. As many as 5,000 handfuls of straw were needed to complete a roof.
In the 1800s, as much as half of the population of Ireland slept under thatched roofs, but today these beauties make up less than 0.1% of Ireland's housing stock. Fortunately, a lot of the work to preserve these precious landmarks is being done by people who want to share the joy and let visitors experience a day in the life of a traditional Irish thatched cottage.
Whether you're there for a night's stay, a meal, or a lesson in history, these cottages all around the island of Ireland have a magical experience in store.
Read more: Northern Ireland and Game of Thrones tours
14
Katie's Claddagh Cottage, located in the heart of the famous old fishing community the Claddagh on the west bank of Galway's River Corrib, provides visitors with fabulous insights into what life was like in the west of Ireland a hundred years ago.
14
Visitors to Katie's Cottage, a short 0.2 mile stroll from the medieval heart of Galway, are guaranteed a friendly welcome, a warm cup of tea, and a chance to imagine what life was like in the Claddagh two centuries ago. Every last detail from the open fire to the sash windows and half door is as it was 200 years ago, painstakingly sourced by owner Mike Walsh. The cottage is open each day to the public and hosts storytelling evenings, trad sessions, and private events.
14
The Belcarra Eviction Cottage, in Elmhall, Belcarra, County Mayo, was the home of the Walsh family for generations until they were evicted by the local landlord's agents, named Gardiner, Pringle, and Cuffe, in October 1886. Theirs was the last eviction in the area.
This cottage has been restored as a heritage center and has been lovingly decorated to look just as it would have before the eviction. Included in its walls are Belcarra's History of Place Names, Griffith's Valuation of 1848, the 1901 Census of Elmhall and Belcarra, and headstone inscriptions from local graveyards. You will come away with a real understanding of the local history.
Read more: Kerry and the Wild Atlantic Way tours
14
All the charm of a historic thatched cottage combined with modern amenities makes this the ideal place to stay. Located near the town of Ballymoney and the famous Bushmills Distillery, this two-story, three-bedroom cottage is the ultimate getaway. Relax in front of an open peat fireplace, cook on a real AGA stove, relax in a luxurious bath, or peer over your traditional cottage half-door at the lovely landscape outside.
Bushmills Cottage is also an excellent starting point for visits to the Giant's Causeway and the Carrick-a-Rede Rope Bridge, or a stopping point for a couple days' road trip traveling the Causeway Coastal Route or Wild Atlantic Way.
14
Walk through the centuries in Glencolmcille Folk Village, a local labor of love since the 1960s that features dwellings from the 1700s through the 1900s, giving you a comprehensive view of life across the centuries in rural Ireland.
Visitors can explore independently, but a guided tour will provide a warm Donegal welcome and an expert look at how Irish ancestors cooked, slept, kept house, and spent their days.
14
It doesn't get more unique or immersive than this! Located on Heir Island in the southwest of County Cork, Island Cottage Cookery School is a restaurant, cookery school, and dream getaway all in one. Owned and run by John Desmond and Ellmary Fenton, the cottage runs a highly regarded restaurant featuring fresh and local food, but the real jewel in their crown is the two-day cookery courses for two people with accommodation provided in their beautiful historic cottage.
Looking for a longer learning experience? They also offer intensive one-on-one four-day courses in July and August. Not into cooking for yourself? John and Ellmary will also run a private dinner party for you and your guests, taking care of every detail.
Read more: Dublin and surrounding areas tours
14
At Ulster American Folk Park, you'll get a comprehensive and thrilling look at the story of immigration from Ireland to the US, and it all starts in a single-roomed thatched cottage. 
Immerse yourself in the story of Irish emigration at the museum that brings it to life. With 30 buildings and exhibits to explore, experience an adventure that takes you from the thatched cottages of Ulster, on board a full scale emigrant sailing ship, to the log cabins of the American Frontier. An array of costumed characters will guide you on your way with traditional crafts to show, tales to tell and food to share.
14
This sunshine yellow thatched cottage will put a smile on anyone's face, but imagine how cheery you'd feel starting your day there! This dream accommodation in the picturesque town of Adare, just 9 miles from Limerick City, is the ideal self-catering option for those looking to have a traditional experience without sacrificing modern amenities. 
With a private garden, sitting room, and 3 bedrooms, the cottage can comfortably sleep five people. It has been lovingly restored and cared for by master thatchers. Adare, a 40-minute drive from Shannon Airport, is a great home base for exploring Ireland's Shannon region. 
Read more: Galway and the West tours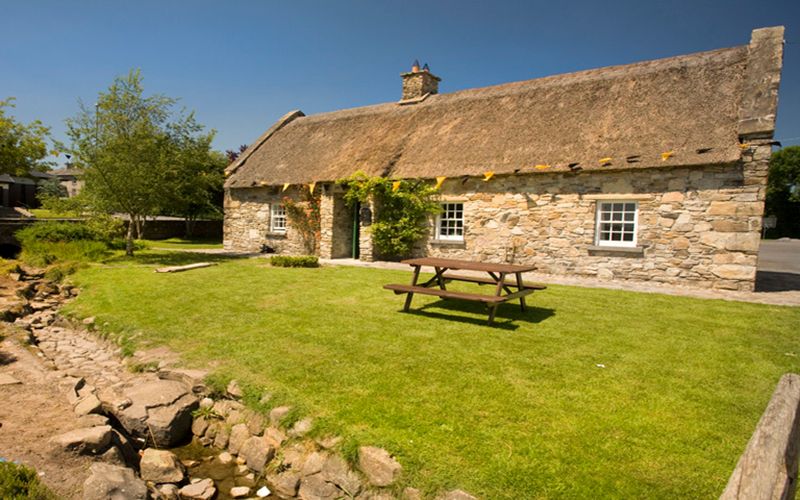 14
The Poets Cottage is in the picturesque village of Camross, Co. Laois. A painstakingly constructed and stunning replica of a traditional 1800s Irish thatched cottage, Poets Cottage allows visitors to imagine what day-to-day life was like in this corner of Ireland 200 years ago.
The cottage is named after the poet Patrick Ryan, who lived in Camross from 1750 to 1825. He wrote about the natural beauty and the people of this community.
14
Irish history buffs will be in their element in this corner of the Connemara Gaeltacht where Padraig Pearse, leader of Ireland's 1916 Easter Rising, lived and taught for many years. Pearse built a cottage for himself here in 1909, on Loch Oiriúlach.
Today it is preserved just as it was when he left it in 1915 to fight for Ireland's freedom. A visitor center houses an interactive exhibition dealing with Pearse's life, legacy, and relationship with Connemara.
14
Walk back in time and straight into life in a 19th-century Irish village and its main trades: farming and harvesting turf. A cluster of thatched cottages is furnished with authentic antiques and the sights and sounds of the era, while the outdoor exhibitions feature farming and turf cutting equipment, as well as real-life bog ponies.
Read more: Mayo and the Cliffs of Moher tours
14
This is a wonderful stop along the Ring of Kerry for folks of all ages, and be sure to save some time to stop at the Red Fox Inn for food and drink.
Curious to learn more about Ireland's thatched cottages? View more attractions on Ireland.com
This post is proudly produced in partnership with Tourism Ireland. 
14