Calling all O'Neills! With one of the most popular and historic surnames in Ireland, there are plenty of places throughout the Emerald Isle that will have special meaning for you.
Editor's note: Throughout June, IrishCentral in partnership with CIE Tours International is celebrating the O'Neills and the many great people who share the Irish last name. We'll be looking at some of the most successful O'Neills and the places in Ireland you should visit associated with the surname, starting off with this explainer of all you need to know about the Irish family name from its meaning to the most interesting facts. 
The last name O'Neill comes from the Irish Ó Néill or Ui Neill in Gaelic, which translates to "son of Niall" or "descendant of Niall." Specifically, The O'Neills take their name from Niall Glúndub, an early 10th-century High King of Ireland from the Cenél nEógain, descendants of Eógan mac Néill and a branch of the Uí Néill dynasty. In turn, this dynasty got their name from Niall of the Nine Hostages, a legendary 5th century King of Tara and a fearsome warrior.
Today, variations of the name include O'Neal, O'Neil, O'Neall, Ó Neill, Ó Néill, Ua Néill, Uí Néill, Neill, Niall, and Neal, so if one of those is one of your family's names these locations certainly apply to you, too.
Whether you're searching for your roots, planning a family vacation, or looking to see Ireland through a new lens, these locations in Ireland have strong links with the O'Neill name.
CIE Tours International offers personalized tours for guests with their own private driver, so ancestry enthusiasts and otherwise can experience a truly unique, exploration of their family roots. Find out more here. 
The Hill of Tara
8
Already a top priority for many visitors to Ireland, the Hill of Tara is an especially important place for any O'Neill. It's where Niall of the Nine Hostages ruled from in the late 4th and early 5th centuries since, according to tradition and myth, it was the seat of Árd Rí na hÉireann, or the High King of Ireland. The Hill of Tara is an ancient burial and ceremonial complex that runs between Navan and Dunshaughlin in County Meath, regarded by many as the most significant archaeological site in Ireland.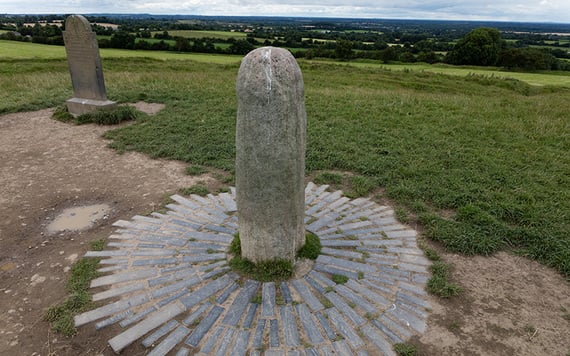 8
Legend has it that the Lia Fáil - "Speaking Stone" or "Stone of Destiny" - which sits atop the inauguration mound at Tara will roar with approval when the rightful High King of Ireland touches it. Irish myth tells us that this last happened with Brian Boru in 1002, but who's to say the right person - an O'Neill, perhaps? - just hasn't set foot on it since?
Shane's Castle
8
A ruined castle near Randalstown in County Antrim, Northern Ireland, Shane's Castle sits on a bluff offering stunning views over Lough Neagh. It was built in 1345 by a member of the Clandeboye O'Neill dynasty and originally bore the name Eden-Duff-Carrick. In 1722, Shane MacBrien O'Neill changed the name to Shane's Castle.
O'Neills who are fans of Game of Thrones are especially in luck - Shane's Castle was one of the many filming locations used by the HBO series in Northern Ireland. It also hosts game and vintage steam engine fairs, in addition to music festivals.
Dungannon
8
Today it's the third-largest town in County Tyrone. But for centuries, until the 9 Years War and the Plantation of Ulster in hit in the late 1500s - early 1600s, Dungannon was the main stronghold of the O'Neill Dynasty in Ulster. In the 14th century, Domnall O'Neill built a castle on one of the highest points in the area. The castle burned down in 1602 as a defensive measure, when forces for the Crown closed in on the O'Neill chieftains at the end of the 9 Years War. Hugh O'Neill left Ireland in 1607 with the Flight of the Earls, and Sir Arthur Chichester was granted Dungannon and the surrounding area. During the 1641 Irish Rebellion, Sir Phelim O'Neill attempted to reclaim Dungannon for the O'Neills and the Irish, but the rebellion was ultimately quashed.
The remains of Dungannon Castle were excavated in 2007 and can be seen today. The Hill of The O'Neill and Ranfurly House Arts & Visitor Centre in Dungannon tell the history of the O'Neill's dynasty and impact on the area, and include a glass tower with 360-degree panoramic views of the counties of Ulster, exhibitions, guided tours, a theater, and a coffee shop.
Tullyhogue Fort
8
Four miles northeast of Dungannon is Tullyhogue Fort, an Iron Age mound where O'Neill chieftains were traditionally inaugurated or crowned. In a special ceremony involving a golden sandal thrown over the head to symbolize prosperity and the Leac na Rí boulder (Tullyhogue's version of the Stone of Destiny), the title An Ó Néill ("The O'Neill") was bestowed upon each new lord. Refurbishment work at Tullyhogue was completed a few years ago, with a new car park, informational signs, and a pathway up to the fort.
O'Neill's Pub, Dublin
8
It isn't every day that you get to have a pint or a meal at a pub with your name on it! Founded in 1713, O'Neills has been serving Dublin patrons for over 300 years. It is centrally located on Suffolk Street, around the corner from Temple Bar and close to Trinity College Dublin and Grafton Street, making it the perfect place to relax after a long day of sightseeing. O'Neills itself is a sprawling, historic place full of nooks and crannies, so make sure you take some time to explore.
O'Neills International Sportswear
8
If you've ever seen an Irish sporting jersey, you've probably seen a logo reading O'Neills emblazoned on it. That's because O'Neills is the largest manufacturer of sportswear in all of Ireland. Whether you're an avid athlete or sports fan, or you just get a kick out of having a bit of O'Neills memorabilia to take home, stop in to one of the many locations throughout Ireland and Northern Ireland. You can find O'Neills shops in Belfast, Strabane, Enniskillen, Cork, Dublin, Craigavon, Newry, Dungannon (double O'Neill points!) and Magherafelt.
CIE Tours International offers personalized tours for guests with their own private driver, so ancestry enthusiasts and otherwise can experience a truly unique, exploration of their family roots. Find out more here. 
Do you have other places in Ireland that are of importance to the O'Neills to recommend? Let us know on social media.