From spectacular "Blue Flag" beaches to bleak but mesmerizing bogland, Mayo musters up one wow moment after another. 
County Mayo is considered one of Ireland's must-see destinations and with good reason. It has all of the things that make the island of Ireland special: cozy and inviting towns and villages, historical sites that are rich with stories and heritage, and of course, stunning, sprawling landscapes that are fit for a postcard.
Ballina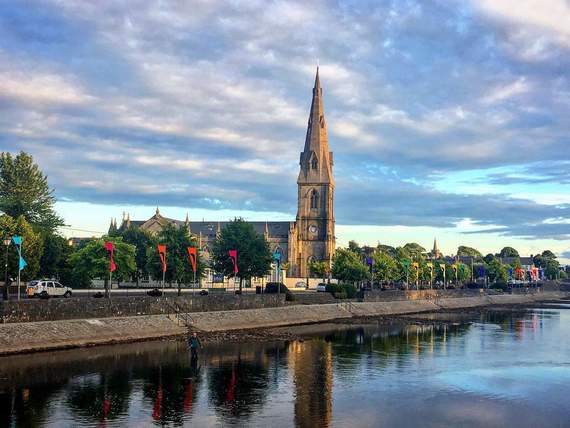 3
Framed by the Ox and Nephin Beg Mountains, Ballina was founded in its present incarnation by Lord Tyrawley in 1723. A settlement existed on the banks of the River Moy long before this, however - a fact that echoes other hidden depths awaiting discovery around the town. Ballina has three heritage trails, red (3km), blue (3km), and yellow (3km) routes, all of which take about 90 minutes to walk.
The blue route centers on Belleek Manor, built by the Knox-Gore family in the 1830s and now a hotel, and the Ice House, a design hotel cascading down the Moy riverbank. It was originally built in 1859 to freeze and pack salmon for export. At the north end of Ballina, you'll also find the derelict old hull of the Creteboom, a concrete tugboat built in response to the shortage of steel in World War I.
Brought to the estuary in 1937, it has remained a curiosity to this day. The yellow route ranges southwest of the town to sites including a large, famine-era workhouse, the Methodist church, and Ballina Dolmen. Dating from around 2,000 BC, the dolmen is reputed to be the burial place of the Four Maols, a band of brothers who murdered a bishop in the 7th century and were hanged at Ardnaree for their crime. Ballina's red route explores the town center, crisscrossing the Moy as it passes the old provincial bank, St Muredach's Cathedral, and the remains of an Augustinian abbey.
The Humbert Monument, erected in 1898 to commemorate the 100th anniversary of the French landing at Killala Bay, was unveiled by Maud Gonne - who went on to pour water over another speaker's head. Ballina's main streets slope down to the River Moy, and in season, you'll often see anglers on its bridges. An annual salmon festival is held in July and, from a distance, the Salmon Weir Bridge seems to trace the curve of a fishing rod.
Westport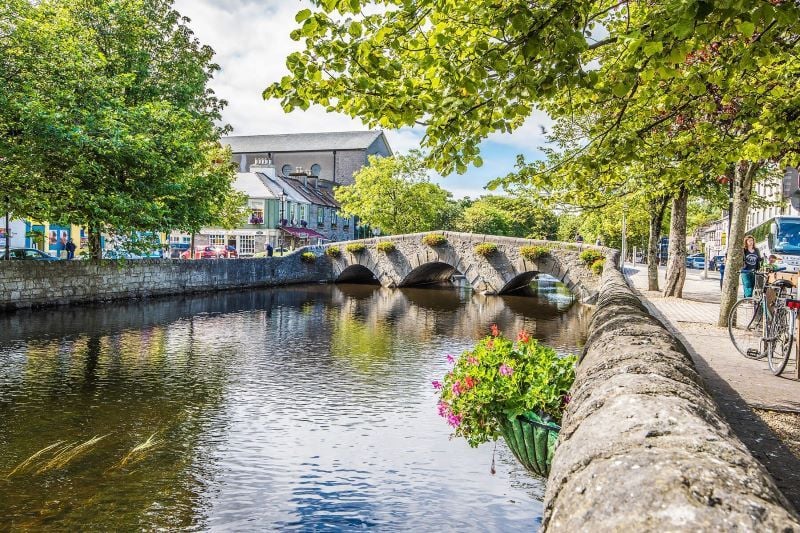 3
Few places combine natural beauty, 18th-century elegance, and incredible outdoor activities quite like Westport. Located along the Wild Atlantic Way in a rugged corner of County Mayo, this genteel town is the kind of destination that serves up such a myriad array of activities that it's hard to know where to start… Should you cycle to the wild Atlantic island of Achill along the Great Western Greenway? Snorkel along an intriguing trail off the stunning Old Head beach? Hike up Croagh Patrick in the footsteps of Ireland's patron saint? Or simply settle down beside the fire in a traditional pub with some cracking tunes and a pint?
Sitting pretty under the watchful eye of Croagh Patrick, Westport is pure charm. Wander along the Mall, a delightful tree-lined promenade with chunky stone bridges that arc over the waters of the Carrowbeg River, and it's easy to imagine what this town must have been like in the 18th century. Designed and created as a place to live for the workers and tenants of John Brown from Westport House in the 1780s, the streets reverberate with history, and the colorful shop fronts give it a surprisingly jolly appearance.
Stroll out of town along Quay Road and you can see how the other half lived at Westport House itself. Boasting an incredible location surrounded by parkland and with views of Clew Bay, Achill Island, and the Atlantic Ocean, the 18th-century house and gardens serve up everything from exquisite interiors to a hawk walk through forest trails at the Birds of Prey Centre. Of course, before John Brown arrived, Pirate Queen Grace O'Malley ruled these lands, and the house you see was built on the foundations of one of her castles – you can even tour the dungeons today.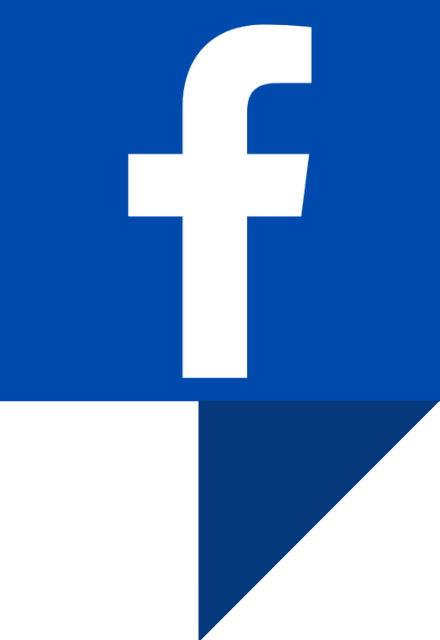 Traveling to Ireland
Are you planning a vacation in Ireland? Looking for advice or want to share some great memories? Join our Irish travel Facebook group.
Back in town, Westport is chock-full of great places to eat, drink and be merry. Want to unearth the true essence of this west coast gem? Head to one of its warm, welcoming, and toe-tapping traditional music pubs. Locals and tourists alike hotfoot it to trad-favorite Matt Molloy's for a pint, a few tunes, and a good dose of "craic" (fun). The nightly music sessions have garnered a legendary reputation, but if you can't find a space within this cozy bar, try the lovely little Hoban's, McGing's, or The Big Tree instead.
As you'd expect from a destination that has an abundance of nature on its doorstep, Westport has a strong food culture. Here you can feast on a wealth of seafood, cheeses, sea vegetables, and local meats that have been crafted into delightfully creative dishes. Head to An Port Mór for favorites such as marinated rump of Mayo lamb, west coast crab salad, and smoked Connemara salmon. Or try Sage Restaurant, with Aran Island goat's cheese, Killary Fjord mussels, and Clew Bay scallops. Pub-wise, don't miss The Tavern on the edge of town – it's a great, laid-back spot with a strong food pedigree, and for something slightly different mosey along to The Gallery Wine and Tapas Bar. With a long list of eco-credentials, the boutique wine bar specializes in natural wine and natural food, with Wild Atlantic food boards, artisan Irish cheese, and wild Atlantic fish.
Nature has sculpted the landscape around this part of the west coast into an intriguing mix of islands, bays, beaches, hills, mountains, and craggy coastline, all just a short hop from Westport. Take enigmatic Clew Bay, where islands are scattered like jewels across a grey-blue sea, making it an incredible destination for paddleboarding to snorkeling. You can take a boat trip out to Clare Island, the ancestral home of Grace O'Malley; sea kayak on the Achill Blueway or go surfing at Belmullet. And, of course, if you like your beaches secluded, check out Dooagh on Achill Island. After 30 years underwater, it reappeared in 2017 as a butter-colored shoreline that's perfect for quiet walks and spectacular ocean vistas.