A pilgrimage of history in a corner of the fair county of Roscommon.
The last High King of Ireland, first President, greatest epic and most dearly-loved writer of comic songs are all associated with the same corner of County Roscommon. They are remembered in a variety of ways and places and our tour will be something of a pilgrimage in their honor, beginning and ending at Clonalis, the ancestral home of O'Conor family, descendants of 12th century King Rory.
The demesne is on outskirts of Castlerea, to right on road to Ballinlough, Clonalis is a very unusual building. In the first place, a great majority of Irish stately homes built in the 18th century were built in Palladian style, but Clonalis is Italianate and 19th century, designed by English architect Frederick Pepys Cockerell and completed in 1880. You approach it by a wonderfully long avenue, passing through woodland and green pasture.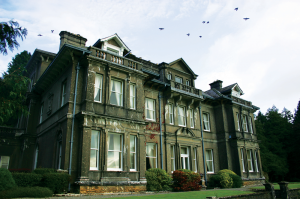 3
Its second claim to fame is its combination of a family home with a treasure-house of gracious rooms, fine furniture, ancestral portraits and an unrivaled collection of family manuscripts, amassed over six centuries. A selection of these are on display, presided over by harp which was owned and played to O'Conors by Turlough O'Carolan, last and greatest of bards of old. If you stay, you will enjoy excellent meals and hospitality – but the owners, Pyers and Marguerite O'Conor Nash, also give guided tours of the house throughout summer.
Donamon Castle, much embellished in recent centuries, claims to be oldest inhabited fortress in land
When you leave Clonalis, turn left to go back through Castlerea – where you might visit railway museum - and take a right turn on the main street for Roscommon town. This takes you for 12 miles (18 km) through the village of Ballymoe and a landscape of green fields and hedges to a large sign saying 'Donamon Castle'. You approach Donamon by an inconspicuous turn to the right where the main road takes a sharp left bend.
Read more: Top 10 interesting facts about County Roscommon
Donamon is a crossing place on Suck, a lovely lazy river which we will meet several times in course of our journey. It snakes its way gently through water-meadows, and you cross water here by one of its many delightful, old, multi-arched stone bridges. The castle, much embellished in recent centuries, looks down disdainfully on road and river and claims to be the oldest inhabited fortress in the land. Rescued from decay in 1939 by Divine Word Missionaries, it serves now as a respite home for disabled people.
Go uphill from the river and follow signposts for Castlecoote, turning left at T junction and left and left again to reach outskirts of the charming village of that name. At the roundabout, you meet gate to Castlecoote House, entrance to one of most delightful recent creations in Ireland's tourism. The avenue leads to a great white house which looks down to riverside across a lawn on which two stone towers stand, each a former corner turret of a medieval castle – destroyed in course of numerous battles of the 17th century. The house was built up from ruins of the castle but was gutted by fire in 1989.
Kevin Finnerty is a life-long admirer of songs and paintings of Percy French and has established a summer school in his honor
It might have remained in ruin but for the vision of Kevin Finnerty who bought it in 1997. A combination of loving restoration of its past glories with discreet modernization for maximum comfort has resulted in a truly delightful stately home – and that isn't all. Kevin is a lifelong admirer of songs and paintings of Percy French and has established a summer school in his honor.
You may book for B&B or rent entire premises for a conference - or just enjoy a guided tour and perhaps a contemplative stroll through woodland and along banks of the river. Before you go, check www.castlecootehouse.com for details of opening times. Cross the river in Castlecoote and driuphillill for a little more than a mile to view lonely church tower of Fuerty. It marks the site of a monastic settlement, established by St. Patrick himself, which flourished for a thousand years.
Turn right at the church and follow signposts for a little more than two miles (3 km) to an unobtrusive entrance, on a sharp bend, to Castlestrange. The remnants of a big house and its attachments stand on the skyline, but halfway up drive, in shade of a grove of beech trees, stands – or maybe squats- a rare and ancient artifact. It is a dome-shaped stone carved with graceful curving motifs, in La Tène style. Created by early Celtic people, some centuries before the birth of Christ, it is one of only three in the land.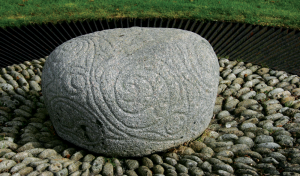 3
Turn left at next T and consider stopping at riverside café in Athleague before you take the road for Roscommon town. Go up the hill through the center of town and, after you have passed 18th-century courthouse building, look out for a well-hidden signpost to Roscommon Castle. A laneway on left brings you to a pleasant new town park with a pond and friendly ducks, in the shadow of one of most splendid ruined castles.
Its four great corner towers still stand, in spite of a dismal succession of battles and destruction which finally ended with a fire in 1690. Great masses of masonry still remain where they fell – but castle retains a marvelous atmosphere of wealth and power of a succession of warlords over four centuries. Take N61 northwards to Tulsk where you may visit Cruachan Aí, an exhibition and information center on the right as you enter the village.
It introduces you to nearby wonders of Rathcroghan, one of greatest Celtic gathering grounds and palace of legendary Queen Maeve. Four square miles of green pasture to the north are liberally scattered with large and small grass-covered mounds. There is a car park beside central one which, if you climb it, gives a view over an immense tract of land – sort of view which gave a very satisfying feeling to many generations of kings, hero warriors and cattle barons in days long gone.
If you take first turn left to the north of car park and left again you will encounter more mounds and end up at a little stony place where rock-cut cavern once gave admission to secrets of infernal regions. Follow the main road to the northwest and go through the village of Frenchpark to the hamlet of Portaghard and its little church, the center of the parish where Arthur Hyde was rector.
He was the father of Douglas Hyde poet, Gaelic scholar and first President of Ireland. The church and its surroundings are now Douglas Hyde Center, and his body lies beneath trees in the churchyard, now a delightful little park with a collection of native trees and a statue of former President. You may need to phone 087 782 3751 for admission to the exhibition of writings and other memorabilia. Return to Frenchpark, turn right at crossroads and it is just nine miles ( 14 km) back to Castlerea and Clonalis.
Read more: Ireland's amazing disappearing lake
 * Originally published in July 2013 in Ireland of the Welcomes.