In 1955 eyewitnesses watched as Lough Funshinagh in County Roscommon completely disappeared in moments
Back in 2010, the summer drought in Ireland led to fears that a major lake would once again disappear overnight. On Monday, November 22, 1955, Lough Funshinagh in County Roscommon completely disappeared in moments.
It has since re-appeared, disappeared and re-appeared again.
Contemporary accounts in the Westmeath Independent describe an incredible scene as thousands of fish were stranded and swans and geese suddenly found themselves without any water.
Read more: Galway and the West tours
"Nature was in the mood for magic in County Roscommon on Monday when sharp at 12 noon, Lough Funshinagh, with a farewell roar, completely disappeared," the newspaper wrote.
Eyewitness Nicholas Cummins told the newspaper that he was trying to catch a few fish when the lake, with a loud gurgle, suddenly disappeared completely into a huge cavity at the foot of the nearby Ardmullen Hills.
Thomas Cunningham, another fisherman, stated, "As the fish struggled about in the water pouring off the lake, the fisherman threw them up as fast as they could."
Up to 200 swans were left homeless by the lake's disappearance and flew off to a nearby lake, Lough Ree.
Read more: Dublin and surrounding areas tours
Subterranean channels
The lake regularly goes dry, according to local fishermen, and this has to do with a local subterranean channel that connects it with Lough Ree three miles away.
During prolonged drought, as Lough Ree drops to an abnormally low level, it drains off Lough Funshinagh.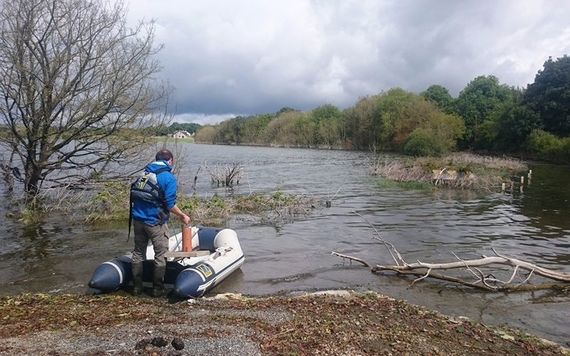 2
A turlough?
It was originally thought that Lough Funshinagh was a "turlough" – a type of disappearing lake found mostly west of the River Shannon in the limestone areas of Ireland. These lakes are almost completely unique to Ireland, although there is one example in Llandeilo in Great Britain.
Lough Funshinagh is not a proper turlough, however, as turloughs are more of a seasonal phenomenon. Lough Funshinagh is more unpredictable than a normal turlough and doesn't disappear every year.
Read more: Kerry and the Wild Atlantic Way tours
Swallow holes
Although it is referred to as a disappearing lake it doesn't happen very often. The last rapid draining occurred almost 20 years ago in September 1996. Geologists believe the lake disappears due to swallow holes in the lake bed.
For the most part, these swallow holes are plugged up by an impermeable layer, such as clay. If this seal of clay is broken then the already shallow lake may drain out leaving the lake bed dry. When these swallow holes are again resealed, it allows the lake to gradually fill up again.
Lough Funshinagh is considered a Special Area of Conservation in Co. Roscommon. Although geological researchers wish to carry out more research on this amazing disappearing lake, they can never know if and when it will ever happen again.
Have you ever come across a turlough? Let us know in the comments section below.
Read more: Northern Ireland and Game of Thrones tours
* Originally published in June 2010.