With the introduction of an innovative new virtual reality tour at the Marble Arch Caves in County Fermanagh, it is now possible for everyone to explore the beautiful subterranean world of this UNESCO Global Geopark without going underground.
The Marble Arch Caves, in County Fermanagh, are a labyrinth of tunnels and chambers that feature glistening stalactites and stalagmites and dramatic rock formations dating back 340 million years. They are regarded as among the finest show caves in Europe. 
The standard guided Marble Arch Caves tour lasts about 75 minutes and consists of a subterranean boat trip followed by a walking tour that involves climbing steps and walking some 1.5 km. This makes it inaccessible to some people.
But by donning a VR headset the caves can now be explored from the comfort of a specially designed VR room above ground. The experience offers a 360-degree panoramic view with surround sound placing the user in the real-world cave system to discover its beauty and fragility, explore its landscape and feel its serene ambience. 
The VR experience begins at the viewpoint on Gortmacconnell Rock before delving underground to explore the cave system. An expert guide gives a brief history of the caves and highlights key formations. The VR experience can also be enjoyed before a standard tour to give visitors an introduction to what they will see underground.
A new dynamic lighting system has also recently been installed throughout the show cave. The LED lighting produces a very strong and cold light which enhances the beauty of this natural underground world and is in keeping with the attraction's sustainable management and conservation ethos. 
The Marble Arch Caves form part of the wider Cuilcagh Lakelands Geopark which spans a range of landscapes from rugged uplands, lakes and forests to rolling drumlins and underground wonders.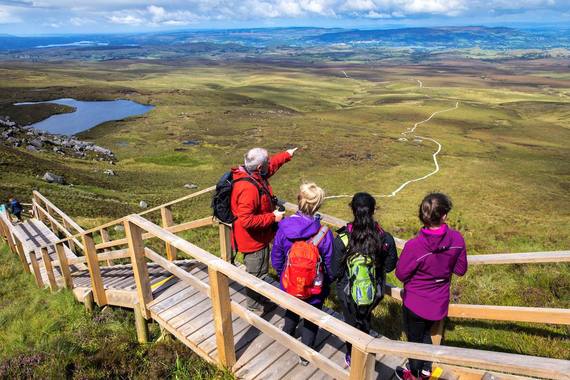 2
Another unmissable destination within the geopark is the Cuilcagh Boardwalk Trail, which crosses over blanket bog before climbing to a viewing point where stunning views across the surrounding lowlands can be enjoyed.
As well as geological wonders, the geopark has many archaeological and historical sites such as castles, churches and prehistoric tombs that can be discovered along its many walking routes.