Have young kids to keep entertained? Teenagers who are just looking for that perfect moment for Instagram? Or grandparents who want the traditional Irish experience? Here's how to do all of that on one memorable trip to Ireland. 
CIE Tours (www.cietours.com) takes family vacations from muggle to magical, with an enchanting adventure through Ireland that fuels dreams and imaginations. The best part is everything is planned out – making it easy for parents to include grandparents and vice versa. And neither set is left wondering what will be a "wow" versus a "yawn" experience for all ages while on vacation.  
Eyes will widen – and minds broaden – during CIE Tours' thoughtfully crafted Irish Myths & Legends family tour. Each element of the guided vacation fuels a hunger for discovery that transcends generations. The eight-day tour starts at $1,949 a person. Take a look:
4
Families arrive into Dublin and travel to the countryside of County Meath to stay in the Johnstown Estate, a beautiful 18th-century Georgian manor. A day trip into Dublin includes a Viking Splash tour aboard an amphibious vehicle (horned hats optional), visiting Trinity College, Christ Church Cathedral and Dublin Castle. Then families can roll up their sleeves and enjoy a friendly cook-off of Irish fare at a top-rated cooking academy.
Heading next to Cork with a stay at the Clayton Hotel Silver Springs, guests take a walk with a guide around the stunning grounds of Blarney Castle, home of the famous stone that promises the gift of the gab to all who kiss it. They'll climb the battlements and pucker up, or just enjoy the view, and can browse around the village of Blarney.
4
A drive to Cobh leads to a short cruise to Spike Island, where families discover stories of the many rebels, rioters, convicts and captains that inhabited what was once the world's largest prison. A personalized family picnic lunch follows, as does free time to explore the historic fishing town of Kinsale.
A visit to the Cliffs of Moher, which soar almost 700 feet above the churning Atlantic, will make for a perfect #Instastory moment for teen travelers. Next, the group voyages through the Burren, a unique region of limestone hills where many rare flowers thrive in the sheltered crevices. Continuing to Galway, they'll take an easy-paced walking tour to see the medieval city walls, Lynch's Castle, and the narrow streets. A dinner in a Pullman Railway car is a culinary highlight before families retire at the Glenlo Abbey Hotel in Galway.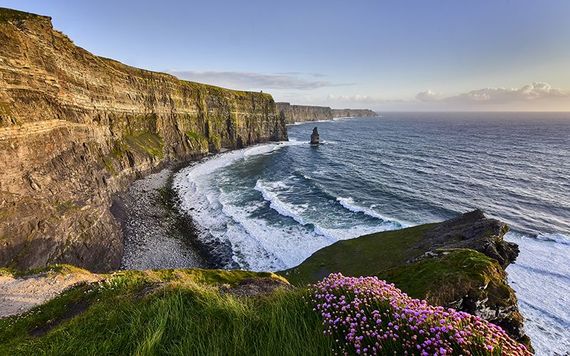 4
Come day six of the vacation, families take a ferry from Rossaveal to Inis Mor, the largest of the three Aran Islands, renowned for traditional fishing and farming methods and where the popular intricately patterned fishermen's sweaters originated. They'll head to Dun Aengus Fort, a huge prehistoric fortress perched on sheer cliffs, which fall away to the Atlantic Ocean below.
In Ardrahan, families visit Rathbaun Farm, a picturesque 150-year old farmhouse with a variety of animals to learn about traditional farming practices. They'll snack on tea and scones and be wowed as skilled sheepdogs show off their herding prowess. Families then continue to the historic city of Limerick and check into the Clayton Hotel Limerick. They'll discover this beautiful part of Ireland with a walking tour along the Shannon River, passing the Treaty Stone and King John's Castle. A farewell dinner caps the trip, and this mystical Irish adventure ends in Shannon.
For more information or to book a 2019 family vacation through Ireland, visit CIE Tours, call 800-243-8687, or connect with a travel professional.