The born-again beach at Dooagh on Achill Island off the Mayo coast has become a worldwide tourist and media phenomenon.
The reappearance of the beach after 33 years was due to an unusually strong tide that dumped hundreds of tons of sand that suddenly made the beach reappear.
The world media is flocking in to cover the story. It led the Weather Channel in the US for two days and was widely reported by CBS News and hundreds of other US media outlets, including Time magazine. Reports have appeared as far away as Saudi Arabia, while the British media has also jumped on the story.
A beach that was washed away by storms more than 30 years ago has reappeared off the west coast of Ireland. https://t.co/VNTxFKztrs pic.twitter.com/3p2m8ISCCe

— CNN International (@cnni) May 10, 2017
Meanwhile, tourists have been drawn to the 330 yards long new beach that had disappeared after a winter storm 33 years ago. Achill islander Emmet Callaghan said tourism has begun to boom.
"I had 50 English tourists drive here from a pilgrimage they were on at Knock (a Catholic shrine in Mayo) on Tuesday. They were from Leicester and some of them were star struck when they reached the beach. One woman was on her mobile telling her family back home she had reached 'that beach.'
As to why the story exerts such fascination, Callaghan told The Guardian that he believed it was because it's a feel-good story.
"We live in a dark world these days so I think that is why there has been so much interest in Dooagh beach since the story broke. For something like our beach to come back gives people hope. It's a good news story and one where nature has done something benign for a change," Callaghan, an administrator at Achill Tourism, said.
"Our phones at Achill Tourism haven't stopped ringing since the reports went around the world about how the beach reappeared after 33 years. It makes it all the more amazing because my family connections to this beach stretch back through generations. My great-great-grandfather used to blow a bugle on the beach to let the villagers know when the Rack (seaweed) was washed ashore so they could come down and get their share. I wonder what he would have thought about his beach becoming world famous?" Callaghan said.
Kate Callaghan (no relation) owns a cafe in nearby Achill Sound and had just returned from a visit to Manchester in England. She told the Guardian word has been spreading fast.
"I was in a friend's house in Manchester on Monday and then I turned on the TV and there was Emmet talking to the BBC via Skype while standing on the beach just down there. It was unreal to watch pictures of Dooagh beach being beamed out on the television channels while I was in England."
JJ McNamara, a local hotelier says surfing will now take off. "Those waves and that beach make for a perfect combination for surfers. Even on a calm day like today they would be good enough to ride on a surfboard. It's another way for us to bring more tourists to Dooagh," he said.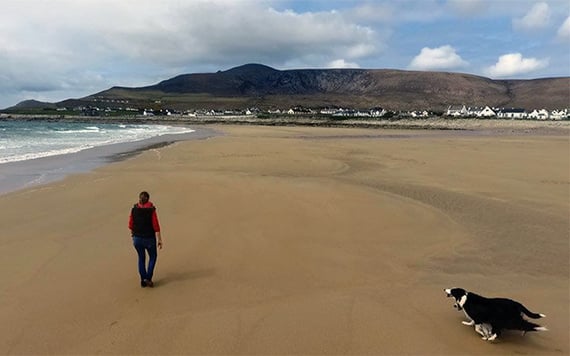 2
Local barman, John Cafferkey, said the beach's reappearance would bring the return of a local delicacy, eels.
"I remember eating sand eels from the beach when it was there before the storms in '84. There weren't too many of them when all there was down there were rocks and rock pools. The soft sand that's returned is perfect for the sand eels to thrive in, which by the way taste delicious," he said.
However, the Guardian report warned the beach could disappear again. Dr. Kevin Lynch and Dr. Eugene Farrell, from the National University of Ireland Galway, stated: "The fact that Dooagh recovered so rapidly is definitely interesting. We would assess how deep is the veneer of sand. It could be that the sand was made available from offshore in recent months and last week the wave conditions were optimal to move it further landward to rebuild the beach. Hopefully, over time the beach elevation will rise – at least until the next storm."
Read more: Mysteries of deserted pre-Famine village on Achill Island revealed