Ireland may be famous for its lush green fields and verdant hills and valleys, but if you've never witnessed the beauty of Ireland in the winter time, you're missing out on something truly special. 
When the weather conditions align to dust the Irish landscape in a coating of snow, Ireland becomes an absolute winter wonderland – these gorgeous winter spots prove it. 
Read more: Mayo and the Cliffs of Moher tours
The Mourne Mountains
10
The ultimate wintry fantasy land is, of course, the land of Narnia from C.S. Lewis' famous 'Chronicles.' But did you know that Belfast-born Lewis got the inspiration for snowy Narnia from the Mountains of Mourne in County Down? He particularly loved the landscape here and spent his honeymoon in the town of Crawfordsburn in County Down. 
The Mourne Mountains offer something for walkers and climbers of all skill levels, from Slieve Donard, the highest peak, to the gentler and appropriately named Butter Mountain. There are astounding views to be had of Murlough Bay and the Silent Valley. The Mourne Wall, which stretches for 35 miles over the range of 15 mountains, is also a sight to behold. 
Base yourself in the lovely town of Newcastle, where there are cozy pubs aplenty to warm up after your brisk day on the mountains. 
Killarney 
10
Ireland is dotted with lovely towns and villages, but there's something quite special about the County Kerry town of Killarney. A visit there opens the door to a wealth of possibilities: driving the Ring of Kerry scenic route, exploring the beautiful Lakes of Killarney and the Gap of Dunloe, hiking – or even taking a jaunting cart into – Killarney National Park, or visiting the historic Muckross House castle and gardens. 
But the town itself is so charming you'd be quite forgiven for wanting to just have a relaxing couple days strolling around, popping into the many fine shops, restaurants, and pubs.  
Read more: Galway and the West tours
Strandhill Beach
10
The beloved seaside town of Strandhill is perched on Ireland's north-west coast, just 7 miles outside the town of Sligo. The beach at Strandhill is a renowned surfing spot in Ireland, with schools and teachers aplenty should you wish to catch some chilly waves. It's also a prime spot for strolling or starting a hike up to the mountain of Knocknarea, where Queen Maebh (Maeve) herself is believed to be buried in a rocky cairn atop the mountain. 
Nearby attractions will especially delight those with a love of Ireland's literature. The grave of poet W.B. Yeats is in the cemetery at Drumcliffe Church, right under Ben Bulben Mountain, as he desired. The Lissadel House and Gardens are also a must – once home to the Gore-Booth sisters Eva and Constance (later the Countess Markievicz, who fought for Ireland's freedom) and a place of frequent refuge for Yeats, who drew much of his inspiration from the Sligo landscape. 
Croagh Patrick 
10
Come here to make a pilgrimage to St. Patrick, stay for the unparalleled views. Croagh Patrick rises 2,500 feet above County Mayo and attracts 1 million climbers (or pilgrims, as they are sometimes called) each year. At the base of the mountain sits a visitor information center full of insights into the mountain's archaeological history and connections with St. Patrick, in addition to Ireland's national monument fo the Great Hunger. 
A climb up the mountain will present gorgeous views of Clew Bay and the Mayo countryside. Just five miles away is the town of Westport – regularly voted as one of the best towns in Ireland. 
Read more: Dublin and surrounding areas tours
Mussenden Temple
10
The Mussenden Temple, built in 1785 and inspired by the Roman Temple of Vesta, can be found in the beautiful surroundings of Downhill Demesne near Coleraine in County Derry. It is perched dramatically on a 120 ft cliff top, high above the Atlantic Ocean, and offers spectacular westerly views of Downhill Strand, Magilligan Point and County Donegal; and to the east, Castlerock beach towards Portstewart, Portrush and Fair Head.
Use it as a stop as you explore Northern Ireland's Causeway Coastal Route. Stay nearby in Coleraine or come on a day trip from Belfast – it's only an hour's drive away. 
Strokestown 
10
Strokestown Park in Co. Roscommon strikes a balance between being grand and beautiful and recognizing one of the darkest parts of Ireland's history. It is home to a Georgian Palladian mansion that once belonged to the Packenham Mahon family, and to the Irish National Famine Museum, which opened in 1994 inspired by documents discovered during a restoration of the estate. 
The documents revealed that the workers and tenant farmers at the Pakenham Mahon estate were among the first in Ireland to be shipped en-masse to North America, when John Ross Mahon, the land agent, came up with the scheme of assisted emigration in 1845 after discovering that it would cost over £11,000 annually to keep the people in the Roscommon workhouse but only £5,800 to help them emigrate.
1,490 individuals left from the Strokestown estate for Quebec in British North America (Canada), now known as "the missing 1,490," and significant efforts have been undertaken to trace what became of them. The museum is a must-see, and the beautiful grounds offer space for reflection and contemplation afterward. 
Read more: Kerry and the Wild Atlantic Way tours
Mount Errigal
10
Mount Errigal presides over Co. Donegal in all her majestic beauty and is perhaps at her most glorious in winter. Errigal is the tallest of the Derryveagh Mountains, rising 2,464 feet into the sky. But don't be intimidated by that snowy peak! There are a number of walks and hikes for outdoor adventurers of all experience levels.
Letterkenny, the nearest town, offers a range of other attractions and nice places to stay, and locals have plenty of tips and stories about Errigal to share. 
Powerscourt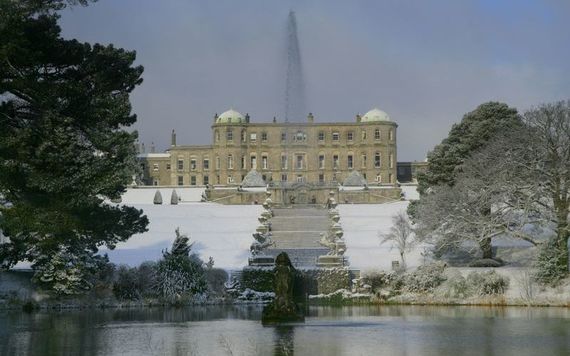 10
Be they covered with or lightly dusted with snow, the Powerscourt Gardens are the epitome of a winter wonderland. The 47-acre Enniskerry estate in County Wicklow – complete with an historic house, landscaped grounds, a powerful waterfall, and Italianate gardens – overlooks the Sugarloaf Mountain.
An excursion is very do-able as a day trip in Dublin, but if you decide to stay for a while, as you very well may, the nearby Powerscourt Hotel also makes for a sumptuous retreat.
See more winter beauty spots on Ireland.com 
Read more: Northern Ireland and Game of Thrones tours
This post is proudly produced in partnership with Tourism Ireland. Find out more on Ireland.com
10