Traveling around Ireland you'll come across quiet nooks and crannies that will take your breath away but this photographer's photo taken in Donegal is something incredible.
Max Malloy, a landscape photographer based in Ireland, reached out to IrishCentral with this intriguing note: "Check out this photo of a hidden gem in Donegal taken by myself, that most Irish people never seen or heard about." His photograph was featured as the National Geographic's photo of the day and it's plain to see why they chose it.
The lucky photographer told IrishCentral this secret spot is located on the Sliabg Liag (Slieve League) Peninsula, in County Donegal, but he insisted that the exact location would not be divulged.
"I found this place accidentally. It was shown to me by the local archeologist, who is not really a photographer, but after he saw my photographs he kindly decided to share the location with me on condition to not share the location with anyone else which I absolutely agree with, simply cause as soon as some photographers will find it out – it will be spoiled in a very short period of time.
Read more: The wild and wonderful County Donegal
"So, unfortunately, I can't share with you [the] exact location, I can only say it's in Sliabg Liag Peninsula. Most locals know about it, but looks like not one of them is a photographer."
Malloy said the reaction to the photograph has been amazing and members of the Irish Landscape Photographers online group have been singing its praise. This incredible shot was not easily earned.
"I left my home in county Galway in the morning and it took me 300km (200 mi) each way just to take this photo," said Malloy. What's worse, when he got there he couldn't find the spot, which his archaeologist friend has told him about.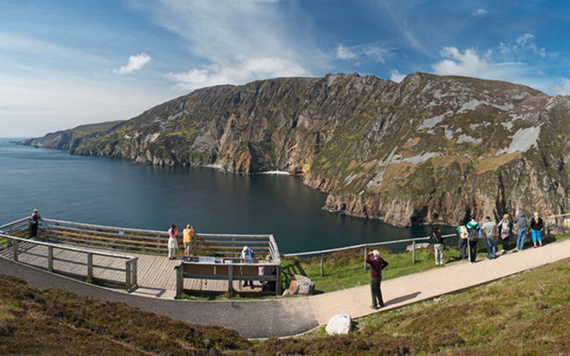 2
He continued, saying a "local farmer kindly let me in to cross his farms and showed the way to location. He also mentioned that the cave is accessible only with the full tide out, but at the time the tide was only half way through. I decided to chance it anyway.
"After I crossed few beautiful fields with sheep staring at me and faced the ocean shore, then I had to walk another 300 meters to reach the cave, but shore cliffs were covered by water, so I took my clothes off and started to climb cliffs, sometimes I had to swim a bit. It wasn't too deep, only about a meter (3ft), but the water still was cold.
"Finally, I reached the cave and it was one of the best moments in my life, because of the journey I took, because of the view I witnessed. Basically, you enter the cave, which was still filled with water, as the tide was quite high, the cave looks like a 10 meters tunnel and then you see what is in the photo. Spectacular undiscovered, unspoiled view with the natural waterfall."
An amazing journey and stunning photograph is the result.
Malloy told IrishCentral that the otherworldly quality of this photo is due to the fact that the "actual photo contains three different exposures taken from same position tripod, to get more details, then edited in Photoshop."
Spectacular!
Read more: Donegal airport named among "most scenic landings" in the world
* For more of Malloy's work you can visit www.ihaveadarksoul.com, his Instagram, Facebook or check out his photo on the National Geographic.