If you're planning a trip to Ireland's Wild Atlantic Way, the famous coastal route that winds along 1,600 miles of Irish coastline, you deserve accommodations as spectacular as the sights you're seeing. Ireland's Blue Book, the go-to source for Ireland's most charming country houses, manor houses, castles, and restaurants, suggest these 17 can't-miss unique and historic places to stay. Have your pick between historic manors, beautiful castles, and even a lighthouse.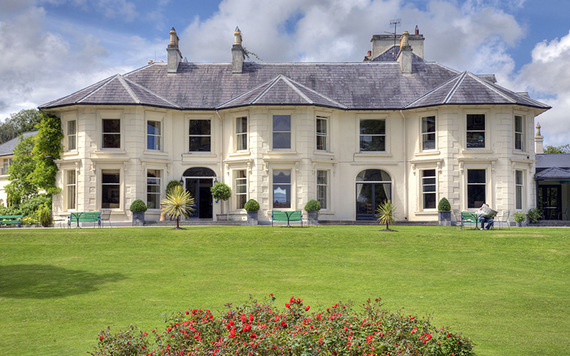 22
Rathmullan House is set in idyllic wooded grounds overlooking Lough Swilly in Co. Donegal and just a few steps from a two-mile long golden beach. The luxury hotel and restaurant is the perfect place to unwind and enjoy the good things in life. Built in 1820 as a summer house for the family of Lieutenant Colonel Andrew Knox, the house has a long and fascinating history you can explore during your stay.
Rathmullan House is renowned for its award-winning food which is locally sourced and expertly cooked. Inside has a comfortable and informal country house style with rooms to suit everyone, from romantic garden rooms with freestanding bathtubs to large garret rooms for families.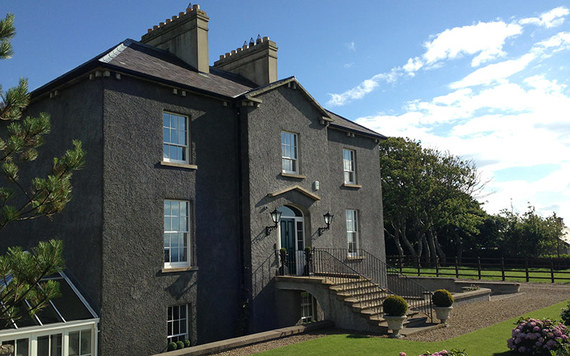 22
A luxurious early 19th century Georgian House with breath-taking ocean views overlooking Donegal Bay set on 11 acres of pasture land. Coolmore Manor, a private rental property, is an elegant yet cozy "home away from home" where a contemporary ambiance is combined with antique furniture and warm hospitality.
There's also an abundance to see and do. Coolmore is located within walking distance of the sandy beach of Rossnowlagh, and several famous golf courses are within easy reach. Available on site are massages, physiotherapy, seaweed baths, a hot tub with ocean views and a sauna. On the stunning grounds, you can also enjoy a walled flower garden, the beautiful Bellavista viewpoint, horse riding, a small showjumping horse stud, and you can even request a lobster dinner.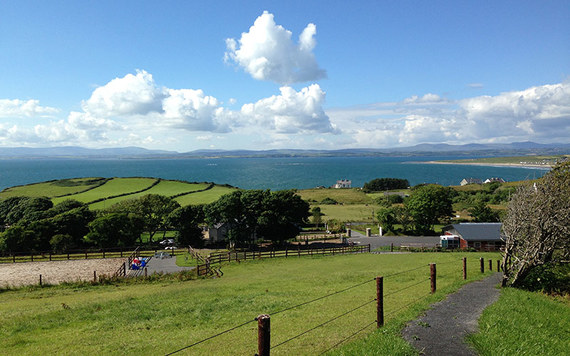 22
Clare Island Lighthouse, Co. Mayo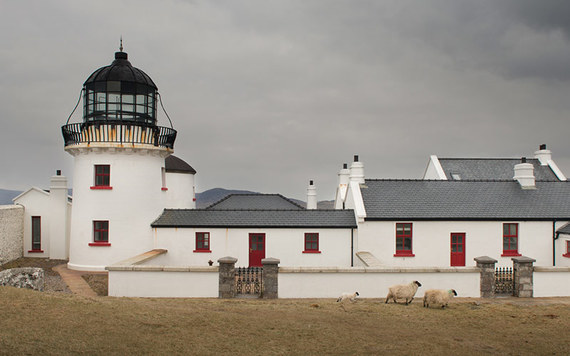 22
Clare Island stands guard at the entrance to Clew Bay, off Ireland's western Atlantic coast. For almost two centuries, the island's Lighthouse has been a nautical landmark perched high on the craggy cliffs, watching over Achill, Westport and beyond.  Clare Island Lighthouse is a retreat like no other, a special place where guests are free to while away their time in solitude or to enjoy mingling and socializing in the welcoming warmth of the kitchen, drawing room or library.
Each of the six guest rooms is individually designed and decorated. Rooms are furnished with period fixtures and fittings, original artwork and super-comfortable, old-style cast-iron beds. Wood burning stoves & open fires and underfloor heating add coziness and comfort.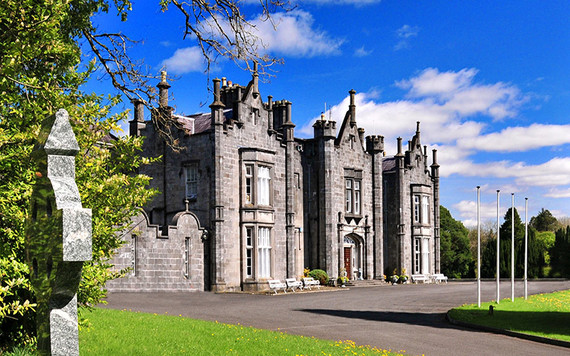 22
Built on an Abbey dating from medieval times, the 1820s neo-gothic Castle is informal, cozy, warm and friendly, rich in decor and antiquities, with open log fires to light your steps back through this cultural adventure.
The Belleek Castle Tour, which you absolutely must take, includes an explanation of the origins of the Castle and the history of its former owners, the Knox-Gore family, the Earls of Arran. You will see private dining rooms, decorated in opulent romantic style, as well as the Medieval Banquet Hall, the Spanish Armada Bar, and the Tween Deck. The highlight of the tour will be The Marshall Doran Collection, which is one of the finest collections of arms and armor, fossils and antiques in Ireland.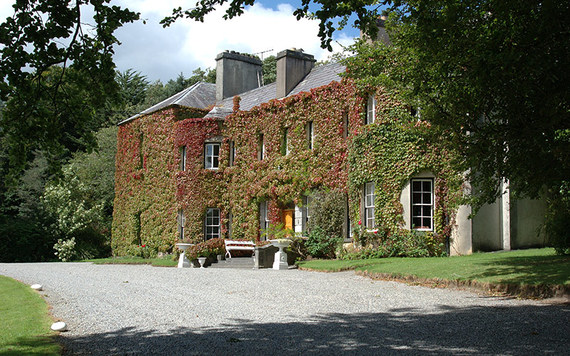 22
Newport House is a Historic Georgian House situated in gardens and parks adjoining the town of Newport, overlooking the Newport River and quay. For 200 years this country estate was home to a branch of the O'Donel family, descended from the fighting Earls of Tyrconnell and cousins of the famous 'Red Hugh' of Irish history. It was purchased by the Thompson family in 1985, and then opened to guests.
Home-smoked wild salmon and fresh seafood are the specialties of the house, and the food is complemented by an extensive wine cellar which includes many classical vintages. The house is furnished with many fine antiques and paintings providing simple elegance for a quiet and relaxing stay.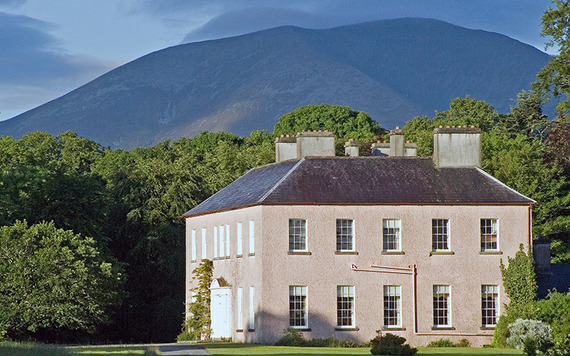 22
Enniscoe House, situated on the shores of Lough Conn, is a Heritage House of Ireland and has passed to the present through twelve generations of the family to the present owner, Susan Kellett. History is palpable in the house, filled with family portraits and antique furniture. At the same time, open fires, good food and wine, and a warm welcome, all contribute to the pleasant and relaxed atmosphere.
Enniscoe House offers gorgeous views of Lough Conn across acres of parkland. The grounds themselves offer an abundance, from a small agricultural museum, tearoom, and shop, to a genealogy center that researches names and families of Mayo origin. From Enniscoe you can also explore Mayo, Sligo and Achill Island.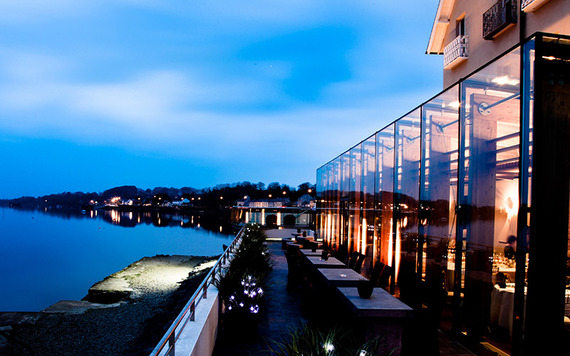 22
At the Ice House Hotel in Ballina, you're greeted with a wonderful fusion of old and new. Luxurious bedrooms and suites marry the beauty of the original 18th-century building with rich contemporary styling. Funky furnishings, eclectic styling and stunning architectural design in the hotel's 32 rooms and suites combine to make you feel like you're in the heart of the city as the amazing views that stretch across the River Moy to the woodlands beyond remind you exactly where you are.
The hotel restaurant, run by Chef Anthony Holland from Achill Island, works with the finest seasonal local produce. Also be sure to unwind in their Chill Spa, featuring 5 luxurious treatment rooms, a spa thermal suite and an outdoor spa garden with riverside hot tubs.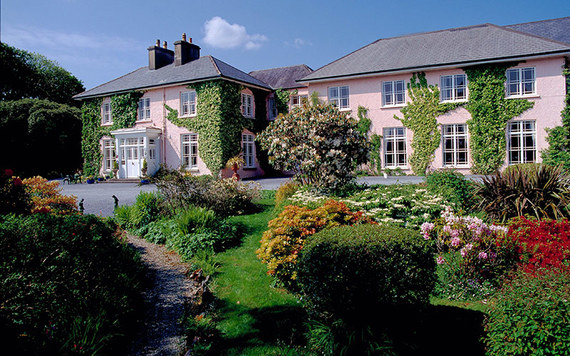 22
Resting on the quiet shores of Ballinakill Bay, and beautifully secluded within 30 acres of its own private woodland, Rosleague Manor hotel in Connemara is one of Ireland's finest regency hotels.
The Manor has been discreetly converted into a first class hotel by its owners and proprietors, The Foyle Family, with meticulous care and attention to detail to retain its 19th-century charm and character. Each of the rooms is individually decorated with fine artwork and antiques.
The Manor's cuisine has been recognized with the Irish Tourist Board's Award of Excellence. A range of activities, such as salmon, trout and sea fishing; golf and horse riding all available in the area. A tennis court is also available for guests to use.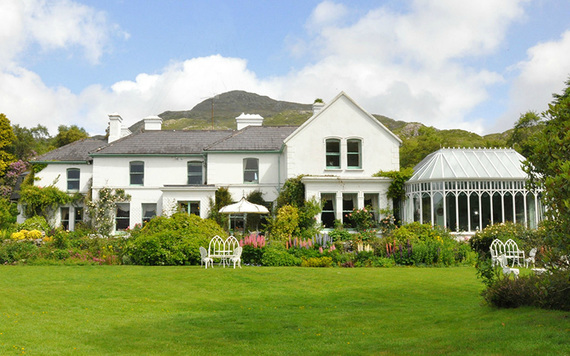 22
Overlooking the majestic Cashel Bay on the west coast of Ireland, Cashel House Hotel is situated in the heart of Connemara. Nestling in the peaceful surroundings of 50 acres of gardens and woodland walks, this little bit of paradise offers an ideal base from which to enjoy walking, beaches, sea and lake fishing, golf and horse riding.
Each of the 30 bedrooms and suites is individually decorated and furnished with antiques presenting a charming country house style. Comfy sofas, turf and log fires combine to give a relaxing homely atmosphere. The elegant dining room overlooking the gardens serves country house cooking at its best, including locally caught seafood and Connemara lamb, along with freshly picked fruits and vegetables from Cashel's own gardens.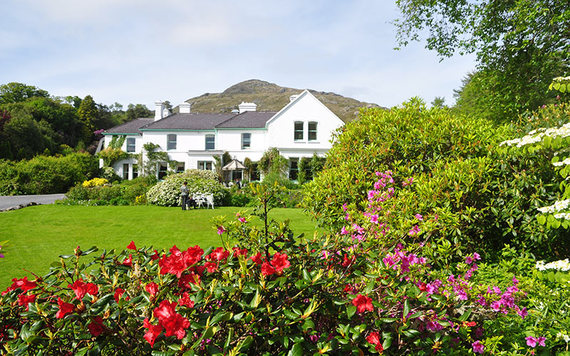 22
22
Currarevagh House is a Victorian country manor romantically situated on the shores of Lough Corrib in 150 acres of private woodland. Built by the present owner's ancestors in 1842, it is still run more along the lines of a private country house rather than as a hotel, and the tranquil informality lends itself to those seeking to escape today's hectic world.
The exceptional food, cooked with originality and passion and magical grounds take center stage at Currarevagh, which is the perfect base for exploring the magnificent West of Ireland. Lough Corrib is famous for its wild brown trout fishing and Ghillies (guides) can be arranged. Or, if a day of leisurely exploring is more your style, rent a boat and indulge in a Curraveagh-prepared picnic.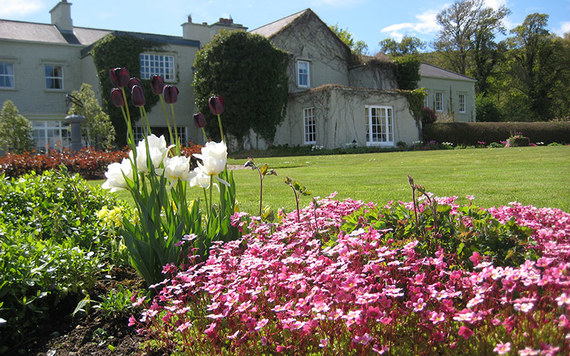 22
With breathtaking views across Galway Bay and idyllically situated overlooking the unique Burren landscape, this is the ultimate luxury and gourmet hideaway. The house dates from the late 18th century, and has been added to many times; it has been run as a country house hotel by the Haden family since 1976. Simon and Frederieke manage this oasis of comfort and offer genuine Irish hospitality, award winning innovative cooking and elegant bedrooms free from the intrusion of televisions. Antiques, modern art, turf fires, candlelight and garden flowers add to the indulgently relaxing atmosphere.
Guests have included J.R.R Tolkien, who's said to have been influenced by the Burren when writing The Lord of the Rings, as well as other revered artists and writers such as Seamus Heaney and Sean Scully.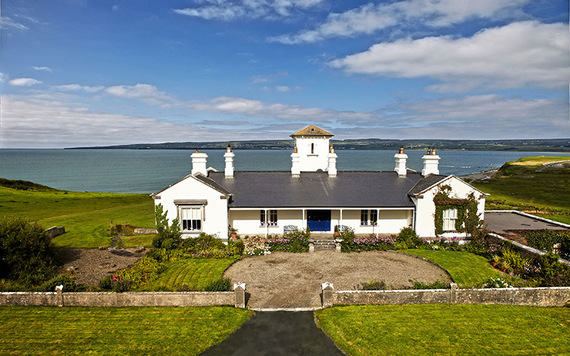 22
Moy House, built in the mid-18th century, overlooks the breathtaking Lahinch Bay.
The history of the house dates to the early 19th century when it was an elegant summer home to Sir Augustine Fitzgerald. The story goes that the architect's plans for Moy got mixed up with plans for an Italian Villa, hence the house's Italian feel. Somewhere by the sea on the Italian Rivera is the Anglo-Irish version.
In 1997 it was bought by the current owner, Antoin O'Looney, who was born and reared in Lahinch and played on the grounds as a child. O'Looney lovingly renovated the house over the course of two years. Each of the nine bedrooms has been cozily decorated and is named after the local townlands once owned by Sir Fitzgerald.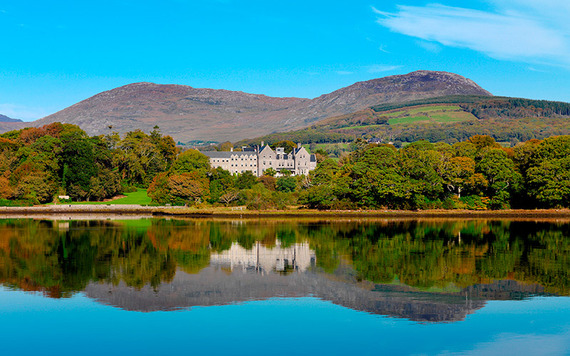 22
Since its construction in 1897, many world travelers have enjoyed the pleasure of Park Hotel Kenmare and its renowned restaurant.  This five-star hotel is set in a heavenly location overlooking Kenmare Bay in the heart of Ireland's most scenic countryside. All accommodations are spacious with sitting area, antique furnishings, and original art while Deluxe and Suites enjoy a full sea view or private veranda. Home to the Deluxe Destination Spa SÁMAS; guests can experience the virtues of a true spa. This special and quite unique place blends healing and therapeutic traditions from the East and West with the life inspiring scenery of Kerry to revive the body, mind, and soul.
Carrig Country House, Co. Kerry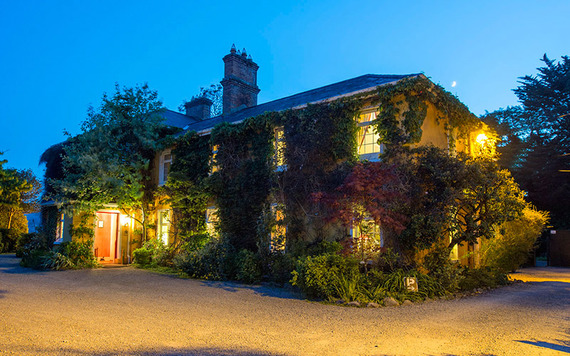 22
Hidden away on the shores of Caragh Lake on the Ring of Kerry, Carrig Country House is the perfect place to 'escape from it all', relax and enjoy some of the most beautiful and unspoiled scenery in Ireland.
Originally built c. 1850 as a hunting lodge, Carrig House's previous owners include Lady Cuffe, Lord Brockett Snr, Sir Aubrey Metcalf and Senator Arthur Rose Vincent before it was bought by Frank & Mary Slattery in 1996.
Here you will enjoy a great night's sleep awake to the sound of the lake lapping on the shore. Stroll through the wonderful gardens or sneak away to a secluded corner in one of the spacious drawing rooms and indulge in a good book or game of chess.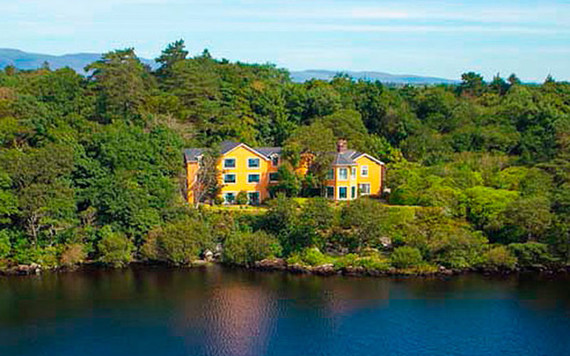 22
22
The Killarney Royal is Killarney town's most charming boutique hotel. For three generations, the four-star hotel, run by the Scally family, has held the mantle of caring for guests, who have been welcomed for over 100 years. Committed to delivering gracious hospitality and creating outstanding memories, the wonderful team deliver friendly personal service and true Irish hospitality.
The hotel offers luxurious accommodation, exceptional and innovative cuisine and, with the town center location, the ideal abode from which to explore the bustling town of Killarney. All rooms are enhanced with antique furnishings while also featuring modern comforts such as complimentary Wifi and air conditioning. If you're feeling particularly regal, treat yourself to Afternoon Tea in the elegant Lobby Lounge.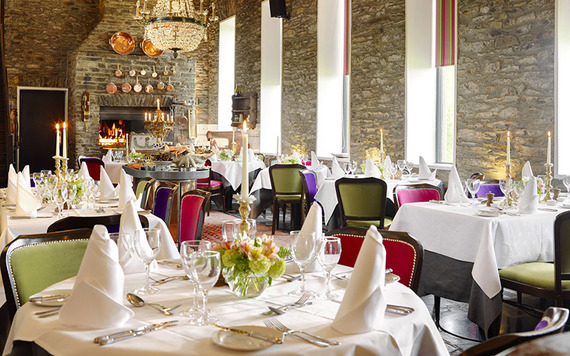 22
In this Georgian country house standing at the head of Dunmanus Bay, everything revolves around the courtyard. Finely restored with cobbled paths, shrubs, and flowers, its 250 old stone outbuildings contain four beautiful guest apartments as well as a restaurant, with its magnificent dining room converted from the old stable block.
With beautiful views across the bay and surrounding hills, the rooms count amongst the best in West Cork, ideal for a short, romantic getaway. Relax in beautiful surroundings, enjoy an evening in the restaurant and start the day with breakfast served in your suite.
Blairscove Restaurant is best known for its buffet-style starters and great, open, wood-fired grill. The elegant setting, the pretty courtyard, and the landscaped gardens make it ideal for your well-deserved escape.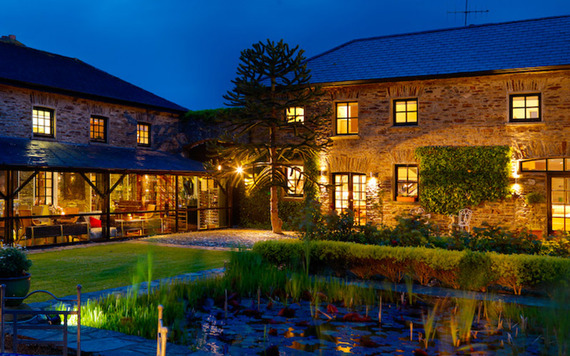 22
22
Nestled on 200 acres of undulating Irish countryside dotted with beautiful woodlands and a private 50-acre lake, Liss Ard Estate, which dates back to Victorian times, is a place of enchantment and relaxation.
Just one mile from Skibbereen village in beautiful West Cork, Liss Ard offers a variety of accommodation, from the Victorian Country House with its contemporary design, to the adjacent Garden Mews and the Liss Ard Lake Lodge. In total there are 25 bedrooms, each one unique and welcoming and waiting to be explored.
Not to be missed is The Sky Garden, was designed and constructed under the close observation of famed American land artist James Turrell. It gives the viewer a totally unique opportunity to admire and enjoy the 'celestial vault' of the sky.