Going home to Ireland on vacation this year? Make sure you choose from Ireland's best hotels
If you're heading to Ireland this year, check our four of the best hotels from all around the country. From scenic Galway to remote West Cork, there's something for everyone. 
Galway
The G Hotel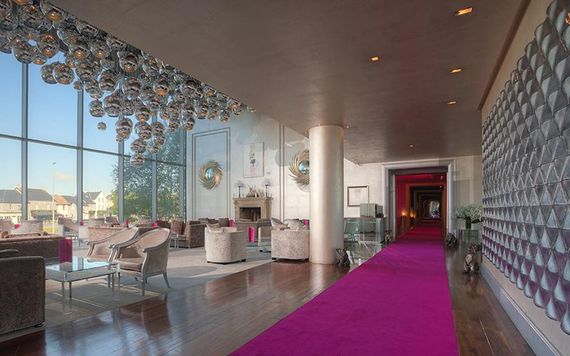 5
Read more: Northern Ireland and Game of Thrones tours
When: 
At this time of year, race week, but it may be best to start planning for next year with under a month to go. Throughout the rest of the year, whenever you need to escape from real life and enjoy some luxury rest and relaxation. 
Why? 
As Galway's only five-star hotel The g was only going to stand out, and that's before you consider the fact that it's designed by Philip Treacy – which means it is seriously stylish. The g is one of those high end hotels that manages to feel perfect for both a fancy weekend away and a relaxing break – and the wardrobes that go with both. Which we think is no mean feat. 
What's so special?
The value for money. Apart from the constant offers running on the hotel's website for all sorts of occasions (birthdays are especially worth checking out!) Restaurant gigi's offers several menu options for all budgets as well as a deal with the neigboring EYE Cinema.
Read more: Kerry and the Wild Atlantic Way tours
Anything else?
The ever-changing afternoon tea menu and the ESPA spa which manages to be relaxing and stylish in equal measure with incredibly knowledgeable therapists.  
Any tips?
Arrive hungry, the welcome cupcakes are TO DIE FOR
For more information, visit theghotel.ie
Killarney
The Brehon 
5
When 
A delight at anytime of year, The Brehon is especially worth a visit when there's a big event on in Killarney or when there's someone you fancy checking out playing the INEC, which is right next door. 
Why? 
Because the service is second to none. Sometimes hotels located in touristy areas can let things slide because the sheer volume of guests gets them through. This is not the case for The Brehon. The level of service on repeated visits has been incredible; it seems nothing is impossible for this staff. 
What's so special?
The food, the service and the afternoon tea. A new addition, afternoon tea is served in the impressive lobby and is one of the most generous we've come across, not to mention the most reasonable at only €18 per person. Make your treat sparkle and add a glass of Prosecco for only €6.50.
Read more: Dublin and surrounding areas tours
Anything else?
Well, the in-house Angsana Spa is the European flagship for the renowned Angsana Spa and is worth a visit alone. Thai therapists take their time to really get to the root of all problems and make sure every treatment is as personalized as possible.
Any tips?
Bring your walking shoes and head to Killarney National Park for a day of adventure. 
For more information, visit thebrehon.com
Clonakilty 
Inchydoney Island Lodge & Spa
5
When 
Given the hotel's ocean-side location the obvious answer is summer. However, can we go against popular opinion and say there is something incredibly special about visiting in autumn and early spring? The scenery is just as stunning but not as crowded and there's an added sense of drama which we love. 
Why? 
The location, the food (especially the crab claws in Dunes), the staff and the high levels of hospitality. Whether you're a repeat guest or a first-timer, everyone is committed to ensuring you get the most from your stay, from cleaning staff to front of house, and that's a special thing in a high end hotel. 
What's so special?
Island Spa is Ireland's first seawater spa, immediately setting it apart from competitors, but the list of activities available through the hotel, which includes whale watching, surfing and kayaking, can't be beaten. Especially if you opt to take a handmade picnic from the hotel's kitchens with you.  
Read more: Galway and the West tours
Anything else?
Bring elasticated pants! From the breakfast to the bar food, Inchdyoney serves some of the best food we've ever come across. 
For more information, visit inchydoneyisland.com
Dunboyne 
Dunboyne Castle Hotel & Spa
5
When
Whenever you need to run away from your real life and treat yourself this hotel is a timeless oasis of calm. So visit in hail, rain or shine and notice how the weather and hotel combine to become just what you need. 
Why?
Obviously the hotel's closeness to Dublin is beneficial to those who live in the Pale but otherwise the grounds, the spa and The Ivy resturant are reasons enough to hop into the car. 
What's so special? 
The attention to detail, and the variety of activities on offer. 
Anything else?
Located in County Meath, it's only a 40 minute drive from Dublin. If you're planning a wedding and don't know where to start be sure to visit while there's a Weddings by Jen workshop taking place to pick up assorted tips and hints from Jenny McCarthy. 
Read more: Mayo and the Cliffs of Moher tours
For more information, visit dunboynecastlehotel.com