Irish airline celebrates its diamond, 60 year anniversary having transported 35 million guests. Aer Lingus are knocking 
€100 (

$123

) off return flights from Ireland to North America.

Aer Lingus celebrates a diamond anniversary and national milestone this Saturday 28th April marking exactly 60 years to the date since the airline commenced flying across the Atlantic.

The Aerlínte Éireann Lockheed L1049 Super Constellation aircraft embarked on its inaugural flight from Dublin and Shannon to New York with a crew of 6 tending to 99 guests in economy class. Today Aer Lingus operates largely Airbus A330 aircraft crossing the Atlantic carrying as many as 317 guests on each flight.

To celebrate its diamond anniversary, Aer Lingus has launched a summer stateside deal offering €100 ($123) saving on return flights to all direct North American destinations, flying from Ireland, valid for travel from 16 June to 31 October.

Read more: Mayo and the Cliffs of Moher tours
Looking back at Aer Lingus' transatlantic history
Over the past 60 years, Ireland's only 4 Star airline has carried 35 million transatlantic guests.  In,itially guests could fly to New York and Boston, whereas today Aer Lingus offers direct connections from Ireland to 13 North American destinations. This summer marks Aer Lingus' largest ever long-haul program with 2.75 million seats across the Atlantic including new direct routes to Philadelphia, beginning March, and Seattle which will commence in May.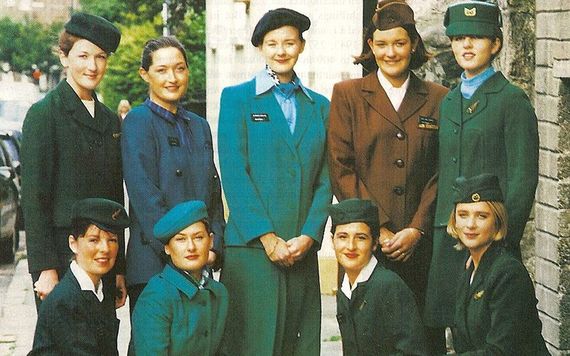 3
In 1958, Aerlínte Éireann became the 17th airline to begin scheduled services across the North Atlantic and the inaugural flight touched down to a salute from the 165th Infantry of the New York National Guard. Before departing Irish shores, the airline held a celebratory banquet attended by then Taoiseach Éamon de Valera and Minister for Industry and Commerce Seán Lemass as well as the Mayors of Dublin and New York and a large press contingent.
Early flights were populated mostly with those emigrating from Ireland and it is estimated that the airline carried close to 15,000 guests to and from New York in its first year. Flight time from Ireland to New York was then approximately 14 hours outbound and cruising altitude was between 16,000 and 18,000 feet making the journey more susceptible to turbulence. In 2018, the outbound flight duration of the ever-popular Dublin to JFK journey is almost halved at a scheduled 7hrs 30mins.
Read more: Galway and the West tours
Aer Lingus' transatlantic offering today
Today, Aer Lingus' Dublin Airport hub is a leading European transatlantic gateway and ranks as the fifth largest European airport for connectivity to North America. Unlike any other European capital, guests travelling to North America from Dublin will enjoy US Customs and Immigration pre-clearance before taking off, ensuring a speedy airport exit when they reach the other side of the Atlantic. Increasingly, UK and European travelers are choosing to transit via Dublin with Aer Lingus to avail of the airline's convenience, value and overall guest experience. In 2017 one third of guests travelling on Aer Lingus transatlantic services began their journey in either the UK or mainland Europe, transiting via Dublin. London Heathrow, Edinburgh and Manchester are among the popular UK start points together with Paris, Amsterdam and Rome across mainland Europe.
3
Since joining the International Airlines Group (IAG) in 2015, Aer Lingus has exponentially grown its transatlantic offering with 6 new direct routes to the US added in the past two years – Los Angeles, Miami, Newark, Hartford, Philadelphia and Seattle. Guest experience has also seen significant upgrades, evidenced by the award of the Skytrax 4-Star airline rating in 2016.
Commenting on the anniversary, Ruth Ranson, Director of Communications at Aer Lingus, said, "This weekend we proudly celebrate the heritage of our national airline and commemorate an important milestone in Irish history. Over the past 60 years we have warmly welcomed leisure travelers, business travelers, emigrants and home visitors onboard, continually growing and championing connectivity between Ireland and the US. As a result of the airline's transatlantic growth over the past 6 decades we have been able to invest significantly in both fleet and employment, most recently with the order of eight Airbus A321 Long Range aircrafts arriving in the next two years and a pilot recruitment campaign currently underway.
On behalf of Aer Lingus, we would like to express our gratitude to all those who have chosen to travel with us over the past 60 years and we now look forward to welcoming the next 35 million new transatlantic guests onboard." 
To learn more about Aer Lingus visit www.aerlingus.com.
Read more: Dublin and surrounding areas tours
A brief history of Aer Lingus transatlantic travel:
1958    
Aerlínte Éireann, originally formed in the 1940s, re-establishes and on Monday 28 April the first service leaves Dublin and Shannon for New York
1960      
Aer Lingus enters the jet age, with Boeing 720s covering the routes from Dublin and Shannon to New York and Boston
1966     
Montreal and Chicago are added to the transatlantic network in April
1994      
Airbus A330 is introduced into service on transatlantic routes and Aer Lingus is the first airline to operate an A330 under ETOPS (Extended-range Twin-engine Operation Performance Standards) over the North Atlantic
1995      
On 2nd October the last Aer Lingus Boeing 747 flight takes place after 25 years of service by which time over eight million people had travelled across the Atlantic in Aer Lingus 'Jumbo Jets'
1996      
Chicago service is reintroduced after being suspended previously
1997      
Newark service is inaugurated in May
1999      
Launch of Los Angeles service using newly-delivered long-range Airbus A330-200
2007     
Open Skies agreement provides Aer Lingus with new opportunities to grow its long-haul network and within an hour of the announcement Aer Lingus announces three new routes to the U.S. - Washington D.C, San Francisco and Orlando
2008      
Aer Lingus announces a pioneering partnership with U.S airline, JetBlue Airways connecting Aer Lingus passengers with over 40 domestic destinations and also signs a codeshare agreement with United Airlines providing Aer Lingus passengers with access to over 200 U.S destinations on the United Airlines network
2008      
Aer Lingus celebrates 50 years of transatlantic flying and embarks on a long-haul aircraft product upgrade of its current fleet, which is rolled out from the end of 2008
2014     
In April 2014 Aer Lingus commences its direct services to San Francisco and Toronto
2014      
In October 2014 the new Aer Lingus Business Class is unveiled offering a new Vantage Seat which transforms into a fully-flat 6'6'' (2 meters) bed, complimentary Wi-Fi, a new business class menu created with Irish food consultant Hugo Arnold and the very best in inflight entertainment
2015      
In September Aer Lingus becomes part of International Airlines Group (IAG), one of the world's largest and most successful airline groups
2015      
In October 2015 Aer Lingus announces three new transatlantic routes – Los Angeles, Hartford, Connecticut and Newark, New Jersey, now offering a total of 12 direct transatlantic routes from Ireland
2016      
On 4th May Aer Lingus begins its direct service to LAX, Los Angeles, California
2017    
Aer Lingus announces a new direct service to Miami, Florida commencing in September
2018   
Aer Lingus commences flying to Philadelphia in March and Seattle in May.
Read more: Kerry and the Wild Atlantic Way tours