"Are you a witch? Are you a fairy?
Are you wife of Michael Cleary?"
- Children's rhyme from South Tipperary
In March 1895, 26-year-old Bridget Cleary (née Boland) disappeared from her home, a labourer's cottage in Ballyvadlea in rural South Tipperary. Locals said she had been taken away by fairies of nearby Kylenagranagh Hill and a changeling – a fairy offspring – put in her place. She was expected to emerge from hill riding a white horse. Instead, her badly burned body was found in a shallow grave.
Bridget's husband Michael, her father and four of her cousins were arrested and charged with her murder. The case was sensational from start. Even today, Bridget Cleary is known as last witch to be burned in Ireland or at least as subject of last witchcraft trial in Ireland. But Bridget was not a witch, even by beliefs of day. She was not considered to have been consorting with devil, as is usually case in what was perceived as witchcraft. Many believed that Bridget's husband simply wanted shot of her and invented fairy story as a cover.
The Clearys were different and Bridget especially so. It was not long after Great Famine of 1845-49 and in that part of rural Ireland many families lived in squalor, without security or tenure in unsuitable and tiny unsanitary cabins on small plots of land. Both Bridget and Michael could read and write. Bridget was also an independent business woman making money as a poultry-keeper. She was a gifted milliner (hatmaker) from which she also earned money. She dressed in more fashionable clothes than her female contemporaries and sported a straw hat dressed with ribbon and a feather.
Michael had a good job too. Unlike many of his contemporaries who were farm labourers, Michael was a cooper, an independent artisan. The Clearys did not live in one of small, mud-walled cabins like many other families. They lived in what was considered a decent cottage with decent farmland. Since they both earned money and had no children, Michael and Bridget were also financially better off than most of their neighbors.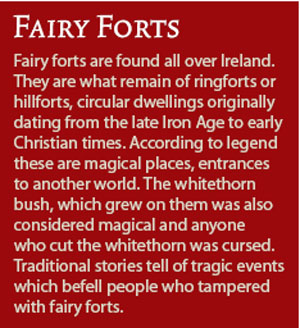 3
Bridget was an attractive young woman who kept to herself. Some considered her a bit haughty and there was local gossip of a possible affair with one of her neighbors. Also, after seven years of marriage Clearys were still childless. This was unusual and perhaps shameful, especially for Bridget's husband. Ballyvadlea where they lived was a rural townland of just over 272 acres, with nine homes and a population of just 31 in census of 1891. Bridget and Michael, who met in Clonmel, first lived in Bridget's parents' cottage. After Bridget's mother died, she had to care for her elderly father and Clearys were granted tenancy of another labourer's cottage in Ballyvadlea. This new cottage however was thought to be fairy-haunted because it was built over a rath or fairy fort (see box).
On Tuesday 5th March, Bridget was suffering from an illness, possibly pneumonia. For three days Michael Cleary and his father-in law along with Mary Kennedy and Johanna Burke, Bridget's aunt and cousin, nursed Bridget who deteriorated considerably. A doctor visited but he did not take her condition seriously which angered Michael Cleary. A local priest gave Bridget last rites. Eventually, Michael described in a written statement after event that he consulted with Denis Ganey, a fairy doctor. One of Ganey's cures was first milk given by a cow after calving which was known as 'beestings' or 'beastlings'. This was supposedly particularly attractive to fairies.
Claiming they were conducting a treatment to bring Bridget back, Michael Cleary, assisted by Bridget's four cousins and father, touched Bridget with a hot poker, drenched her with urine, and forced her to drink Ganey's concoctions of herbs in milk. They also held her over kitchen fire asking insistently whether she was in fact Bridget Cleary, or a fairy changeling. (The idea of a changeling was popular locally and features in Celtic and other Western European ancient folklore. It is offspring of a fairy or other magical creature, which has been secretly left in place of a human child or adult.)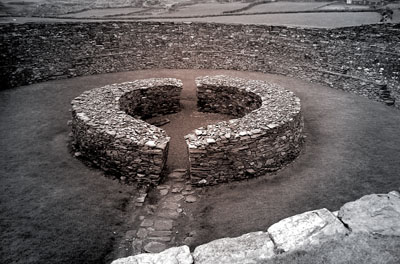 3
A magisterial inquiry on Cleary case which began on 25th March was told that treatment Bridget had received was part of a traditional cure for fairy abduction and was considered to have succeeded. However, sometime after midnight on Friday, March 15th Michael flung his wife on floor before fire, brandished a piece of burning wood before her mouth and demanded that she say her name three times. When she failed to do so to his satisfaction, he doused her with lamp oil and set her ablaze. Later, Michael Cleary and one of Bridget's cousins carried her charred remains wrapped in a sheet about a quarter of a mile uphill from cottage to a shallow grave. They covered body with soil and branches. It was later found by a police search party a week later.
The Cleary murder case ran from 1st April to 6th April, 1895. On 5th July same year Michael Cleary was convicted and found guilty of manslaughter. He served 15 years in Maryborough Prison. He was released on April 28th, 1910, after which he went to Liverpool and later to Montreal in Canada. The best known documentation of Bridget Cleary's death was by Angela Bourke in The Burning of Bridget Cleary, (1999). In April 2005 Irish playwright Tom McIntyre's play What Happened Bridgie Cleary opened in Peacock Theatre in Dublin. The funeral of Bridget Cleary was said to have taken place at night on Wednesday, 27th March. No civilian attended and body was transported in an ordinary car. She did not receive a funeral mass and body was conveyed to Roman Catholic burial place of Cloneen.
Ar dheis Dé do raibh a anam.
'May her soul be at right of God.'
- Leonie O'Hara