Cable station on Valentia Island was crucial in connecting Canada and Europe with a transatlantic cable in 1866.
The Canadian government are supporting Ireland's bid for Kerry's Valentia Island to be added to UNESCO's list of Tentative World Heritage Sites.
The island played an important part in connecting Canada to Europe in the 19th century when in 1866 a transatlantic cable link was laid - after multiple failed attempts - between the Heart's Content in Newfoundland and Valentia Island.
At the time this was a technological revolution: where once it had taken two weeks (weather depending) for a message to be sent from North America to Europe, now it would only take two minutes.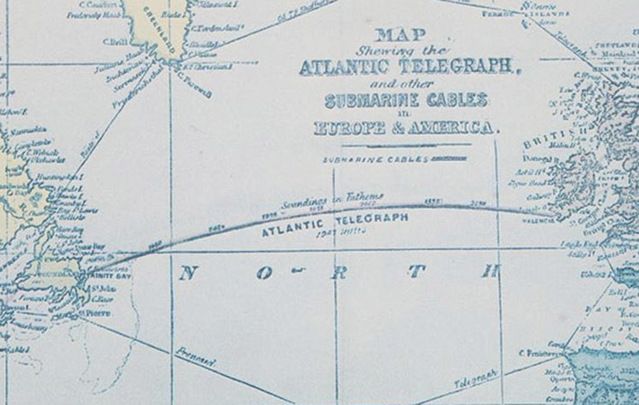 2
The first message was sent by Queen Victoria, vacationing on the Isle of Wight off the English south coast, to US President Andrew Johnson about the signing of a peace treaty between Austria and Prussia.
Read more: 150th anniversary of cable connecting Irish island to America celebrated
"A treaty of peace has been signed between Austria and Prussia," the message read.  
"The Queen congratulates the President on the successful completion of an undertaking which she hopes may serve as an additional bond of Union between the United States and England."
Canada seeks Unesco World Heritage status for Valentia Island. #cable #station #worldheritage #valentia #island #Ireland #canada https://t.co/uYIH0ByVfT pic.twitter.com/KEibLF1wck


— Cultural Heritage (@CulturalH) January 15, 2018

At first it was only for the rich; the cost of a telegram was initially set at $1 per letter when the average monthly wage for a laborer in the United States was just $20 but over time the price would drop and sending telegrams became relatively ordinary.
Over in Canada, the Canadian Government have long since recognized the cable station at Heart's Content as a national treasure and the Federal Heritage Department think it's time Valentia Island received similar recognition:
"The Heart's Content Cable Station Provincial Historic Site, together with its sister site in Valentia, Republic of Ireland, meets World Heritage's high standard of universal value with respect to its cultural heritage values."The Committee encourages the Government of the Republic of Ireland to consider inclusion of Valentia on its Tentative List for World Heritage sites."
Site of the first message over the trans-Atlantic cable from Valentia Island, #Ireland, to the USA. #History pic.twitter.com/YUcJ9KINsC


— Tim Skellett (@Gurdur) September 19, 2017

The potential boost to Valentia Island's tourist trade would be considerable but the Irish Examiner reports that Ireland's list of UNESCO World Heritage Sites is not due to be updated until 2020.
However the chairman of the Transatlantic Cable World Heritage Board, Leonard Hobbs, said he thought special early consideration should be given to Valentia Island: "This would be Ireland's first and only transnational site, and the first and only industrial heritage site for Ireland to be considered for Unesco World Heritage status."