Not all Irish people look like Maureen O'Hara or Conan O'Brien. Ireland is becoming ever more diverse.  
Pale skin, freckles, and red hair were once the perceived order of the day for Irish people but thanks to immigration and the integration of new cultures and ethnicities into Irish society, some Irish Americans (and Irish people alike) may be surprised to see that this is no longer the case.
Whereas Irishness was once very much connected with being white, being Irish and being white are far from being one and the same.
While that old mentality still causes difficulties for people on what an Irish person should look like, this video gives some great examples of the ridiculousness of asking an Irish person of color "Where they're really from?"
Read more: Irish Americans are racist, have lost touch with roots, says Irish politician
While all immigrants and their descendants are amazing and by no means have to prove their worth to the country by hitting headlines or doing anything other than living their lives, on the off-chance you need reminding that immigration and diversity is not a bad thing (ahem, Mike Pence, Paul Ryan), here are Irish people striving ahead in their fields who also may not fit the Irish stereotype.
Ruth Negga
3
Preacher star and Oscar nominee Ruth Negga is an Irish-Ethiopian actress who can contend with the best of them for being one of the most sought-after actresses in the world right now. Growing up in Limerick, she previously told our sister publication the Irish Voice that being black and being Irish only became an issue when she first moved to London.
"I did feel it quite keenly when I moved to London because being Irish and black became an issue there for some people. That's when I first felt that gosh, I'm really different," she said.
"But that's just my narrative," Negga added. "I can't speak for everyone's experience. The thing that worries me is that people are going to say, 'Is she trying to speak for me?'"
Loah
Sallay Matu Garnett, also known as Loah, is of Sierra Leonean / Irish origin. Her music combines a blend of folk and soul and she has already performed on several occasions at the Irish Arts Center in New York. Check out her stunning songs and the music videos to go along with them.
Sene Naoupu
Naopu is a Samoan New Zealander who originally emigrated to Ireland in 2009 and has already been a member of the Irish women's rugby team that took home the 2015 Six Nations. She also recently took part in a TG4 (Ireland's Irish-language TV channel) campaign which highlighted how much of the language people actually have when they think they have none at all.
Read more: First Irishman was black with blue eyes says genetic expert
Lorraine Maher
Tipperary-native Maher is the mastermind behind the fantastic #IAmIrish campaign and exhibit. As the only black person in her area when she was growing up, she launched the project to represent the mixed race Irish experience and to question the concept of "Irishness" and what that means for us as we seek to celebrate and encourage a diverse representation of being Irish.    
Farah Elle
Dubliner Farah Elle is a singer-songwriter and pianist with an alternative pop sound influenced by an eclectic taste of genres; from hip-hop R&B and ska, while featuring Arabian echoes from her Libyan background. She moved to Dublin when she was two and while you can clearly hear her Irish accent drifting through her music, it's also beautifully influenced by her Muslim background.
Gina Akpe-Moses and Patience Jumbo-Gula
Heat winners, world finalists!

The Irish 4x100m team of Molly Scott, Gina Akpe-Moses, Rhasidat Adeleke and Patience Jumbo-Gula are into the final after clocking 44.27 and will have a huge medal chance tomorrow. pic.twitter.com/bN3Q0OLF0h

— Athletics Ireland (@irishathletics) July 13, 2018
Together making up one half of Ireland's 4x100m women's relay silver medal at the World Under-20 Championships this year, Akpe-Moses, who was born in Nigeria, became the first Irish woman to win a sprint gold medal over 100 meters at the European junior championship in 2017. Sixteen-year-old Jumbo-Gula proved her own point when she said "Irish sprinting is the best it has ever been" when she broke a European U18 100m record earlier in July.
Ola Majekodunmi
It's finally here the 'What does Irishness Look Like?' 😁 I'm so excited to share it with you all! Thanks so much to everyone who helped with it, really appreciate it ❤ The subject matter means a lot to me and many others https://t.co/1YKtiYBERu

— Wuraola Majekodunmi (@olamajekodunmi1) July 19, 2018
Irish student Ola Majekodunmi was just seven months old when her Nigerian parents sought asylum in Ireland, leaving their four older children in Lagos. She's become something of a face for the Irish language in recent months, however, speaking out about how it still surprises people that she can fluently speak the country's native language even though she attended an Irish-medium school.
She's also the creator of the fantastic video above and a contributor to the popular podcast on the Irish language Motherfoclóir.
Read more: People are shocked that the daughter of Nigerian parents can speak Irish
Emman Idama
Nigerian Irish comedian Idama moved to Co Kildare at a young age and quickly became the funny man in his school classes (not that his teachers were too impressed). You may know him from previously appearing in the Facts. channel and now featuring on the Try Channel on YouTube.
Emma Dabiri  
With an Irish mother and a Nigerian father, Dabiri is a writer, social historian and broadcaster who has contributed to the likes of The Guardian and the BBC. While born in Ireland, she moved to the US and back to Ireland by the time she was five. In 2016 she penned a brilliant piece that questioned why "I'm Irish but I'm not white. Why is that still a problem as we celebrate the Easter Rising?" and in the video above discusses her experiences on Irish TV. 
Phil Lynott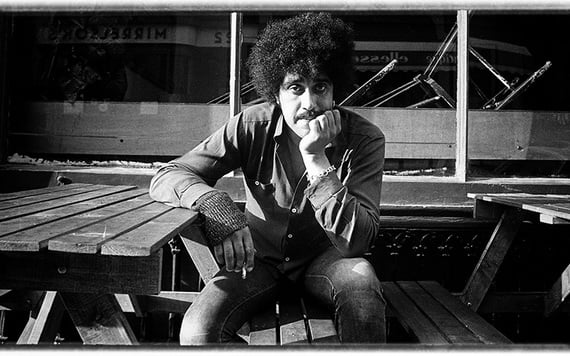 3
Lynott was born in West Bromwich, England, to an Irish mother and British Guianese father, but returned to Dublin at the age of four where he was raised by his grandmother in Crumlin.
The Thin Lizzy star is one of our most celebrated musicians.  
Samantha Mumba
The singer of what Billboard officially named as one of the best choruses of the 21st century, Mumba is a Dublin native born to an Irish mother and Zambian father. Thank goodness for this song!