We're back with Black 47's Larry Kirwan. Check with IrishCentral every second Sunday as we cover the history of the iconic band album by album. You can find the whole series here. 
In the coming weeks and months, Kirwan and IrishCentral will look back album by album on the history of Black 47 and their rise to fame. Below is the tenth installment of the series about the recording of "Ten Bloody Years." But first, a note from Larry's himself: 
Wetlands was a large club down on Hudson Street in Tribeca, NYC.  Joe Strummer was instrumental in getting Black 47 to play there.  
I have so many great memories of the place.  It was free-flowing to say the least – the air would be thick with the fumes of grass and Guinness – it was political and non-conventional, and friends like Joey Ramone, Matt Dillon and Strummer would party with us.  
We did a number of powerful early double-bill gigs with John Trudell, the Native American poet, and activist and from then on we headlined usually on St. Patrick's Day.  
Our first live album, "Live in New York City" was recorded there and became one of our most popular CDs.  
It was the obvious place to stretch out with the new lineup and see where we were at.  John Agnello and Stewart Lerman parked their mobile recording unit outside and over a couple of frantic two-hour shows on March 17, 2001, we recorded "On Fire."  Little did we know how prophetic the title would be!  
- Larry Kirwan 12-29-19
"On Fire"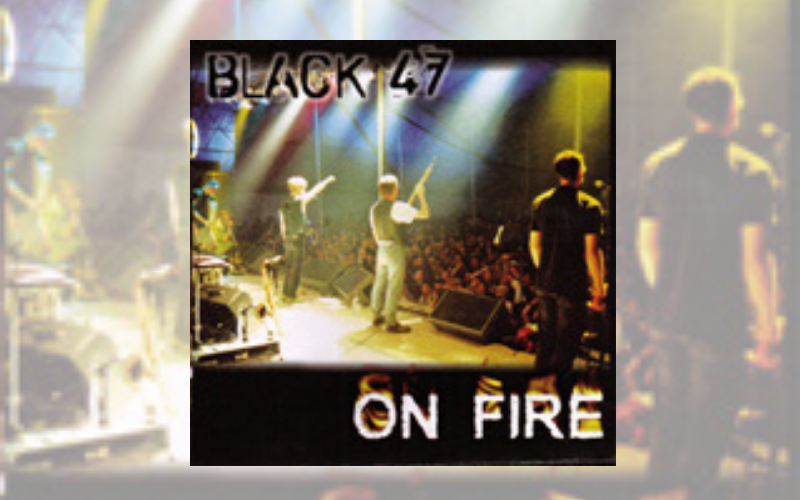 3
Chris Byrne left the band at the end of May 2000. He'd been thinking of leaving for some time but loyally decided to stay until the touring and promotion for "Trouble in the Land" had run its course. 
It had been a wild tumultuous ride for both of us – from playing in front of five people in the Bronx to sharing the same stage with Johnny Cash, Neil Young and John Mellencamp at Farm Aid before 50,000. It often seemed amazing what we'd done – taken a band from the bars of Bainbridge Avenue to playing Leno, Letterman, and O'Brien, while at the same time changing the way people listened to Irish music. 
We wanted to be the Clancy Brothers of the '90s. In a way, we succeeded. Now Chris has his own band, Seanchai and The Unity Squad – and a fine band they are.
3
There was no downtime; we were back on stage the following weekend. No rehearsals - just get back in the van and get on with it. We worked with a tandem of uilleann pipers for the next months. Our friend, Neil Anderson, the original piper in Seven Nations filled in and was great. Chris' anointed successor, Joseph Mulvanerty, alternated with Neil who was living down South and traveling up for gigs. In the end, the gig went to Joseph.
And what a find! A jazz drummer in high school he came late to Irish music. He had a different sensibility than other pipers, more interested in Hendrix, Van Halen and Coltrane than Ennis and O'Flynn. In those days Fred used to stand behind him onstage, and young Joseph immediately caught the trombonist's free jazz vibe - that songs be interpreted through the prism of your mood and the circumstances of the night.
There are no voids in music. With Chris gone, the other players just stepped up to the front both literally and figuratively. Of course, we missed Chris, me most of all. For our sets always contained "Time To Go" and "Walk All The Days." Those songs gave me a chance to stand back, concentrate on my guitar playing and add harmonies. It was also a great feeling to step away from the spotlight and ground oneself behind Chris's powerful frontman presence. Besides, there wouldn't have been a Black 47 without him. He imbued the band with his sensibility, political integrity, and black humor.
In many ways, the music stepped up a notch. None of the other band members was likely to sing a song but there seemed more space for actual playing and improvising. We always had long periods of instrumental fireworks – for I've always believed that if you put a story out there lyrically, then if you encourage the instrumentalists to expound on the lyrics you'll end up with a much more complete experience. For whatever reason, the music, in general, began to loosen up and become more fluid. You can hear the genesis of this in "ON FIRE." We first began performing "Johnny Byrne's Jigs" some weeks before we recorded the show at Wetlands on St. Patrick's Day 2001.
As usual, we didn't rehearse this piece, just tried it one night in Connolly's and it began to bend and shape into what it is today. The idea, though, was to keep it loose and let it do its own thing every night. One of the highlights of the CD is when Fred's sister, Betsy Parcells, joins us on "Our Lady of the Bronx" and delivers a stunning "Ave Maria." Betsy was a professional opera singer with a flourishing career in European opera houses. Her voice still sends chills through me. Betsy, alas, passed away some years back but that powerfully melodic voice brings me back to that wild St. Patrick's night in Wetlands, some months before the club closed. It was to be the last St. Patrick's night of the old era. None of us had the least idea that the world was about to change irrevocably.
— Larry Kirwan (2002)
Do you have any photos of going to see Black 47 or any memories of their shows that you'd like to share with us? Send them to editors@irishcentral.com with "Black 47" in the subject and we'll include them in Larry Kirwan's collected history. 
This article was submitted to the IrishCentral contributors network by a member of the global Irish community. To become an IrishCentral contributor click here.