Visit The Kennedy Homestead, in Dunganstown, County Wexford reminds us what an amazing event JFK's 1963 visit was and how far Ireland has come since.
I was in County Wexford on the Nov 22 last, which was the anniversary of John F Kennedy's death. My friends and I decided to visit The Kennedy Homestead, in Dunganstown.  
It celebrates the story of five generations of the Kennedy dynasty and is still today farmed by his descendants.
I found all the photographs displayed there to be of great interest. I loved the simplicity and informality of the tea party, which was served in the family's open farmyard. In some photos, the helicopter can be seen in a nearby field.
3
Remember it was in 1963 – when some of us were young teenagers and television had only just arrived in Ireland. It must have been awesome for the local people to have the President of America arrive into their parish, to visit his relations. His wife, Jacqueline, was not with him, as she was pregnant. (She had a miscarriage later.) His sisters Eunice and Jean accompanied him.
WATCH: Amazing archive footage - meet JFK's Irish cousins in 1963
There are many photos of them standing around the Irish farmyard, studying their surroundings. Their fitted suits were very glamorous. Jean Kennedy is still alive. She is the last surviving member of the nine Kennedy children.
"Welcome home, John," his cousin Mary Ryan (née Kennedy) whispered into the president's ear.
Mary Ryan's attire fascinated me.  Remember those cross-over aprons old women wore, long ago. They were made from navy material which had little flowers on it. The dress, which Mary Ryan wore to welcome President Kennedy, seems to be made from the same material. Her flat hair is tied back into a little bun at the nape of her neck. Now, I am not criticizing her at all, for she appeared to be lovely and homily and most welcoming.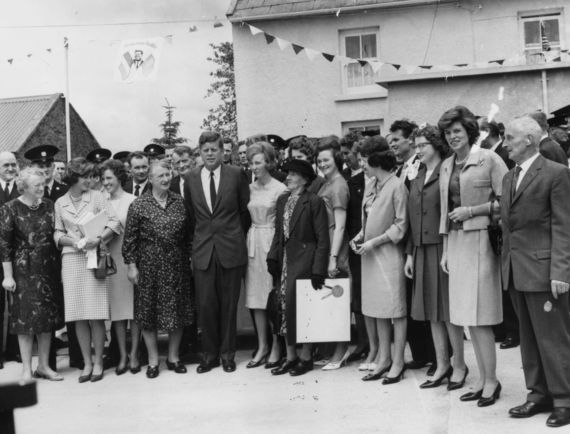 3
Read more: The actual bullets that killed John F. Kennedy go online
What amazes me is that she was only 63 years old when these photographs were taken. I thought that she was about 80!  How times have changed!
Later that night, after our visit to The Kennedy Homestead, we had a drink in the hotel bar, in Wexford town. A group of women were there, celebrating a 60th birthday. I watched them dancing and studied how very very differently dressed they were.
As Tina Turner sang 'Proud Mary' the women in their 60s boogied and swayed to the loud music. They were dressed in lovely modern dresses, some quite short, one wore a silver sexy jumpsuit.  Their shoes and ankle boots had high heels and looked gorgeous. Their hair was colored and high. To be 60 nowadays is the equivalent of being 40 in the 1960s.
Life expectancy for an Irish woman, in 1963, was 70s years. For a woman now, in 2019, it is 81 years. 
So let's keep dancing!
Read more: 32 hours in Wexford exploring Ireland's Model county and the Kennedy homestead
32 hours in Wexford

32 hours in Wexford exploring Ireland's Model county and the Kennedy homestead! Read more here - http://bit.ly/2LNvCaH

Publiée par IrishCentral.com sur Vendredi 13 décembre 2019
Have you visited the Kennedy Homestead in County Wexford? Let us know what you thought in the comments section below.