Corkonian Liv Monaghan scintillated in the 2023 Lisdoonvarna-Paris dress at a recent Mná na hÉireann, France event in Le Cirque, one of Paris's hottest venues, located opposite the Centre Pompidou.
On my first visit to Lisdoonvarna, I was having a drink outside the Matchmaker's bar with matchmaker Willie Daly and Julie Carr, PR for the Matchmaking Festival.
When the angelus bells rang, I was amazed to see women spill out onto Lisdoonvarna's main street in the most beautiful gúnaí (dresses). They quickly disappeared over a small bridge to the Lisdoonvarna Spa Wells ballroom for the 'First Chance Dance,' which opens the festival at noon on the first Saturday in September, the beginning of the month-long annual Matchmaking Festival.
That was the inspiration for the Lisdoonvarna-Paris dress, an annual dress linking Paris the capital of Love, with Lisdoonvarna, the town of Romance.
The 2019 Lisdoonvarna-Paris dress was designed by Paris-based Korean fashion designer Kim Bernardin and, after a break for Covid, the 2022 dress was designed by Irish couture designer Sean Byrne, currently working for Yves Saint Laurent, Paris.
The multi-talented Liv Monaghan, jazz singer, songwriter, and composer, was the musical star at Le Cirque. Accompanied by Sava Medan on double bass, Monaghan turned the heads of Parisians climbing the stairs to another private event. They were bowled over, not only by her musical talent but also by her attire, which bore the hallmarks of French haute couture with a vintage/musical fusion.
Monaghan's work as a costume designer has overlapped seamlessly into her work as a musician. She's renowned for her meticulous selection of concert attire - for the drape and texture of the fabrics, certainly, but only in part.
Monaghan believes "the most important thing is that the fabric sounds interesting so that I can get a beautiful percussive sound from it when I play my drum brushes against it!"
She also incorporates a wide range of elements, turning them into accessories or stitching them into her outfits, such as bells, whistles, or hand-picked sea shells which she wraps in sumptuous silks to enhance the percussive aspects of her shows.
A significant portion of her creative work revolves around repurposing discarded items, often sourcing these vintage treasures at flea markets in Paris and then skilfully reassembling them into new and innovative creations, which brings her immense personal satisfaction and enriches her musical canvas.
Her black Lisdoonvarna-Paris dress was a product of her own imagination, inspired in part by fellow costume designer Helen Cusack O'Keefe, who contributed to the bustle design which Monaghan went on to enhance with several useful percussive pieces that she improvised with throughout her performance. In short - a costume drum set!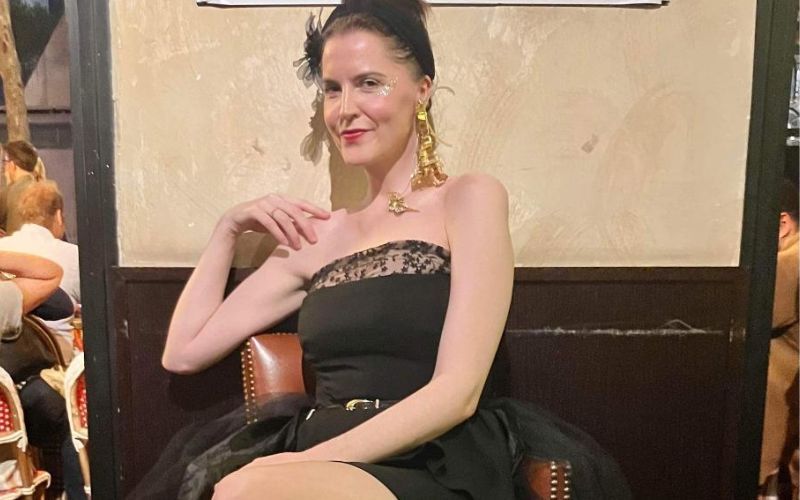 4
The exquisite handmade earring crafted specifically for Monaghan by French designer Thibault Martin glistened. This unique piece was created as part of the artwork for her latest album, "Slow Exhale." Crafted from gold paper, it showcases Martin's expertise in haute couture embroidery. Martin himself is a freelance designer, primarily collaborating with Arturo Obegero, an emerging fashion designer who has dressed prominent artists like Beyonce and Róisín Murphy and also working with Maison Margiela and Lanvin.
During the event, Monaghan incorporated her own compositions with a selection of Irish songs, and her rendition of "Spancil Hill," originally written as a 19th-century love letter by Co Clare emigrant Michael Considine to his love back in Ireland, was a poignant homage to Irish emigration over the centuries. There was an element of "Touching Infinity" in the magical evening.
"The Mná Ceol Collective" group, like the Commitment-ettes trio in Alain Parker's 1991 film, were also elegantly dressed in black. The group composed of Emma Downes (violin), Gráinne Dunleavy (vocals, guitar), and Sandra Boeuf-Martyn (vocals, ukulele, banjo ukulele), emerged from the Mná singing sub-group. The trio originally hail from Limerick, Dublin, and Galway respectively although their various paths led them to a life in Paris.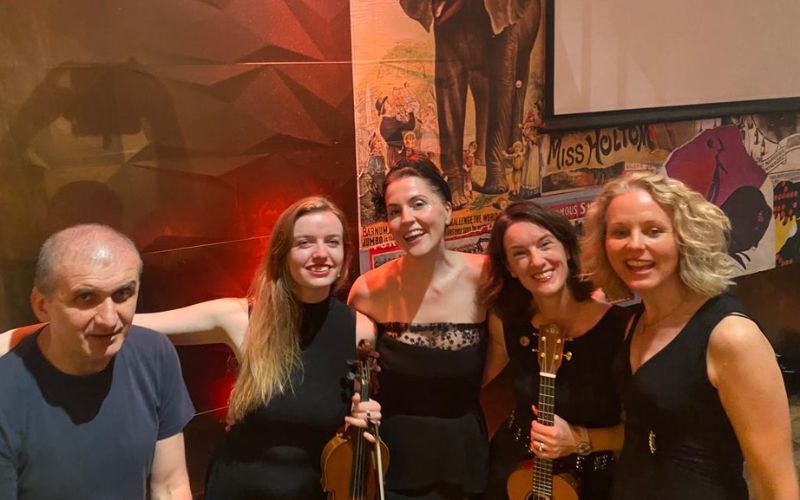 4
Amid all the hype surrounding the Rugby World Cup, the trio's rendition of "Ireland's Call" had even the restaurant manager and waiters raising their voices in song. Parisians are enchanted by Ireland's football and rugby supporters and the festive element their singing, serenading, and craic, bring to the City of Light. 
The special guest speaker for the event, Maria Doyle-Cuche, came sixth in the Eurovision in 1985 under the name 'Maria Christian'. She was a semi-finalist in the 2020 Voice France, and during each episode, she shone because of her incredible singing talent, and inspirational personality, but she also did Ireland proud with her fabulous fashion flair and style. She was Sean Byrne's muse and model for the 2022 Lisdoonvarna-Paris dress.
Just back from starring in a documentary film in Bordeaux, Doyle-Cuche was attired in a peach-coloured Grecian creation. She spoke about her inspirational life: "When I was young I loved looking at the stars. However I was struck blind at nine, and now that I can no longer see the stars in the sky, the light of my fellow Mná living in France, the warmth of their friendship and talents are precious, in a way they have become my shining stars."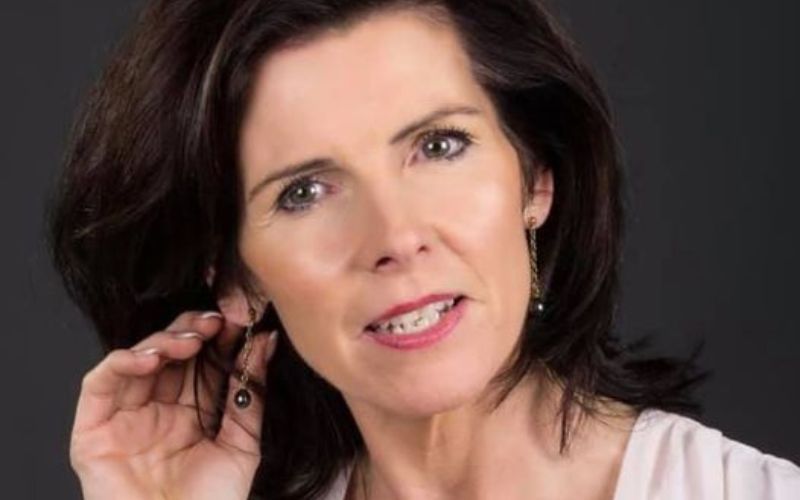 4
I have hosted three annual Lisdoonvarna link-up events in Paris, but next year, we'll be "off to Lisdoonvarna" to showcase the 2024 dress.
I was delighted to discover Violvetine last year in Lisdoonvarna, an innovative, two-piece band comprised of Co Clare musician Quentin Cooper (guitar, vocals) and Séverine Pigot (viola, vocals) at the Roadside Tavern. Séverine originally hails from Paris; Quentin's dad is Irish and his Mum is from Peru. A winning, eclectic musical combination nurturing the Lisdoonvarna "French connection!"
Neither rain, hail, snow, nor the lack of hotel rooms, can stop the music at the Roadside Tavern where there's live music seven nights a week all year long.
Moreover, perhaps Séverine, a beautiful, musical Parisian, living in Ennistymon and performing in Lisdoonvarna, might be a perfect muse for the 2024 Lisdoonvarna-Paris dress!
This article was submitted to the IrishCentral contributors network by a member of the global Irish community. To become an IrishCentral contributor click here.