There used to be a time when this part of Brooklyn was pretty void of Irish accents but now there are GAA shirts aplenty to be seen on Bushwick blocks. 
New York moves at a fast pace and no aspect of it moves quite as fast as the gentrification of neighborhoods and the changing faces of communities in different parts of the city. 
Telling people I've lived in Bedford-Stuyvesant, Brooklyn has seen a double-take or two from more weathered members of the Irish community since moving to New York and while I was far from the first Irish person to  settle here in recent memory, even I have noticed an increasingly large influx of people who do their grocery shopping in O'Neills shorts when the summer months roll in. 
There's one Brooklyn neighborhood, in particular, that seems to have now become the prime destination for fresh-off-the-boat Irish, however, just a step over the J/Z track along Broadway into the neighborhood of Bushwick.
Read more: Meet the Irish artists blazing a trail in Brooklyn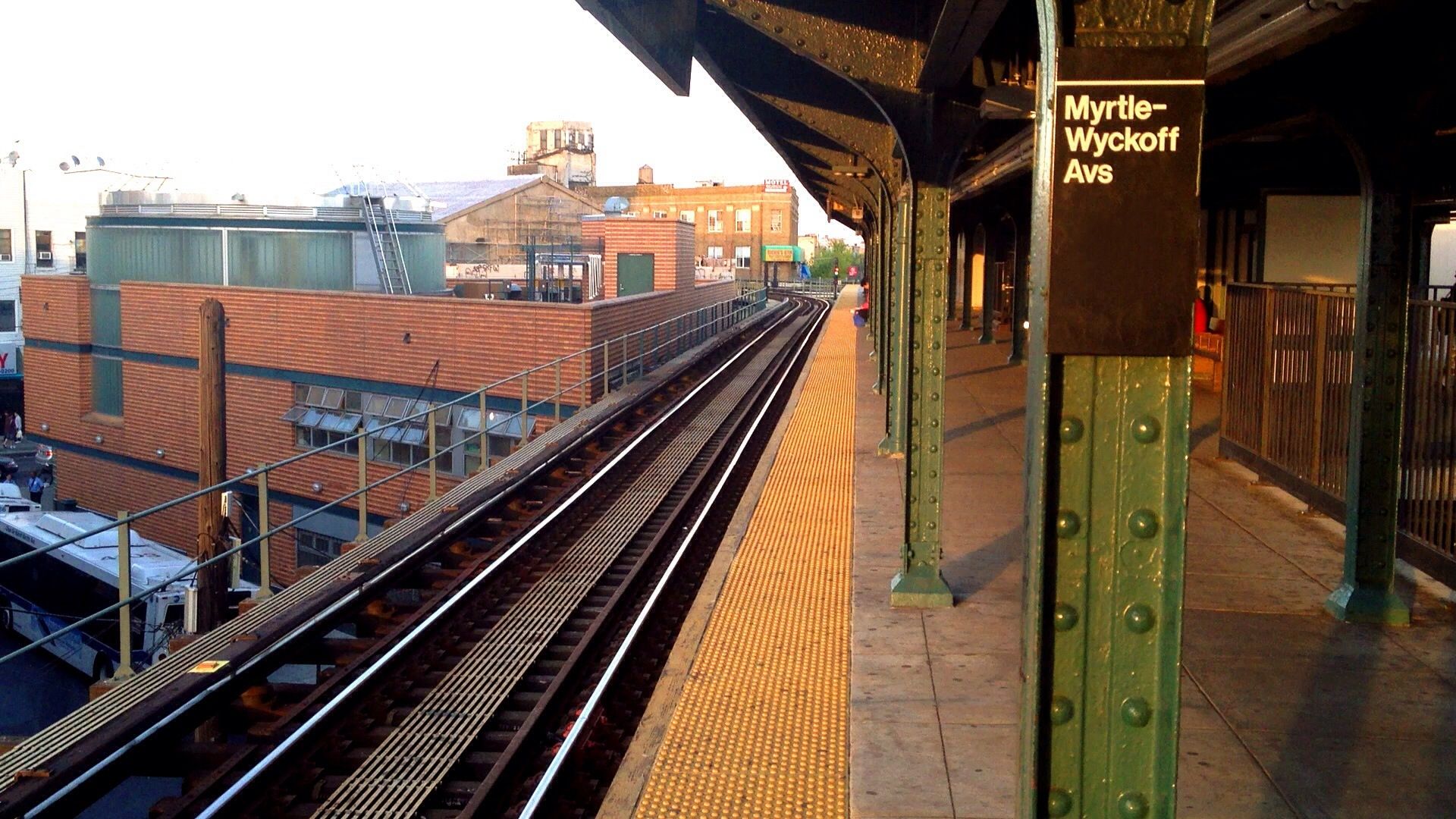 3
Whereas the J-1 visa graduates of my not-so-distant era would every so often tell me they lived in Bushwick at those early Irish networking events when we were all job-hunting, they more often than not were still heading home to the Irish enclaves in Queens including Sunnyside, Woodside and stretching to Astoria. 
In just a little under a decade, however, any new arrival I meet now seems almost certain to tell me they are living in Bushwick or on the Bushwick borders of nearby communities, in what could be signaling a change to the tried-and-tested traditions of settling in one of the stand-out Irish neighborhoods in the Bronx and Queens. 
"I'd lived in Bed-Stuy and Yonkers but I'd always had my eye on Bushwick," said Seamus Kiernan, a Westmeath native who has been working in the area as a freelance photographer.
"There's definitely been an increase in Irish people in Bushwick over the past few years. It's a convenient area to live in. You're not living in Manhattan but you're not that far away either. Thirty minutes on the Subway will have you at Times Square.  
"I wouldn't be surprised if I hear about Bushwick GAA starting up one of these days!"
Read more: Where are the most Irish cities and towns in the USA?
3
Shauna Coen is a recent journalism graduate who is among the latest group of J-1 visa holders to make it to this part of Brooklyn, although living a little further north closer to East Williamsburg. 
"I've been surprised by the number of Irish people living here," Coen said. 
"It's funny. I was passing the restaurant right beside our apartment one evening and this familiar shade of blue caught the side of my eye. I turned around to find a young guy wearing a Dublin jersey sitting in the restaurant having dinner and a glass of wine. No pints for him. 
"I can definitely see this area of Brooklyn becoming a new young Irish neighborhood. It has everything that young people are looking for," she added. 
Bushwick was originally settled from the Native Americans by the Dutch in 1636 and named Boswijck (meaning refuge or town in the wood), stretching across the neighborhood today, as well as Williamsburg and Greenpoint. It would be taken over by the British Crown in 1683 and brought under the name Kings County, the county in which most of Brooklyn still lies today. 
Establishing itself as an industrial area from the 1860s onward, its population was mostly compiled of German immigrants, although as its fame also developed as a hotspot for breweries drawing close to the end of the 19th century and into the First World War, other European immigrants sometimes settled there, Irish among them. 
Read more: Irish street artist Solus launches solo New York exhibition
Although Italians replaced Germans as the dominant group leading into the 1950s, after the Second World War, these European immigrants began to move elsewhere. In the space of a decade, the neighborhood went from 90% white to less than 40% white, as poorer migrant workers of Puerto Rican and African American descent, in particular, moved. 
From the 1970s until the mid-90s, Bushwick became a neighborhood of poverty with renovations and demolitions making the once wealthy industrial landscape look more desolate until the 2000s saw the Bushwick Initiative attempt to improve housing and development, paving the way for communities such as young recent Irish graduate to eventually move in.  
There have been Irish people living in Bushwick for quite some time but mainly the artists who were suffering along with the rest of their kind and being pushed because of rising costs from the island into one of the outer boroughs. 
The likes of Cavan native Gemma Sherlock, aka The Scarlet Bob, who describes herself as on a mission to "bring the fun back into fashion," and Dublin artist Solus, have brought their fun and flare to the neighborhood long before this new potential neighborhood shift. And despite Brenda Breathnach's new creation 3 Dollar Bill just opening in Bushwick earlier this year, the 54-year-old Kerry native is no stranger to the city. 
"In terms of the type of Irish people living in Brooklyn, there's a lot of people working in the Arts fields. For a struggling artist, the rent is quite affordable," Kiernan added.
"I'm into photography and Bushwick is a photographer's playground! Having television and movie crews outside our apartment building every few weeks was nothing unusual. Bushwick is just stereotypically Brooklyn."
So what has provoked the recent change? 
As always, several factors could be at play, as while still more expensive than even the next neighborhood out, Ridgewood, Bushwick offers proximity to the city to new Irish immigrants who may not have yet heard about the L-train shutdown. Now de-escalated to a slowdown, the rest of us readily remember that 15-month MTA scheduled work that had many Williamsburg and Bushwick creatives predicting the end of the world as we now know it. 
While the exodus from the area may have been saved somewhat by the eventual change in plans, those pre-empting the zombie-apocalypse-like situation that could have become their morning commute from Bushwick had already fled, leaving a void of cheap(er) accommodation that could have been filled by J-1ers hunting for that infamous signature on their internship visa paperwork. 
"The only downside...the L train!" said Coen, who was quick to learn of the downsides of the area.
"Before moving over, I reached out to other Irish people in NYC to get advice on where to live. Brooklyn was mentioned time and time again.  Williamsburg is a really trendy area and it attracts a young crowd which is great! 
"It seems to have it all – an abundance of restaurants, bars, clothing boutiques and this great energy that sees me spending my weekends here rather than venturing to Manhattan."
Yet, it's hard to believe that Bushwick will now become the next Irish haven. Still relatively industrial but with plenty of great event spaces, bars and restaurants, the neighborhood is perfectly suited to a newcomer to the city looking to find out whether New York truly ever sleeps and testing the limits on just how far they can go without some shuteye as well. 
With less and less Irish immigrants now arriving in the US on a permanent basis, this new young community in the area, while amusing for the likes of me to observe, are set to spend just fleeting time living in the neighborhood; returning home once their graduate visa is over, finding themselves not as strapped for cash and moving further away from those bars they'll be haunting over the next few months, and more likely than not, leaving Bushwick behind for the next onslaught of recent Irish graduates ready to have a crack at the city.  
It will be a long time before we see any Bushwick Junior Bs traveling for games in Gaelic Park. 
Where do you think is the next Irish stronghold in New York? Let us know in the comments section, below.