I would always cherish those memories.
It had been nineteen years since I first visited Ireland. My wife, Terri, arranged the first trip with a number of our friends as a 50th birthday present. Little did I know that the country would have a magnetic effect on me that would pull me back again and again.
I think we were only three days into our excursion when it dawned on me that both sides of my family, the Faheys and the McGuires had a longer history on this island that they did in the United States.
On our first trip with friends, we didn't get to visit either of the areas where the Faheys and McGuires had come from. My cousin, John McGrath, a Canadian journalist had found our great-great-grandfather, John Fahy's baptismal certificate in Knockavilla, a hamlet outside of the Town of Cashel in County Tipperary.
Read more: Happy World Tourism Day! Do you think Ireland is a tourist-friendly country?
6
None of us batted an eye at the fact that the spelling of our last name had been changed with the addition of the letter "e" to it since that seemed to be a common occurrence experienced by immigrants entering this country. I would later learn that our great-great grandmother's name had been altered from Honora to "Hannah" when she arrived in North America.
Unlike the McGuires, who entered the United States through New York City around 1855, the Faheys had emigrated through Canada during the 1870s and all searches for emigration records there led to a dead end.
We stayed in Waterford, Kinsale, Kenmare, Tralee, Galway and other beautiful towns and villages along the Irish coast. I was captivated by the beauty of the Cliffs of Moher and amazed that there was no fencing at the edge of the cliff. Since I'm not a fan of heights, I stayed about fifteen yards back taking photos.
Suddenly through the camera, I saw a young girl jump over the side. Heart pounding, I forgot my fear and ran to the edge and looked over to discover that she had jumped down to an outcropping about five feet below the edge. As my heart pounding was subsiding, I couldn't help but think how lucky she was that I wasn't her father.
Read more: Top picturesque historic villages in Ireland
6
I returned to Ireland six months later with my daughters, Meghan and Kate. Meghan was nineteen and Kate was fourteen. In Dublin on our first day, I told Meghan I would buy her a first "legal" pint at lunch.
The pub owner took both our orders and then turned to Kate and asked, "What kind of a pint will you be having?" She looked at me and I said, "Not a chance." Flattered at being thought to look older than she was, she turned to the pub owner and asked, "How old do you have to be to drink here?"
"Eighteen but were flexible" he replied, "How old are you?"
"Fourteen," she answered truthfully."
"We're not that flexible," he told her and she had to settle for a soda.
She looked at me and plaintively asked, "Aren't you going to let me have even a sip while we're here?"
"Yes," I told her "But I'll pick the time and place."
We stayed in Dublin for a day and then set off on what I thought would be a journey to the places where the Faheys and McGuires came from.
Our first stop was Athlone, a beautiful town which the Shannon River ran through. My mother told us that her forebears came from Athlone and no trip to Ireland would be complete without a pilgrimage there.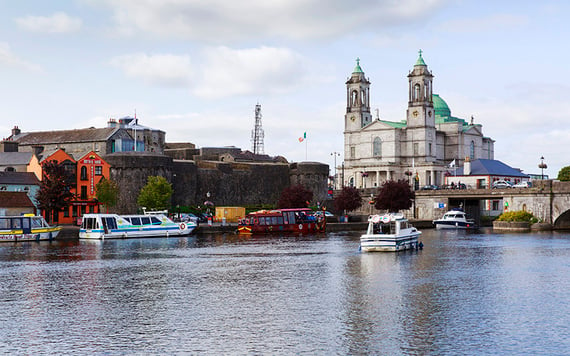 6
I hadn't seen Athlone on my first trip since we were traveling with friends and it didn't fit into our itinerary. We arrived at mid-day and went into the Cathedral that sits at the heart of the town square, knelt and said a prayer for all the McGuires that had gone before us and lit a candle to their memory.
Afterward, we ate lunch in Sean's Bar which is the oldest pub in Ireland according to the Guinness Book of Records. After lunch, we set out for our next stop, which was Cashel. We arrived in Cashel at dinner time and stayed at Rockville House a B&B owned by the Hayes Family.
The following day we drove to Knockavilla, a hamlet approximately ten kilometers away from where my cousin, John, had found our great-great grandfather's baptismal certificate. The only edifice in Knockavilla was the parish church, Church of the Assumption. Like our stop in Athlone, we went inside, knelt, said a prayer and lit a candle for all of the Fahey or Fahys that had come from there.
As we left the church I told the girls that we needed to find a pub to toast the Faheys. My daughter, Meghan, said, "It's got to be a Catholic pub too."
We drove a short distance and the first pub I came to was named "The Rectory."
Read more: Top sites in Ireland where history comes alive
"Is this one Catholic enough?" I asked Meghan. The girls decided to fix their hair and make-up and I took the opportunity to go inside and order a Bulmers Cider which was Meghan's drink of choice, a pint of Smithwick's beer and a half pint of Smithwicks.
When the girls came in, I put the half pint of in front of Kate and said, "Here's your sip."  
As we ate lunch I stole glances at her and could tell she hated the dark beer but kept dutifully sipping it. Suddenly, her face flushed and she said to her sister, "My face feels hot." Meghan started to laugh and told her that her nose had turned red. She turned to me and said, "Oh my God, Dad, my nose turned red, it will go away won't it?"
"Not if you keep drinking," I replied. That was the end of her half a pint of Smithwicks.
We left the Cashel-Knockavilla area and drove to Blarney so that they could kiss the Blarney Stone, not that either one of them needed it to get the gift of blarney.
Our next stop was in Limerick, where I had arranged for a walking tour of the locations set out in the memoir "Angela's Ashes" by Frank McCourt.
While McCourt's book was a bestselling Pulitzer-Prize winner, I hadn't realized how unpopular it was in Limerick. I suspect that there were a number of reasons for that including the portrayal of the Catholic Church as indifferent to the plight of the poor and the relationship between Angela and a cousin.
As we walked the streets of Limerick with our guide, he was the target of a number of derisive comments by several motorists in the city. He took it in stride and was very knowledgeable about the locations and some of the situations portrayed in the book such as why many of the husbands and fathers had to seek employment in England due to Ireland's poor economy, leading some of them to never return.
Limerick, which also has the Shannon River running through it, bore some of the signs that the hard times had left on it in terms of poverty and neglected infrastructure. Fortunately, better days were ahead. While we were there, Dell Computers announced that it was opening a plant there and would become the largest employer in the country.
We left the following day for home. It was a very special father-daughters trip and I would always cherish those memories but I still hadn't seen, done or visited all the places that I wanted to in Ireland and the yearning to return would be with me for the next two decades.
Have you taken a trip to Ireland with your children? Let us know about it in the comments section, below. 
This article was submitted to the IrishCentral contributors network by a member of the global Irish community. To become an IrishCentral contributor click here.