After spending 11 years on the Moulin Rouge stage in Paris, principal dancer Claudine Van Den Bergh Cooke, from Sutton, Dublin, is putting her dancing career to rest and stepping out as a solicitor.
After first joining the Moulin Rouge in 2012, she was appointed principal dancer and became one of the stars of the show in 2017. Since then, she kept exploring and refining her performance as the lead of the show.
While performing six days a week on the show Féerie, she also started to study law. She completed her law degree this year and she will take her solicitors exams next year before starting legal practice.
On 18 June, she put on her feathers and extravagantly embroidered costumes for one last time to give her finale salute, to tremendous applause, on the Moulin Rouge stage. Fans offered bouquets and more gifts awaited her backstage where all cast lined up in a feathered guard of honor to bid her farewell.
When I chatted with her, Claudine said "I am lucky to have called the Moulin Rouge, Paris home and to be a part of this rich legacy for the eleven years I spent here and I'm looking forward to seeing what the future brings.
"I studied for my law degree with the Open University while performing two shows per night, and working six nights a week in the cabaret! I graduated with first-class honors and am currently preparing for the qualifying exam to become a solicitor. Working and studying side by side really kept me on my toes, but it also kept me highly motivated and I have to say I enjoyed the challenge.
"Thanks to the Moulin Rouge management and the interesting opportunities available for professional dancers in the cabaret, I enjoyed a very rich work experience. I was able to develop my strengths, gain invaluable experience leading the show and I achieved my goal of becoming a Moulin Rouge principal dancer, a position that I thoroughly enjoyed for the past several years.
"I plan to apply myself in the same way to my future law career in the hope of having similar success. As they say the luck of the Irish and hard work goes along a way!"
Claudine has so many terrific memories, including battling with the Cairde Irish dance group! The combination of rustling can-can skirts and petticoats and Irish reel shoes racketing made it an unforgettable experience.
The iconic windmill in Pigalle, just down the hill from Montmartre, is one of Paris's most recognizable icons. The "Féerie Show" is played to a full house, twice a night, six nights a week. There are 80 Doriss dancers (named after Haug Doriss, 1927-2014, the mythical German choreographer and Moulin Rouge ballet mistress) in the show, hailing from 14 different countries. 450 people work behind the scenes to ensure the show sparkles! The budget for the show is estimated at €10 million, including over €4 million for the spectacular costumes.
Claudine and and her sister Isabelle were the only siblings in the show in recent years. Claudine, 31, has been dancing since she was two years old.
"In one of my Moulin Rouge numbers, I interpreted the legendry 'La Goulue' (1866-1929) whom artist Henri de Toulouse-Lautrec painted when she danced the French can-can and was star of the Moulin Rouge.
"In my role, I stepped out of a fixed choreography and got to freely interpret 'La Goulue', who in the eyes of French people symbolizes freedom."
Claudine's excellent character acting transported the audience back to the 1900s. When the show opened after Covid, she danced 'La Goulue' performances to standing ovations.
Lucky for Irish visiting Paris, there is still an Irish dancer in the fabulous show. Claudine's sister, Isabelle Van Den Bergh Cooke, 26, found out she had successfully auditioned for the company while she was studying for her Leaving Certificate seven years ago. For her, it was "a dream come true." She was delighted to join Claudine in Paris, and has developed a passion for photography and loves meandering the cobbled streets of Paris with her camera.
Isabelle said, "I'll miss Claudine, but being part of the exceptional Moulin Rouge show, which welcomes every year more than 600,000 spectators from all around the world, is an honour for a dancer!"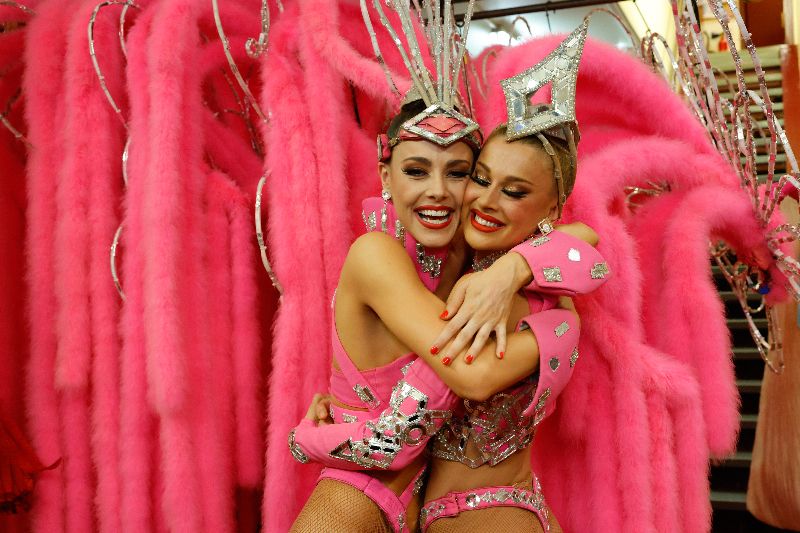 2
Created in 1889, the Moulin Rouge is celebrating its 134th anniversary this year!
"Féerie" is an amazing 1h45 long show with 1,000 costumes of feathers, rhinestones and sequins, sumptuous settings in shimmering colors, a 60-ton-water aquarium, and the famous French Cancan.
I'd like to wish Claudine all the very best on her new stage. I'm convinced that she will be as scintillating as a solicitor, as she was as a Moulin Rouge principal dancer.
Many of us will climb the hill in Montmartre to see Isabelle, and the rest of the cast, as a night out at the Moulin Rouge, is such a perfect way to celebrate the City of Light, and "the show must go on!"
This article was submitted to the IrishCentral contributors network by a member of the global Irish community. To become an IrishCentral contributor click here.