The story behind Paul McCartney's "Magic Piano", following the swinging King's Road, and the tragic death of the Right Honourable Tara Browne.
It was 1967, London was swinging. The King's road and Carnaby street were bursting with fashionable boutiques, male hair was long and miniskirts were short. Musically, teenagers had taken over the airwaves and pirate radio stations were blasting out tunes by groups like The Rolling Stones, The Kinks, The Doors, The Who, Procul Harum, and, of course, The Beatles.
The Fab Four perhaps "getting high with a little help from their friends" were at their creative peak and had just released their peerless eighth album "Sgt. Pepper's Lonely Heart Club Band".
The Beatles had become weary of touring, considering themselves to be artists and not just performers. Sgt. Pepper's was a hands-on opportunity representing a holistic union of music and art, the antithesis of the drab, bleak, seemingly colorless world of post-war Britain, where for some food rationing was still a vivid 13-year-old memory.
This musical renaissance was the soundtrack for a cultural revolution in '60s Britain. Working-class heroes were being seen and heard in all areas of the growing counter-culture movement and were consequently mixing with the social elite and aristocracy.
Thanks largely to The Beatles and Northern working-class actors like Tom Courtney and Albert Finney and southern celebrity 'Cockney' photographers like David Bailey, Terence Donovan, and Brian Duffy, regional accents had become de rigeur.
Read more: An Irish Mammy, the luck of the Irish, and the Beatles
Fairground attraction
Dudley Edwards, Douglas Binder, and David Vaughan were three working-class Northern art students who following in the footsteps of David Hockney would make their way to London and position themselves at the heart of the psychedelic art movement.
In 1965, the trio moved into a large studio flat in London and being short of funds decided to brighten up their spartan surroundings by reaching for paint and brushes and reinvigorating some old chairs and a chest of drawers. The result was inspiring and the design company BEV was born.
Edwards was inspired by the style of folk art that he had first seen at fairgrounds as a teenager and immediately set off to the closest funfair in Battersea Park to do some research. He would eventually meet FG Fowle a jobbing painter who was incredibly the only exponent of the art in Britain.
A chance encounter with a local antique dealer and a sale to neighboring David Bailey would launch BEV into the stratosphere and soon they were being referred to as 'The Beatles of the Art World' with commissions coming in from all over the World - Princess Margaret was even one of their customers.
The company owned a Buick Electra Convertible which became the subject of an elaborate paint job; vibrantly exuding their principles of basic geometry, art deco, primitive folk art, and sophisticated color combinations.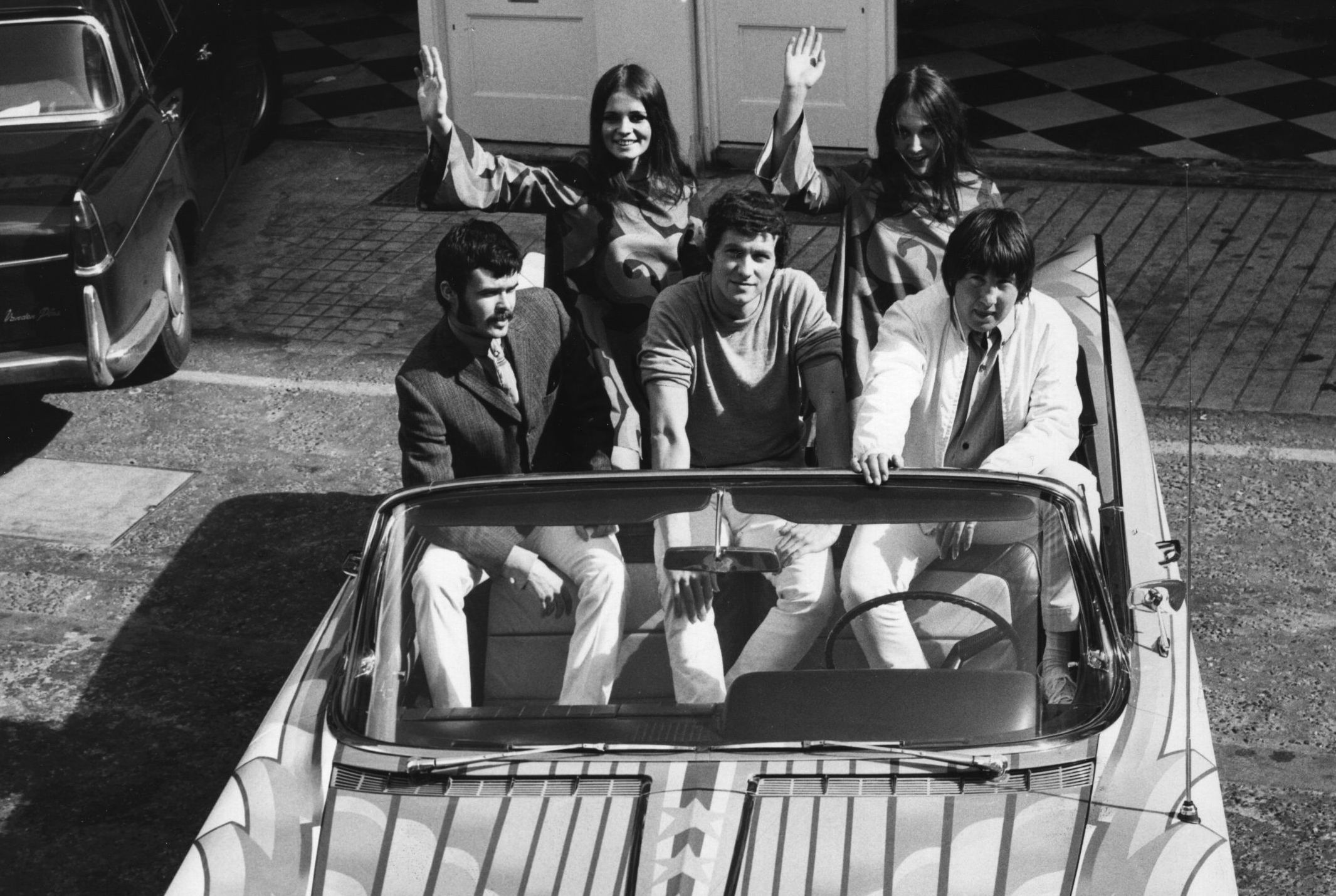 2
The resultant makeover would attract the attention of Irish aristocrat and Guinness heir, the Right Honourable Tara Browne son of Dominick Browne; 4th Baron Oranmore and Browne and Socialite, Oonagh Guinness.
Tara happened to own a 7.4 liter AC Cobra which following a similar BEV transformation would be exhibited at a Mayfair Gallery attracting the attention of the Art World including Peter Blake who would go on to design the Sgt. Pepper album cover.
"It was around this time that Paul McCartney had indicated to his friend Tara That he would like Doug and I to paint his piano. Not just any piano, but the one upon which Paul composed many of his classics," said Dudley Edwards.
"I wrote Getting Better, Sgt Pepper's Lonely Heart's Club Band, and Fixing a Hole on my Magic Piano" Paul McCartney once admitted.
Monkey around
Mickey Dolenz of the Monkees after visiting McCartney's London flat would exclaim: "That Piano is the freakiest thing you've ever seen. It's lavender, gold, blue, orange – everything you could imagine – it's got millions of colors!"
Soon after the sad news would be announced that Tara Browne had died in a car accident after crashing his Lotus Elan into the back of a van in Chelsea in South London. He would be immortalized in the lyrics of A Day in the Life:
"He blew his mind out in a car, he didn't notice that the lights had changed."
Read more: The Fenian Beatles - the Fab Four's Irish heritage examined
This article was submitted to the IrishCentral contributors network by a member of the global Irish community. To become an IrishCentral contributor click here.