To win your first Tony nomination in your 20s is virtually unheard of, but to win it playing the lead in a Broadway musical by the legendary John Kander and Fred Ebb (with new lyrics from Lin Manuel Miranda) is extraordinary.
So step forward Irish American singer, actor, musician, and dancer Colton Ryan.
Ten years ago he was a star-struck Irish American schoolboy finding himself completely dazzled by the Tony-winning Irish musical Once, directed by John Tiffany (based on the Oscar-winning Irish film by John Carney, with a book by Enda Walsh).
"I remember when Steve Kazee sang the song 'Leave' all the lights slowly went out around him and the stage began to grow dark until it was just the actor pouring his heart out in an empty space," he tells IrishCentral. 
"It was an incredible performance, the closest thing I have ever seen onstage to the experience of falling in love itself. It was just the song and the rawness of the experience he was singing about. I couldn't believe what I was seeing, it made a huge impression on me because until then I didn't know a thing like that could be done."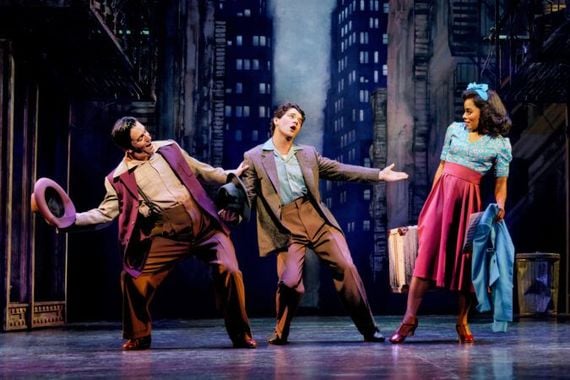 4
Ten years later Ryan, 27, is a quadruple threat on Broadway himself, acting, singing, dancing, and playing in New York, New York one of the most Tony-nominated shows in town. It's the kind of fairytale rise that usually only happens in musicals and no one is more bemused and appreciative than the performer himself. 
"I am thrilled to get this nomination but I also know that wonderful and all as it is, it doesn't really change me who I am or what I believe or anything like that. In a way it's like the song I sing in our show says, 'It's A Quiet Thing.' And I am so very honored to receive the nomination."
Growing up in Lexington, Kentucky, it's pretty clear he was always coming to New York to find his tribe, his career, and his voice he says. "This is my home," he says, sounding like a character in his Broadway show, "and like everyone else who lives here I can love and hate it from time to time but it welcomes me and makes me room for me in a way I didn't always feel where I grew up."
The son of a Tipperary-born Irish father who came to the US at age 30 and Irish American mother, his family was so Irish that their house had a door that led into a bar he says. "Can you believe that? I could walk from my house to the pub there was no real division between them. I loved all the characters that used to go there but I also remember struggling sometimes to try to sleep at night above the noise they all made at night."
Inspired by the 1977 film by Martin Scorsese, "New York New York" has music by Kander and Ebb with additional lyrics by Lin-Manuel Miranda. Expect to hear iconic show tunes with a sprinkling of modernity, in other words. Yes, you'll hear classics like But The World Goes 'Round but lesser known numbers like A Quiet Thing from their first Broadway show, which Ryan sings so well and with such restraint, that the audience often audibly gasps, help make this show take flight.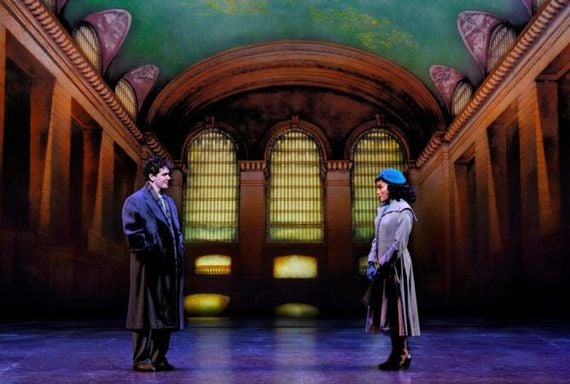 4
For my money, Ryan is shouldering the production on his back night after night and through the matinees with all hands on deck support from his gifted co-star Anna Uzele. This pair have a rare chemistry that's clearly born of respect and friendship and it makes you buy their love story from the first scene.
Onstage the show is spectacular, remarkably designed, directed, and performed with an expansiveness and color-blind casting that reflects the city itself. Lin-Manuel's lyrics additions are less challenging than I might have hoped but the city, the characters, and the era (1946, one year after the war's conclusion) all lend the proceedings an urgency that brings the stage to life. 
"The show gives us some freedom with improvisation between scenes and one of the lines I introduced was a line my father would say all the time when I was growing up: 'Are you joking me?' I loved that you picked up on that in your review of the show. I play an Irish American who's in a relationship (with co-star Uzele's character) at a time when it still was considered transgressive."
Playing Jimmy Doyle, a brilliant but heartbroken musician looking for a major chord to turn his life around, it arrives unexpectedly in the form of Francine Evans, a gifted young black singer who's just off the bus from Philadelphia. 
When I ask him if he was intimidated by the thought of starring in a multimillion-dollar musical written by the biggest stars of Broadway he says there was no time. "You can't really think about the big names because there's a show to do. I did have a few what I am doing moments but they vanished in the process of working on the show. Everyone in the cast is giving their all and that's the job each night."
New York offers a place to live for the people who can't live anywhere else as authentically and that's as true for Colton Ryan as it is for his character Jimmy Doyle. "When I'm singing those songs onstage I feel like I'm home. I understand the journey he takes as a character because I hear some of my own in it." 
One thing that no one could have planned for is the waves of joy that the show inspires in the audience, as this hymn to the Big Apple and the tough but fair people who live in it emerge from one of the most testing times in the history of the planet: World War II.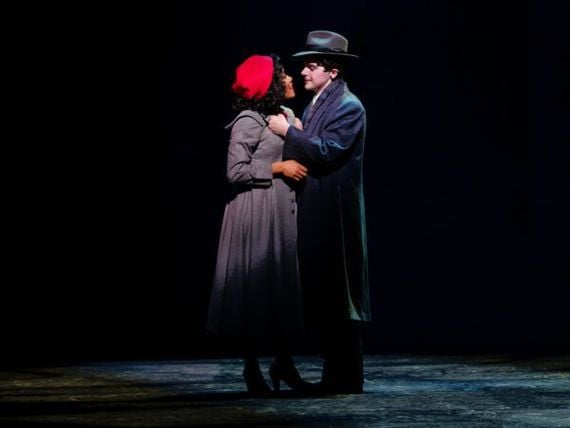 4
Even a year after the end of hostilities, the show reminds us, parents and spouses were still getting the dreaded letter that their missing-in-action sons, husbands, lovers, or brothers would not be coming home. 
"When I read the script and saw the show concludes with the iconic song New York, New York I cringed a bit, to be honest," Ryan confesses. "It seemed to me there were two ways it could go. One was that people would just roll their eyes and the other, the less expected one, was that I'd look out night after night and see the audience were singing it with their whole chest, often with tears in their eyes."
It's because the show gives all those who see it an opportunity to grapple with a testing time much closer in time, the covid pandemic. Although some still wear masks in the theatre still the majority now forgo them and masked or unmasked all of them appreciate the opportunity to go back to a Broadway theatre and celebrate things that make this city great: music, songs, romance, spirit, perseverance, and each other.
"I thought we might miss the mark with this song but it actually nails the whole show," Ryan concludes. "It's amazing to look out and see all those faces lit up because the show has reached them so powerfully. It means the world to us."
'New York, New York' is now playing on Broadway.