In my work I see so much Irish activity and production that just isn't on our wider cultural radar at all yet. It drives me nuts.
Our heritage wear is universally admired and sought after from New York to Tokyo, but there's no specific agency that identifies, highlights and consistently promotes it, the way it needs and deserves, that I can see.
Take a look at this. This is a gorgeous new wool Jcrew jacket that would instantly compliment your winter wardrobe and it's made with a luxurious wool from the famous Magee mill in County Donegal (established in 1866).
4
Did you know this was
online right now
? Did you know you could pick it up right now for a handy price anywhere in America? You did not.
A Donegal tweed is as individual and unique to its home place as a Seamus Heaney poem or a superior regional whiskey. We should understand they are not simply products but cultural artifacts. They deserve much more of our attention and our respect.
So shouldn't we do a better job curating and promoting our Irish brands and heritage wear, knowing that are already admired and sought after by those in the know internationally?
Take a look at this. It's a gorgeously luxurious wool and cashmere knitted hat from The Inis Meain Knitting Co. located on the dramatic island of the same name off the coast of Ireland.
4
It's the island where the playwright
J.M. Synge
was inspired to write his enduring masterpieces. Today the successful knitting company employs descendants from the area's storied textile-weaving families to produce intricate and beautiful knitwear, with metropolitan silhouettes, that is completely made by hand.
Did you know that this gorgeous knitwear can be picked up in Barneys online? You do now, but again we could do a much better job of promoting this awareness and benefiting Ireland's heritage industries.
Finally, did you know that Tokyo fashion buyers are willing to make the trip all the way to remote County Donegal villages to companies like Molly & Sons in search of the heritage tweed with which to tailor their jackets? That's the kind of cultural and economic pathway that we should be building to facilitate our national growth.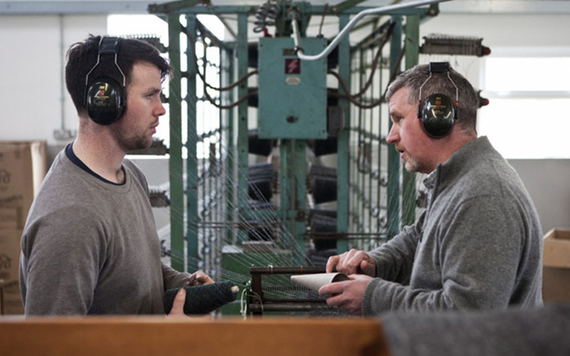 4
These products are hip. They appeal to some of the most discerning buyers in the world. If we had sense we would be sending people who understand our heritage wear and have a deep understanding of the fashion markets around the globe to evangelize on behalf of what we do better than anyone.
It's time to really consider the unique beauty of and international demand for our traditional heritage wear. We need a new agency to consistently promote our heritage wear on the world's stage.