Nothing warned me that I'd fall in love with the desert. I was raised in Co Donegal, about as far from this stark landscape as it's possible to be.
But walking through The Joshua Tree national park in California in late January, I think I felt what the Irish poet Patrick Kavanagh once had, "the newness that was in every stale thing when we looked at it as children: the spirit-shocking wonder in a black slanting Ulster hill..." 
Spirit-shocking is right. To me, The Joshua Tree feels like a liminal place between this world and whatever's next. Of that much, I am quite certain.
It contains giant hallucinogenic-looking rock formations that would suggest hand-carved sculpture if they weren't so massive. The sun so bright it leaves no shadows, sang U2. How right that is. It's a place apart, a place beyond.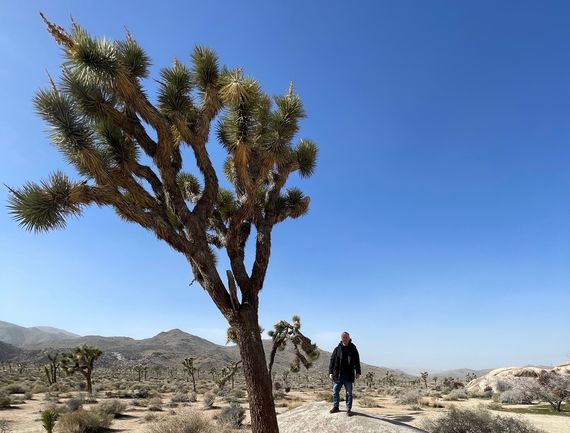 9
And then there's the wind. It comes racing at you from somewhere hundreds of miles hence and blows the hood off your head with practiced ease. It's cold and bracing and it gets in everywhere, a bit like Irish rain, but it's not unpleasant to experience at all.
I inhaled great lung fulls of it and felt elated, even giddy, to be honest. I found it centering and restorative too, for all its chill.
But today I want to talk about what's out there in that strange singing wilderness, because it awed me. If you pay attention – and in a landscape this primordial how could you not – it's like being present at the nativity of the world.
I mean before people and trees and settlements and all of that, I'm speaking of the experience of being unsheltered, in extremis, exposed. 
Theirs is something unmistakably spiritual about standing in the Joshua Tree. Something large and otherworldly and hard to pinpoint in words. I thought I knew the secret ache that's hidden under the skin of California, that yearning note I quickly picked up on quickly in my first visit there as a teen, but the Joshua Tree showed me it is all so much larger and more capacious and mysterious than I had ever imagined.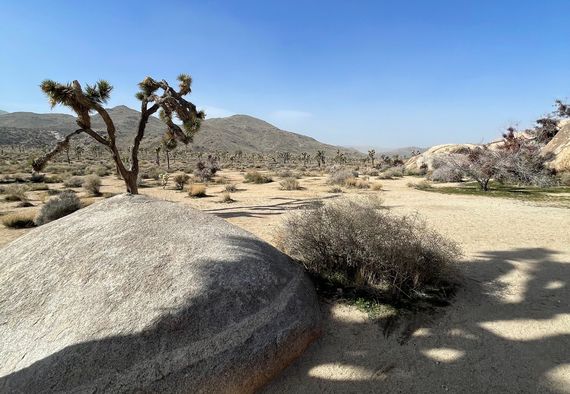 9
Where to look for an answer? Start with the surrounding hills that are lined with outcropping rocks. It's as though you're looking at an X-Ray of a hill with the top layer missing. The answer isn't there.
Then look at trees, with their branches that look like opening palms, making the early pilgrims reference the Bible, which in turn gave the Joshua Tree its name. Then pick up the creosote flowers, that smell like the desert after rain. 
Then just look at the way the wind and water can hollow out a rock and be reminded of unseen power. That unseen power is everywhere here. You'll feel it under your feet.
I can't believe I'm writing this. I think of myself as a tough old bird who's suspicious of too much sweet talk, but here I was standing in a demonic landscape with my heart falling out of my chest. 
Now I truly understand why U2's greatest album, its mission statement as a band and an endeavor, is called The Joshua Tree. Anyone who spends even a day in this epic landscape will come away altered for good. 
It can feel, I think, like a vast staging post for an encounter between this life and whatever follows it. I can't tell you how transcendent it is to visit or experience. You'll have to go visit yourself and if you do you'll soon find out.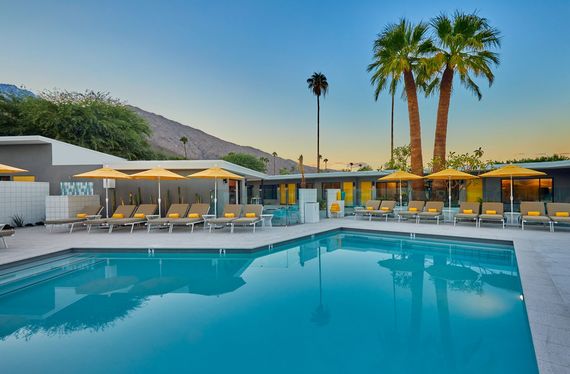 9
Where To Stay
To visit The Joshua Tree, I'd strongly suggest booking at least a week-long stay in beautiful Palm Springs, that quirky and artistic oasis surrounded by the desert, because the dramatic contrast between it and The Joshua Tree wilderness makes for a particularly full experience. 
Within 45 minutes of enjoying the best hamburger of your life at Tyler's Burgers, you can step into the most surreal and epic landscape you have ever visited. That's the kind of heady exchange that makes Palm Springs one of my favorite places in the world now, but the year-round sunshine is another obvious draw.
Even the final approach to the local (Sonny Bono!) airport, with the palm trees suddenly coming into view on one side and the epic mountain range on the other, is worth the ticket price. This is a place like no other and it requires time and patience to really see.
I also love that Palm Springs is such a longstanding LGBT destination, too. That means terrific design sense and mid-century modernism abound and the residents have somehow found a way to strike an ideal balance between luxury and the strange liminality on the edge of town.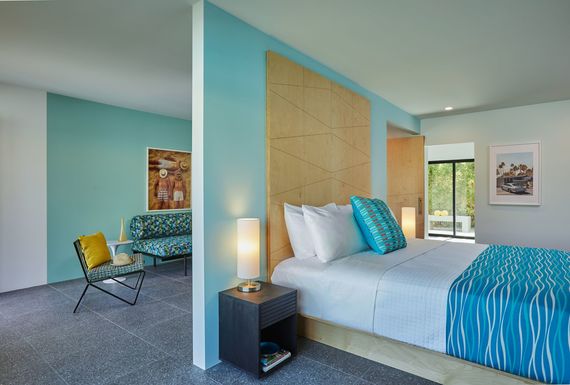 9
I have rarely stayed in a place that gets under my fingernails in quite the way Palm Springs does. It works its magic through the local welcome, which is positively Irish, and the gorgeous hotel and resort offerings, which are welcoming environments in themselves. Whether you are straight or gay, the welcome here is always sincere and the resorts are among the best I have ever stayed at.
Twin Palms Resort
On this trip, I stayed at the brand new luxury Twin Palms resort, ideally run by the delightful General Manager Adam Q. Robinson. "Modern luxury, timeless style" is the resort's tagline, and my goodness is it earned.
Located in one of Palm Springs's most celebrated modernist neighborhoods – there are hipster cafes and diners within easy walking distance – it feels like an oasis in itself. 
Let's be honest, we live in a time of renewed hostility to LGBT lives and aspirations, so to feel the welcome of a place this deluxe and accepting is really a holiday in itself right now. I found myself relaxing each time I crossed its threshold, exactly as the hosts had wished me to.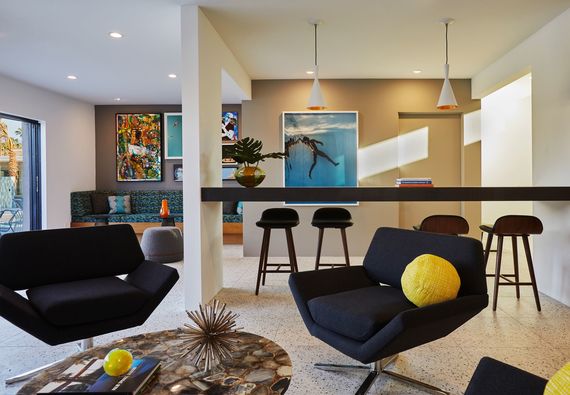 9
Striking a balance between the desert and its modernist architecture, the resort's stunning centerpiece is its heated swimming pool, which mirrors the rooflines of the nearby mid-century modernist homes nearby, and where swimsuits are always optional.
Palm tree leaves shimmer like silver glitter in the sunlight, I discovered. Their heads catch the light and send it sparkling. It can be hypnotic, but it's just one more interesting detail and there's a surfeit of them here.  
Rooms at Twin Palms, one of Palm Springs Preferred Small Hotels group are spacious, featuring king-size beds, high thread count linens, and cloud-soft pillows, walk-in waterfall showers, luxury bathrobes, and the earth-friendly Public Good bath products (there are even walk in patios in the larger rooms). 
It's a cocoon, in other words, and the room service is unobtrusive but impressively thorough, elegantly overhauling your private environment whilst you're out exploring or relaxing by the pool.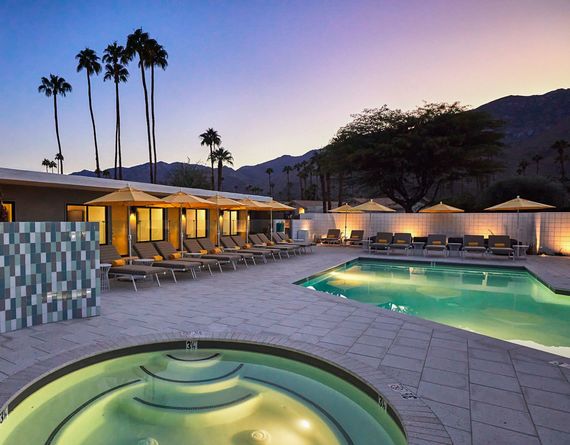 9
I kept finding new things to be enthusiastic about at Twin Palms. Breakfast at the resort is substantial and a Starbucks coffee machine will keep your cappuccino, coffee, or hot chocolate cravings completely under control. This is a gay resort, so iced coffee is always available at any hour, an at-all-hours transfusion that the community will deeply appreciate. 
I loved the homemade oats, which were deliciously creamy and filled with blueberries, but forgot to ask for the recipe (you will want to ask yourself). Freshly baked croissants, bagels, toast, eggs, mixed fruit and so much more are also available and there's a snack bar in operation 24 hours - they will even bring you lunch if you ask.
With all the details of a visit to Palm Springs already taken care of – tech mavens will appreciate the super fast wifi – you're free to plan your day with ease. If you're traveling from snow-bound New York City you'll appreciate the ability to vegetate by the pool, or in the 12-man spa, but my advice is to also make time to get out and explore the city and its many offerings too, because the friendly community here is part of the uniqueness of the trip.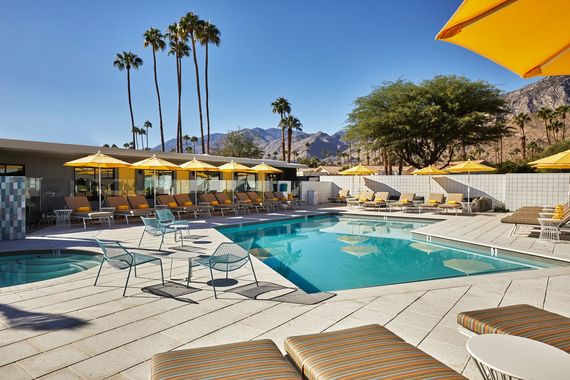 9
I think that the contrast between the transcendent desert and the luxurious city is what makes a Palm Springs and Joshua Tree visit so compelling and matchless. I wonder too about the pull of such liminal places, the remote spots that appeal to the marginalized. 
Dream beneath the desert sky, sang U2 in The Joshua Tree. I think the Palm Springs LGBT community do. I think they have thrown a decades-long party out there in the wilderness. It's all-inclusive and uniquely welcoming and behind the surface (palm tree) glitter there's a yearning that is matchless and singular. 
It makes me love the place and the lively people there in a way I am still only beginning to appreciate. I find it speaks directly to my heart, bypassing all the usual tripwires. For that reason, I can't wait to return. 
Off the beaten track: Pioneertown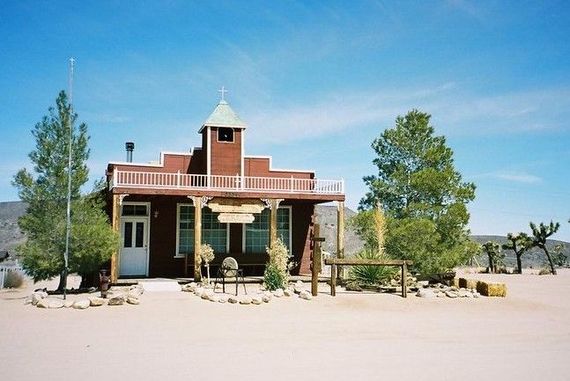 9
In the middle of the desert, rising up like an improbable oasis, is Pioneertown. Established in 1946 as a "living breathing movie set," 17 investors including Roy Rogers, Dale Evans and Bud Abbott purchased its 32,000 acres of land with the goal of creating a place where they could work with friends, family and co-workers.
A  functioning 1880's themed town - easily accessible from both Los Angeles and Palm Springs - it would serve as a filming location (it still does), a vacation destination and a permanent residence for Hollywood people, welcoming ranchers and desert lovers alike.
It's just one more quirky example of the kind of mythic storytelling that flowers like the creosote out here. Pop into the Red Dog Saloon and you'll be in a weird hybrid of Twin Peaks and High Noon (the bartender was playing disco classics reminding me this was make-believe, not the Wild West). Visitor advice: order the tacos.