Over the weekend IrishCentral broke the story of how Irish airline Ryanair left a wheelchair-bound woman stranded and crying at Dublin Airport.
Trinity student Niamh Herbert was refused boarding and says she's subjected to demeaning comments and a hostile attitude when seeking to board. They also asked her to walk up the stairs to the plane despite her condition.
We asked Ryanair for a statement for the article and when they did get back to us they told us our article had not given readers "the full facts".
Whilst they didn't dispute that the captain had taken off without Trinity student Niamh Herbert, or that staff had asked her to walk up the stairs "for easiness sake", they did offer two excuses for their actions.
Firstly, they alleged that Herbert "arrived at the boarding gate 13 minutes before the flight was due to depart".
They also forwarded us a screenshot of an e-mail from Dublin Airport's OCS in which they state that they received a request for an ambi-lift  10 minutes prior to departure and that was the first instance they were made aware of Herbert's mobility issues.
However Herbert disputes this version of events and speaking to IrishCentral told us that, in fact, she was at the gate "a lot more than 13 mins [before departure], but I can't be exact!"
Read more: Watch most obnoxious passenger ever on Ryanair reduce employee to tears 
In a message to IrishCentral Herbert said, "Basically, I had booked, mistakenly, to fly on Thursday and I had booked assistance, but the group was actually flying on Friday.
"A girl dropped out of the trip, and so Carla [who organized the trip] changed my name on her ticket.
"I called Ryanair on Tuesday to say I'd be flying on Friday instead.
"So, I see it as being their fault that they didn't carry over the details."
Since going public with her story Niamh has been subjected to abuse by internet trolls. One asked her, "I done work experience on a dairy farm if you want any more help milking this" and another asked, "Why were you in a wheelchair?"
However, most comments were supportive and one commentator said she'd had a similar experience with the budget airline in Manchester when staff had asked her to walk up the stairs – something she was unable to do.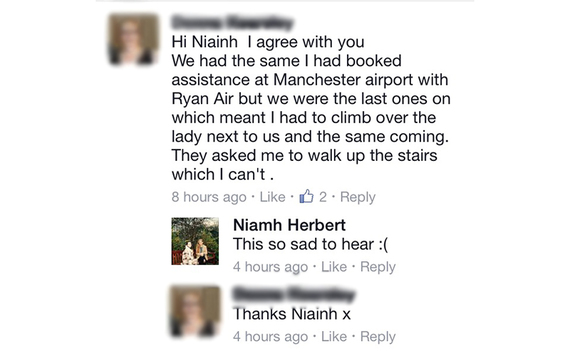 2
Ryanair's Press Office responded with an updated statement insisting: "While we regret any inconvenience, this customer arrived at the boarding gate 13 minutes before the flight was due to depart and had not booked any wheelchair assistance, which is provided at Dublin Airport by OCS. A name change was made online at 2.39am (16 Feb), and no wheelchair assistance was booked.
"Our crew provided full assistance and as a gesture of goodwill, transferred this customer on to the next available flight, free of charge, and the customer flew to London Stansted. Thousands of passengers with reduced mobility travel with Ryanair on a weekly basis without issue and any customers who require wheelchair assistance are asked to book it in advance.
"The only reason this customer did not board their original flight was because they arrived at the gate late and had not booked wheelchair assistance. Had they arrived at the gate on time and booked assistance, they would have traveled without issue, as they did when returning from London Stansted."
The incident has launched a frenzy of discussion on Reddit and on Twitter about the treatment of the disabled in Ireland.
#EverydayAbleism alert https://t.co/ikpxfMfJHa

— Megan Lynch (@may_gun) February 20, 2017
Wow, @Ryanair, that's pretty low. https://t.co/7VbkrHzbmg

— Dave Mar-a-Rahardja (@drahardja) February 20, 2017
@jameswilson1919 @ireland @IrishCentral @KickAssCantona treated our toddler badly too. Never again flying with them

— Padraigh Keogh (@padraighk) February 19, 2017
One Twitter user pointed out that it was not the first time Ryanair had left a disabled passenger.
@jameswilson1919 @ireland @IrishCentral It's not the first time.https://t.co/8PGyiWEqIi

— The Rambler (@nialldowling123) February 19, 2017
Herbert is currently back in college and plans on taking legal action against Ryanair.
"I plan on suing them. I haven't been feeling myself since it happened and I'm going to have to pursue some sort of counseling, which is quite expensive," she told the Irish Daily Mirror.
Her parents are looking for an attorney to bring the case against the airline.
Read more: Ryanair asks wheelchair user to walk up stairs, leaves her crying at the gate