A crowd of up to 100 teens collapses surging towards the entrance of youth disco. Police urge the public not to post footage on social media and report to police
Three teens have died from injuries sustained when "dozens of panicked youngsters" stampeded outside a youth disco at Greenvale Hotel in Cookstown, County Tyrone, in Northern Ireland. The crush of young people left some involved pinned to the ground for 20 minutes.
Those killed have not yet been identified but it has been revealed the victims were two boys aged 16 and 17 and one girl, also aged 17. The three died after a large crowd of people pushed us against the Hotel's entrance causing dozens to fall to the ground on top of one another.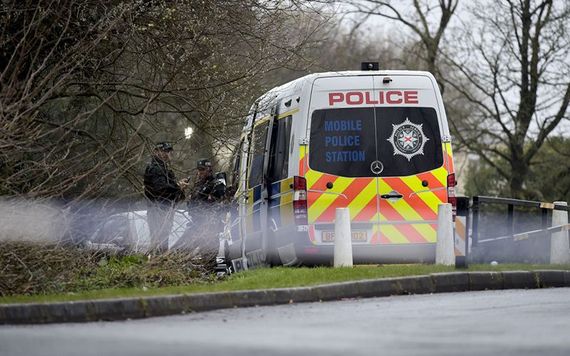 2
A 16-year-old girl is in a stable condition in hospital while a further two teenagers were treated for injuries.
Witnesses told the Ulster Herald that up to 100 teens were pushed off their feet and trapped. Witnesses attempted to pull teenagers out of the crush to resuscitate them while they waited for emergency services. The incident took place at about 9.30pm on March 17, St. Patrick's Day.
On Sunday there were also reports from police of fighting in the crowds with one person saying they were assaulted. A 16-year-old girl is in a stable condition in hospital following the incident at the hotel in Cookstown, County Tyrone. A further two teenagers were treated for injuries.
The PSNI said two 17-year-olds and one 16-year-old after the incident at the Greenvale Hotelhttps://t.co/ogYXVTTFDl pic.twitter.com/RBu8vMfyeK

— The Irish News (@irish_news) March 18, 2019
A teen spoke to the Ulster Herald about the experience, explaining that he had been stuck, pinned to the ground under the crowd.
"It was the worst thing I've ever experienced, really frightening. I'm traumatized and after this, I don't know if I ever want to go out again," the teen said.
He said the crowd had been waiting at the gate, the entrance to the disco when the crowd started swaying from side to side. He said there was then a rush forward the queue of people collapsed. People fell to the ground.
The teen said "There must have been 20 or 30 who fell first and then everyone else just followed. I'd say there was more than 100 who were in that queue and fell.
"I was pinned down with others on top of me. We must have been there on the ground for 20 minutes unable to move. It was absolutely terrible.
"I didn't know what was going to happen or how I'd get out. Eventually, I was pulled out and thankfully was able to walk away.
"There were ambulances and police all around. I could see them giving one person CPR treatment."
Speaking at the scene Police Service of Northern Ireland Assistant Chief Constable Mark Hamilton said, "Our preliminary investigations show there was a crush towards the front door of this hotel, and in that crush people seem to have fallen.
Three people have now died as a result of incident at Greenvale Hotel, Cookstown last night, 17 March. Assistant Chief Constable Mark Hamilton, in Cookstown this morning, says a major investigation is now underway however preliminary information suggests a crush took place. pic.twitter.com/dr0EKXToKN

— PSNI (@PoliceServiceNI) March 18, 2019
"There seemed to be a little bit of struggling going on to get people up off the ground and that might explain also why there was a report of some fighting."
There was initial confusion over the scene in County Tyrone as the hotel's DJ denied there's been a crush and claimed a "number of young people had become seriously ill."
Emma Heatherington (42) of Donaghmore whose two sons (17 and 18) had been at the disco, spoke the Daily Mail. She explained how she had "felt sick" when she the appeal, on Twitter, from police for parents to come and pick up their children.
PSNI appeal for people to stop posting rumours on social media as they deal with an ongoing incident. pic.twitter.com/i36PdjossM

— Darran Marshall (@DarranMarshall) March 17, 2019
Heatherington said "My two boys were there so I rang them, shaking and thankfully got them both. They were on their way home at that stage.
"They say there was a huge crowd waiting to get into the venue and then a lot of commotion up near the front of the queue.
"Then they said the emergency services arrived and they were all asked to leave. They came home very, very shaken with rumors that some people had died."
She added "While it's not clear exactly what happened, it's the most tragic ending imaginable to what was supposed to be a celebration of St Patrick's Day."
Assistant Chief Constable Hamilton added, "We are continuing to interview people who were there to establish the full facts and I would appeal to anyone who witnessed what happened to contact police on 101 ext 52014.
"We need parents to talk to their children this morning and encourage them to come and tell us what happened. Please do not post photographs or videos online. Please share them with the PSNI."
.@PoliceServiceNI say the preliminary investigation suggests there was a crush at the front of the hotel. Two boys & a girl died. They were aged 16 & 17 #Greenvale #Cookstown pic.twitter.com/DfcTOKEn5k

— Darran Marshall (@DarranMarshall) March 18, 2019
Former Democratic Unionist Member of Parliament for South Antrim, William McCrea said "We've got to see what lessons can be learned from this tragedy.
"I drove past this ten minutes before it happened, not knowing that ten minutes later an absolute tragedy would happen.
"The people that I've spoken to, they're very shocked. It's a close-knit community."
Ulster Unionist Councillor Trevor Wilson told the Belfast Telegraph the Cookstown community is in a state of shock following the incident.
"These young people were heading out to enjoy themselves and celebrate on St Patrick's night and then this tragedy unfolds. It's hard to take in what has happened," he said.
"I spent most of the night at the scene and can say that the emergency services did everything they could to help those who were in distress. Young people and their parents have been traumatized and will need a lot of support in the coming days.
"The Cookstown community is in a state of shock at what has happened but I know that they will rally round to provide whatever support they can."
SDLP MLA Patsy McGlone said "This is truly every family's worst nightmare. My thoughts and prayers are with the deceased and their loved ones at this devastating time."
Read more: Bully who caused infamous Phoebe Prince suicide accused of rape