The dismembered body of Elzbieta Piortrowska (57) was discovered in the hallway of her home. Police tracked down the suspect who had been attempting to destroy evidence of "gruesome" crime.
The 32-year-old son of Elzbieta (Elizabeth) Piortrowska (57) remains in custody in Ardee, County Louth, after his mother was found murdered with an ax at their home on Tuesday morning.
Elzbieta's body was discovered at her home in the Clonmore Estate, in Ardee, at 11am on Tuesday, by a neighbor who was picking her up for an outing. Her husband was at work at the time.
The friend's reaction to the "gruesome" scene, according to one source, was so loud that other neighbors heard her and rushed to the scene. The police were immediately contacted.
The mother of two originally from Poland, had been attacked with an ax in the hallway of her house.
Her son Tomasz Piotrowski was arrested around 90 minutes later. Gardai (Irish police) had searched two separate properties linked to the suspect in Ardee town center. He was arrested outside a pub on Bridge Street, at around 1pm.
The Irish Times reports that the suspect is known drug user and had been associating with other drug users in the town for some time. However, a motive for the murder is not yet established, though it is believed to be related to a personal matter.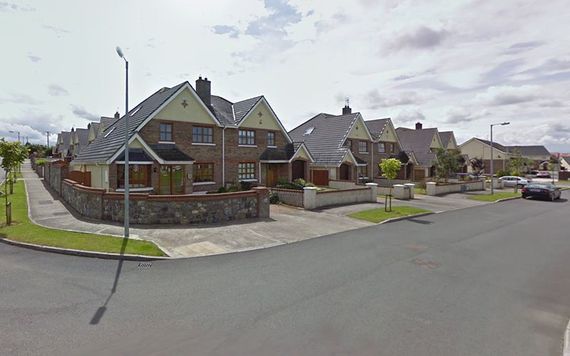 2
Tomasz was being questioned on Tuesday night at Drogheda Garda Station, County Louth. Police have confirmed that they are not seeking out anyone else with regard to this investigation.
The Times also reports that a short time after the killing the suspect left the home, leaving the partially dismembered body inside. The suspect then took a taxi to the Drumconrath area where he made efforts to get rid of evidence including the clothing worn during the attack.
After the short manhunt for Tomasz police established at least three other crime scenes. The first was the house on Bridge Street where he was arrested and the second being on the banks of River Dee in several vehicles. Also, a house on the Cherrybrook Estate, around two kilometers from Elzbieta's home and a site in the townland of Mandistown, Drumconrath around 8km from the scene of the crime.
Read more: Irish American murders his cancer-survivor mother outside of Catholic Church
Speaking to the at a press conference on Tuesday evening Superintendent Des McTiernan said:
"This morning at about 11 o'clock gardai responded to a call about a serious incident at the Clonmore estate in Ardee. When we got there we found a female very seriously injured who was later pronounced dead at the scene," he said.
"That scene is preserved at this time. We have our technical bureau endeavoring to establish the facts as they happened. We have our State Pathologist on the way, and we have all the structures and investigative inquiries that we need to be initiated done at this moment in time," he added.
"We have, so far, one person arrested. We are not looking for anybody else. There are a number of other people assisting with our investigation," he said.
McTiernan stressed that the police are following a definite line of inquiry.
He added "I'm happy that it is contained at this moment in time. I don't anticipate that it is going to go anywhere else. We have the person that we believe was involved in the incident arrested and detained at Drogheda Garda station."
Elzbieta Piortrowska had been living with her husband in Ardee for the last seven years. She is described as a nice, pleasant woman and was "highly respected" in the local community. She is the mother of two, Tomasz who lives in Ireland and her daughter who lives in Poland.
A postmortem of the body is due to be carried out on Wednesday afternoon at Our Lady of Lourdes Hospital, in Drogheda, by Deputy State Pathologist Dr Michael Curtis.
Gardai (Irish police) have appealed for witnesses or to anyone who can assist with this investigation to contact Drogheda Garda Station on +353 (0)41 9874200, The Garda Confidential Telephone Line 1800 666 111 or any Garda Station.
Read more: Wexford police believe skeletal remains are those of an Italian woman in her 50s
H/T: belfasttelegraph.co.uk.