We'll drink to that! After 100 years, the Irish government has voted to officially end the ban on selling alcohol in pubs in Ireland on Good Friday. 
On Thursday (Jan 25), the Dáil (Irish Parliament) passed with all-party support a bill that will overturn the 90-year-long ban on alcohol being sold in Ireland on Good Friday. 
The Irish government first announced its intention to lift the ban in June of last year (2017), indicating that the matter would go to vote in 2018.
Ireland's Minister of State for Justice, David Stanton, who introduced the bill in the Dáil, noted that the existing law was "no longer in tune with today's Ireland".
"Economic and social life has changed dramatically over last two decades, and tourism, changing demographics and increasing diversity has led to a reduction in traditional religious practice," he said. 
4
Read More: Irish Good Friday alcohol ban to be lifted 
Today's ruling means that Friday, March 30, 2018, will be the first Good Friday that pubs, liquor stores (or off-licenses as they call them in Ireland), restaurants and clubs will be able to sell alcohol to patrons since 1927. 
When the law went into effect it was part of a broader ruling that also outlawed the sale of alcohol on Christmas Day and St. Patrick's Day - days of special religious observance. Ireland was, as we know, a deeply Catholic country at the time. 
4
It wasn't until the 1970s that the St. Patrick's Day alcohol ban was lifted - largely thanks to pressure due to tourism. 
Read More: All the pubs in Ireland used to be closed on St. Patrick's Day 
The new bill's passage is a welcome change for revelers and publicans, though perhaps not for liquor store owners who always saw a bump in sales on the Thursday before Good Friday.
For some years, a live stream of Dublin's Temple Bar featuring confused visitors wandering from pub to pub and wondering where all the craic was had become a form of entertainment for Irish people while others have criticized the country's relationship with alcohol if pubs can't close for even one day of the year.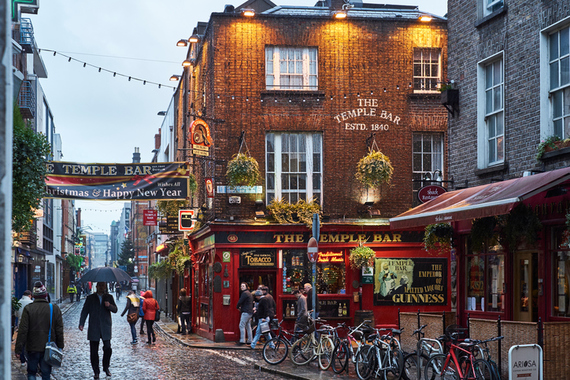 4
At one point in time, the Dublin Dog Show was the only place in Ireland where alcohol could be bought on these holy days and saw flocks of eager drinkers making their way to the RDS with no interest at all in betting on the pooches. As an old Protestant establishment, the Catholic-influenced ban did not apply and the member's lounge served up pints to the likes of Brendan Behan and poet Patrick Kavanagh.
Gillian Daly of the Licensed Vintners Association in Dublin told The Guardian that the new law marked "a significant change."
"Easter is a big weekend with tourists flocking to Ireland, and a lot of them show up for the world-famous Irish pubs and are shocked to find they are not open. It has been a long wait for this."
Will you be drinking in Ireland on Good Friday? Tell us in the comment section.