The US House Intelligence Committee are investigating the possibility that Russian money was funneled through President Trump's golf course in Doonbeg, Co Clare.
The Irish Independent reports the committee released the 184- page transcript of testimony from Glenn Simpson, whose firm, Fusion GPS, investigated Donald Trump's campaign ties to Russia.
Read More: Trump's Irish golf course lost millions in 2016
During the November questioning, Simpson was asked if he believed if there were any Russian money involved with Trump's golf courses in Ireland and Scotland.
Simpson replied: "We saw what [President Donald Trump's son] Eric Trump said about Russian money being available for his golf - for the golf course projects, making remarks about having unlimited sums available."
"And, you know, because Mr Trump's companies are generally not publicly traded and don't do a lot of public disclosure, we can only look - have a limited look into the financing of those projects.
3
"But because the Irish courses and the Scottish courses are under UK, you know, Anglo corporate law, they have - they file financial statements. So we were able to get the financial statements. And they don't, on their face, show Russian involvement, but what they do show is enormous amounts of capital flowing into these projects from unknown sources and - or at least on paper it says it's from The Trump Organization, but it's hundreds of millions of dollars.
"And these golf course are just, you know, they're sinks. They don't actually make any money. So, you know, if you're familiar with Donald Trump's finances and the litigation over whether he's really a billionaire, you know, there's good reason to believe he doesn't have enough money to do this and that he would have had to have outside financial support for these things."
In the House Intelligence hearing, Republican Party Congressman Tom Rooney said the stories Simpson was telling were "fascinating."
"I mean, the story about him financing Doonbeg in Ireland through money that we can't really trace but has sort of the fingerprints of Russian mobsters," said Rooney.
Simpson also said that the firm looked closely at the sales of condominiums in Trump properties in New York, Miami, Toronto, and Panama City.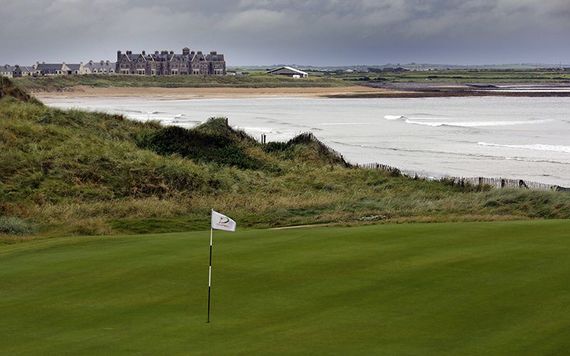 3
"There were a lot of real estate deals where you couldn't really tell who was buying the property. And sometimes properties would be bought and sold, and they would be bought for one price and sold for a loss shortly thereafter, and it really didn't make sense to us."
"We saw patterns of buying and selling that we thought were suggestive of money-laundering," said Simpson.
Alan Garten, the Trump Organization's chief counsel, told Reuters that the deals Simpson referenced mostly involve properties to which Trump only licensed his name.
Read More: Playing a round at Donald Trump's golf course in Ireland
"These accusations are completely reckless and unsubstantiated," said Garten. "These issues have nothing to do with the scope of the investigation" by the House intelligence committee."
"But it's not surprising the minority (Democrats) would focus on this given they've found absolutely no evidence of collusion."
Russia denies that it interfered in the 2016 election. Trump also denies any collusion.