75% of Irish farmers polled believe "Trump's presidency will damage America's reputation abroad"
A new poll has revealed that Irish farmers are opposed to President Donald Trump visiting Ireland, despite the Irish leader Leo Varadkar's plans to invite him on St. Patrick's Day 2018.
The poll, carried out by the Irish Examiner and the Irish Creamery Milk Suppliers Association, showed that 53% of respondents would not welcome the United States leader in Ireland. When questioned over Donald Trump taking part in an official state visit to Ireland 28% strongly disagreed with the idea while just 30% agreed with the idea. Just 30% of the Irish farming community agreed with the idea of a state visit.
Similar results were seen from a poll carried out by TheJournal.ie in March 2017, which showed that 55% would not agree with Trump visiting Ireland.
This might be tricky in the future as Donald Trump owns property in Ireland. In February 2014 Trump bought a golf resort in County Clare, now named the Trump International Golf Links & Hotel. Upon assuming his office as President of the United States Trump and his daughter, Ivanka, resigned as directors of the resort. Trump's sons Eric and Donald remain on the board.
Varadkar in Washington D.C.
On March 17, Ireland's new Taoiseach (Prime Minister) will travel to Washington D.C. as is tradition and present President Donald Trump with a Waterford Crystal bowl of shamrock for St. Patrick's Day. A large proportion, 63% of farmers agreed that Varadkar should make the trip to the White House for Paddy's Day.
3
While visiting the US last month, Varadkar told the New York Times he would invite Trump to Ireland. However, prior to Varadkar's election he had admitted he "wouldn't be keen" on a state visit from Trump.
The Irish Examiner and the Irish Creamery Milk Suppliers Association (ICMSA) poll was carried out at some of Ireland's largest agricultural shows.
Donald Trump damaging
Only 5% disagreed with the statement that "Trump's presidency will damage America's reputation abroad" and 75% agreed.
According to the President of the ICMSA , John Comer, the results show that farmers value stability, continuity, and a conciliatory approach to leadership.
Comer said "Perhaps farmers see President Trump's perceived attitudes to minorities and the way he seems to divide societies and a politics that seems to pit one group against another."
Of the annual St. Patrick's Day visit to the White House Comer said farmers "differentiate between the individual and the state and they want our traditionally close ties of family and friendship with the United States to be absolutely maintained.
"I'm glad to see that this practical distinction is borne out."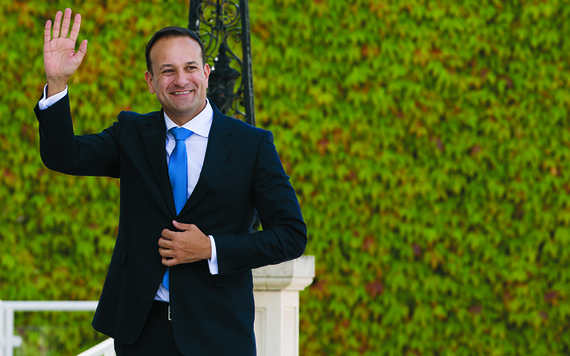 3
He added "Many families in Ireland, my own included, have relations in the United States and we should be meticulous in making sure that whatever disagreements we have with the approach of a particular incumbent that that can never be interpreted as a disagreement with the United States itself or its people."