A top Irish eurocrat has warned that the European Union must bully President Trump because of his trade policies.
But former Irish government minister Phil Hogan, now an EU commissioner, said he also predicts Trump could win a second four-year term as president.
Hogan told the Patrick MacGill Summer School in Co. Donegal, an annual "think-in" gathering of politicians and academics, that within the EU there is a difference of opinion on whether "a hardline or softly-softly approach" should be taken with the U.S.
Hogan, who is European commissioner for agriculture and rural development, said, "I'm on the side of the hardline approach. You can only deal with someone who is trying to bully you in an irresponsible way by bullying them back.
"The European Union, with its 500 million people standing together, will ultimately show President Trump the error of his ways."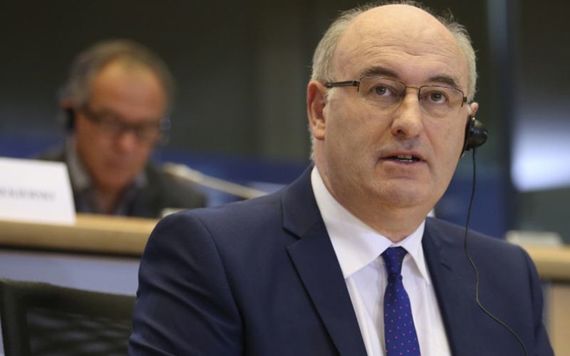 2
Hogan, who was for three years Irish minister for environment, community and local government, added on the opening day of the week-long school in Glenties, "A strong, consistent line will put this man back in his place."
Trump's administration recently announced tariffs of 25 percent on steel and 10 percent on aluminum, causing the European Union to retaliate with similar amounts of tariffs on products made in the U.S.
Read more: Sean Spicer reveals all on Donald Trump's missing green tie, his holy medals and dealing with the president
Dealing specifically with Ireland's role, Hogan said it had an open-economy which benefited hugely from globalization and free trade. It needed to devise a new strategy of bypassing the White House on trade issues.
He said, "We have to go in at the lower level of the administrative system and the federal system, directly to the federal states, rather than having to rely, as we always did, on going to the White House."
On Brexit and the U.S. offer to Britain of a quick post-Brexit deal, Hogan said Ireland must seek to survive a global trade storm.
He said, "Ireland must negotiate the middle ground, supporting the EU's counter-offensive actions while maintaining an open dialogue with U.S. companies headquartered in Dublin."
Despite his criticisms, Hogan believed Trump had an excellent chance of being a two-term president.
He said, "I think Trump has tapped into this nationalistic mood quite successfully. White Americans, to put it in its crudest terms, in states where they have lost jobs, voted in their droves for Mr. Trump and I don't think they have any reason to change their minds yet."