Irish American John McCain showed viewers of 60 minutes exactly what a true fighter looks like in a frank interview with Lesley Stahl about his relationship with Trump, healthcare and his own morality.
This summer McCain was diagnosed with glioblastoma - a particularly aggressive brain tumor - and the likelihood of survival is not good.
"Some [doctors] say 3%, some say 14%. It's a very poor prognosis," the Senator from Arizona calmly informed Stahl.
Despite his doctor's dire warnings, he maintains he still feels great.
"I feel fine and I'm eating everything that she makes me eat," he grinned at his wife, Cindy.
"None of which is…"
"Any good?" Stahl interjects.
"Exactly."
For her part, Mrs. McCain seemed upbeat, telling Stahl, "I'm still in disbelief that this has actually happened and then I think cancer chose the wrong guy. Because it's not going to happen here."
Read More: John and Cindy McCain's Irish roots - what you need to know 
But glioblastoma isn't just a part of McCain's present, it's part of his past too, and it's the same vicious disease that carried off his friend, another icon of the US Senate, Ted Kennedy.
"I think about Ted a lot. Ted stayed at his job, kept working, kept going, even when he was in a wheelchair. And he never gave up because he loved the engagement."
But if the affection in his voice is clear when talking about a former Democratic colleague, he's less warm about the President nominated by his own party.
He denies that his vote against repealing the Affordable Healthcare Act was in anyway motivated by animus due to Trump's disparaging remarks about his time as a Prisoner of War during the Vietnam War.
"Life is too short," he said.  
"You've got to move on. And on an issue of this importance to the nation, for me to worry about a personal relationship, then I'm not doing my job."
For many, a spell of five years as the prisoner of enemy combatants would seem like a an eternity that can never be reclaimed. McCain, however, seems grateful for his time in prison.
"The joy of my life was the bonds that were forged between me and my fellow POWs.
"They were wonderful, we fought together, we loved each other… I look back on that experience with a great deal of pride."
There is no bitterness in the expression or eyes of the 81 year of statesman. He's known the humiliation of capture, personal love and loss, riches, fame and condemnation in his nine decades and, in his view, that was a pretty good hand to be dealt.
"I am so grateful. Every night when I do to sleep I am just filled with gratitude."
He's had, he explains, "a great life" and when he exits stage right he wants it done simply.
"When I leave [I want] that the ceremony is at the Naval Academy, that we just have a couple of people who stand up and say, 'This guy, he served his country.'"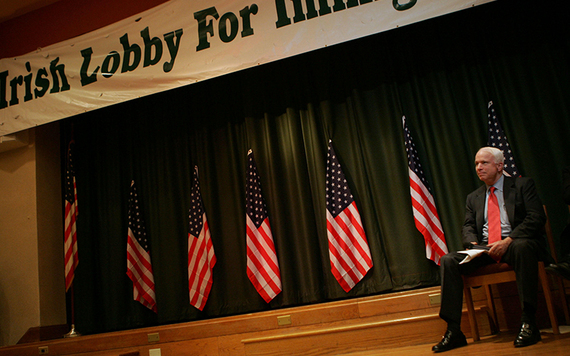 2