Mary Lou McDonald will replace Gerry Adams as the leader of Sinn Fein. She has been confirmed as the sole nominee for the party's president.
Sinn Féin's ard comhairle met in Belfast this morning to formally ratify the Dublin Central TD for leader, the Irish Times reports.
A special party conference to elect McDonald will take place in Dublin on February 10th.
Read More: Hello Mary Lou – Adams' likely successor could be first female Taoiseach
"This will be my last speech as Uachtarán Shinn Féin to the Cúige," said Adams, who has been the leader of Sinn Fein since 1983. "Nominations for that position closed yesterday. So if you didn't get a nomination and wanted this job it's too late now. Please welcome the President elect of our party, Mary Lou McDonald."
Adams, who made his speech at the Balmoral Hotel in west Belfast, also spoke about the Stormont impasse and reiterated the party's commitment to getting devolved government running again.
"It is not ok the interests of the vast majority of citizens that political parties should retreat to our trenches and hunker down comfortably in the certainty of our respective positions.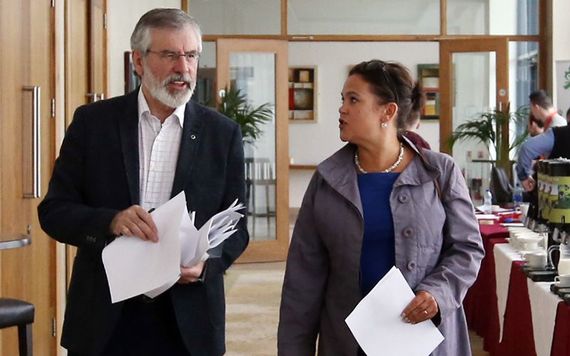 2
"We have to challenge ourselves and our support base."
McDonald spoke after Adams.
"I am proud and honoured to be nominated for Uachtarán Shinn Féin. I look forward to being ratified at our special Ard Fheis on February 10th," she said.
"I know I have big shoes to fill taking on the role from Gerry Adams and I know that is impossible but I have brought my own shoes and together, with all of the party membership, we will walk on a journey that will lead to Irish unity.
"Uniting this island is the best outcome for all our citizens and it is now our task to convince our unionist friends and neighbours of that and to encourage them to help us build a new Ireland.
"We are entering a new era and we can look forward with confidence.
"I want to see Sinn Féin in government north and south.
Read More: Gerry Adams calls for joint authority between Irish and British over Northern Ireland
"But it will be government based on equality, respects the rights of citizens, that delivers prosperity and opportunity for all and reflects our republican ideals.
"To do that we need to continue to grow and develop, embracing new ideas while remaining true to our vision.
"We are capable of achieving anything we set our minds to and it is now the task, duty and responsibility of all to create and deliver a new Ireland, together, united and strong," she added.