Russian interference in the 2016 election has become a huge story but the British were doing it long before them.
What Russia tried to do in 2016 to influence the American presidential election is nothing new.
In 1992, the British ran major US presidential election interference too at the behest of the first Bush administration.
The British searched their passport records to find out if Bill Clinton ever applied for one to dodge the Vietnam War draft.
Read More: Bill Clinton concerned about Brexit's impact on Northern Ireland
That was when Bill Clinton was making his run for the White House against George Bush senior.
Clinton was incensed at the search of passport records and snubbed Prime Minister John Major repeatedly after he was elected. He also half-seriously suggested he might appoint Jimmy Breslin, a noted anti-British writer, as Ambassador to London.
There was intense interest in Clinton's time at Oxford in 1968 and 1969 when the war was at its height and Clinton was eligible for the draft.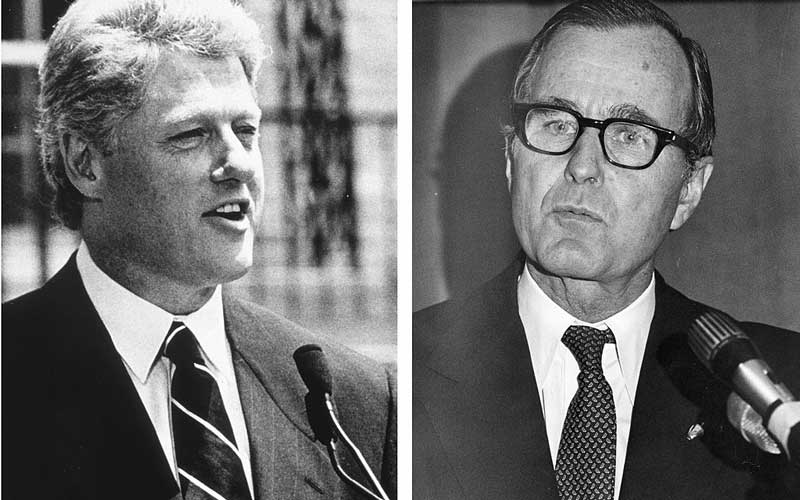 2
The Bush administration hired an opposition researcher named Gary Moloney, an associate of Lee Attwater, known as the most controversial operator in politics.
The purpose was to conduct a document search in Britain for any information that might lead to the conclusion that Clinton had tried to take British citizenship to avoid the draft.
The British government later admitted it had conducted its own "comprehensive" search through confidential files in London for material on the Democratic presidential candidate, a British government spokesman admitted to the Washington Post.
"Officials at the British Home Office searched through immigration and naturalization files in early October to determine if Clinton, while he was a student at Oxford University, had sought or inquired about obtaining British citizenship to avoid the draft during the Vietnam War," admitted Graham Blakeway, head of the news division of the Home Office.
Read More: We are sitting ducks for the Russians in 2020 and the Republicans know it
"A search was made; it was comprehensive," said Blakeway 
Tony Blair, the Labor Party's spokesman in Parliament on Home Office affairs, told the Washington Post  that he did not understand why the Home Office, faced with press inquiries about Clinton's time here as a student at Oxford University, did not adhere to its usual policy of refusing to comment on any individual files or cases.
The search was "not just an error in judgment," Blair said. "It can't exactly
help our relations with one of our most powerful allies.
In addition, during the presidential campaign leading Tory strategists arrived in America to help Bush get re-elected in flagrant violation of neutrality standards.
Also, on the day before the election, Douglas Hurd sent a warm letter hoping for success for Bush the following day.
It was not to be but the British were trying just as hard as the Russians in 2016 to get the result they wanted - whatever it took.