A wall bearing the 488 individuals who died in the 1916 Rising has had paint thrown over it in Dublin's historic Glasnevin cemetery.
The "callous act of vandalism" as the Glasnevin Trust dubbed it, took place on Saturday night or early Sunday morning and was discovered by a cemetery staff member whilst doing a routine check at 9.30am that Sunday. At the time of the wall's unveiling last year some Irish Republican Army militants protested the memorial as it lists both Irish and British who died in the revolt.
The wall was swiftly covered and gardaí (Irish police) alerted. After it was examined by the police a local team of cleaners were called to begin restoring the wall back to normal. 
"Glasnevin Trust can confirm that the Necrology Wall, unveiled as part of the 1916 centenary commemoration and listing the names of all who lost their lives in the Rising, was vandalized at Glasnevin Cemetery during the night," a cemetery spokesman declared.
Sad to see such vandalism: Paint thrown over 1916 Rising remembrance wall in Glasnevin https://t.co/xsnuyKBPqu via @IrishTimes pic.twitter.com/JUIP1sMAZc

— genealogy.ie (@Genealogydotie) April 9, 2017
"This was an act of callous vandalism. Glasnevin Trust is currently engaging with the gardai on the matter and will not be commenting further at this time."
Read more: Tens of thousands of Great Hunger dead immortalized at Glasnevin Cemetery
News of the vandalism was greeted sorrowfully by the Archbishop of Dublin, the Most Reverend Dr. Michael Jackson, who said, "I was invited to take part in the Inter Faith Act of Worship for the dedication of the wall erected during the centenary of 1916.
"It is a historic record of all those who died in the rebellion from whatever perspective they came - we remembered them all. The families involved in this initiative showed great courage and I express sadness and distress for them at this time."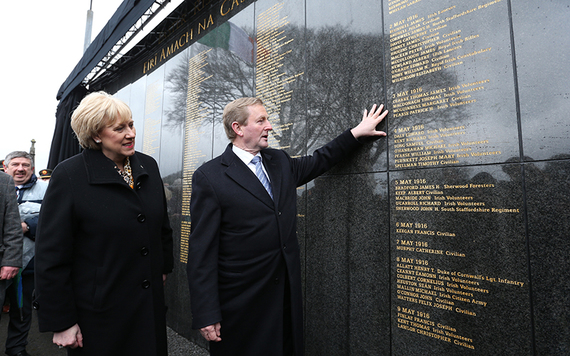 2
The Necrology Wall was unveiled amidst some controversy last year as part of the Centenary of the Easter Rising as it includes the names of republican volunteers, members of the British Army and civilians killed during the rebellion.
No arrests have been made.
Read more: Ten most famous people buried in Dublin's Glasnevin Cemetery
H/T: Irish Independent