Randy "Prince" Andy has been royally dumped by a number of organizations he supported during his time as a so-called "working royal," but Royal Portrush golf club in Co. Antrim hasn't formally cut ties with Jeffrey Epstein's BFF.
Royal Portrush hosted the British Open this past summer which Shane Lowry won in spectacular fashion, and Andrew is its long-time royal patron.  He attended the Open and even had the temerity to show his face there again in September when he hosted the Duke of York Young Champions Trophy – an event his pedophile pal Epstein would no doubt have enjoyed back in the day as girls are among the athletes competing.
Anyway, you know what has really hit the fan for Andrew, now forcibly retired thanks to the intervention of his mom the Queen and his brother Prince Charles. But Royal Portrush hasn't formally cut him loose, according to a statement issued by the club.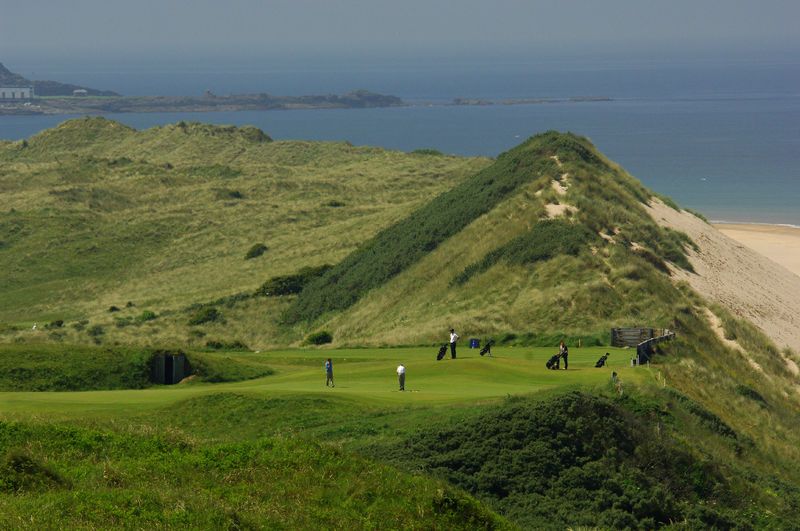 2
"The allegations surrounding Prince Andrew, and especially the trauma and distress suffered by the victims of Jeffrey Epstein is a matter of deep regret," the club said last week.
"Royal Portrush will continue to monitor the ongoing investigative process. There are no scheduled plans for him to return to the club.  The council of Royal Portrush is acutely aware of the widespread public concern about these allegations, and Prince Andrew's decision to step away from public duties will be discussed at our next meeting."
The rotten royal apple used to love a round of golf at Royal Portrush and all the princely treatment.  He also toured the North for three days in September of 2018 and handed out colors to the 1st and 2nd Battalions of the Royal Irish Regiment in his role as colonel-in-chief.
Irish Times sports columnist Keith Duggan articulated what the vast, vast majority thinks of Andrew, who also goes by the moniker the Duke of York.
"Royal Portrush has been under the patronage of the Duke of York since 1892. That tie to monarchy is a part of the club's heritage. Its members undoubtedly enjoy the prestige associated with the name. Cutting ties with Andrew would represent a radical step…but there is no real decision to be made here, as they'll discover when they next sit down and inevitably come to realize that they need to find a new patron," he wrote.
Read more: Give thanks this year for exposing royal sex abuser and DUP bullies