The Molly Malone statue in Dublin had bright green writing scrawled across it on Sunday, bearing the words "Please don't. T.Y. (Thank You)."
Sunday's vandalism comes less than a month after the famous statue was vandalized twice within a week in August.
In the first instance, black paint was sprawled across the chest of the statue.
Later, the words "7 Years Bad Luck" were written across the statue's chest.
Dublin City Council was forced to repair the statue's bronze plating. 
It has been speculated that the recent spate of vandalizing may be a form of opposition to the practice of rubbing the statue's chest for good luck. 
Poor aul Molly got some TLC this morning after the senseless vandalism that occurred on her recently. Thanks Eoghan for her Glow Up! #Dublin #MollyMalone pic.twitter.com/fadYuzQTxz

— Dublin City Council (@DubCityCouncil) August 23, 2023
Former Lord Mayor of Dublin Independent Cllr Christy Burke has called for the statue to be moved from its current location on Suffolk Street and said it needs to be located in a more "secure spot."
"Molly Malone statue has now been spray painted three times over the past few months. It's time to change the location of the statue," Burke said. 
Burke added that the statue should be housed near the Mansion House on Dawson Street to prevent further vandalism, adding that it is a busy area with numerous CCTV cameras to discourage people from vandalizing the statue.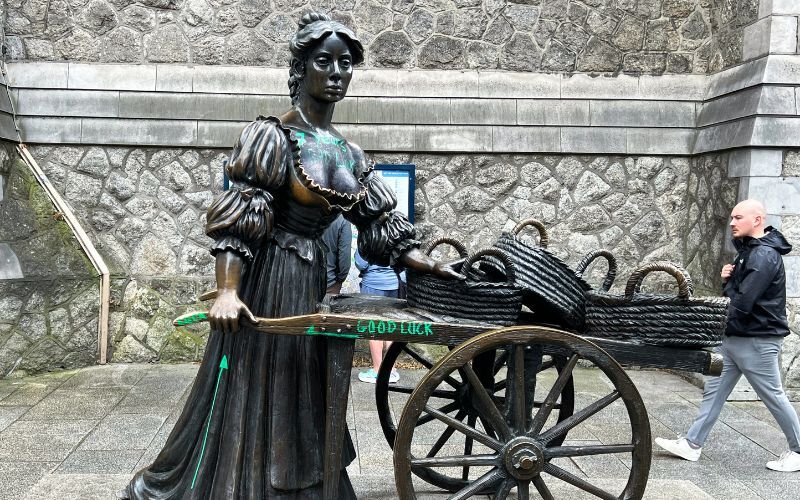 2
The Molly Malone statue was unveiled on Grafton Street in 1988 during the Dublin Millennium celebrations but was moved to its current location on Suffolk Street in 2014 to make way for Luas line configurations.
It is now located in front of the Tourist Information Office and is one of Dublin's best-known tourist attractions. 
The statue is a depiction of Molly Malone, a fictional character who inspired one of the best-known Irish folk songs.