The funerals for Kiea Mc Cann and Dlava Mohamed, the best friends who were killed in a road collision in Co Monaghan while en route to their Debs on Monday, July 31, will both be held tomorrow, Thursday, August 3.
Kiea Mc Cann "will be resting in her family home from today (Wednesday) until tomorrow (Thursday)," a  notice on RIP.ie says.
The funeral procession for the 17-year-old will leave the family home at 1:30 pm on Thursday to arrive at Sacred Heart Chapel in Clones for a 2 pm funeral mass, which will be live streamed.
Kiea will be laid to rest in Mount St Oliver's Cemetery in Clones afterward.
Dlava Mohamed will be "coming home to the family home this evening [Wednesday] in The Diamond, Clones for 7 pm where she will resting among her family and many friends," a notice on RIP.ie said.
Dlava will be leaving the Diamond Clones on Thursday morning at 6:45 am to arrive at Clonskeagh Mosque & Culture Centre at 19 Roebuck Road at 1:30 pm for her funeral services.
The 16-year-old will be laid to rest at 3 pm in Newcastle Muslim Cemetery in Dublin.
The notice adds that there will be a coach leaving the Diamond Clones at 6:45 am to follow Dlava to Dublin to her final resting place for all her family and friends.
An Garda Síochána said on Monday, July 31 that two people had been killed in a road collision that occurred at approximately 6:45 pm that evening on the N54 in Legnakelly (Clones to Smithborough Road), Co Monaghan.
In an update on Tuesday, Gardaí said two post-mortems had been conducted, but the results are not being released for operational purposes.
A 60-year-old male, reportedly the driver of the vehicle, was in critical condition at Royal Victoria Hospital in Belfast as of Tuesday.
An 18-year-old female, reportedly Dlava's sister Avin, was in Cavan General Hospital in a critical but stable condition as of Tuesday.
A male 18-year-old male, reportedly Oisín Clerkin, continued to receive treatment in Cavan General Hospital for non-life-threatening injuries as of Tuesday.
Clerkin shared a photo of him and Mc Cann on social media on Tuesday evening, taken just before they left to head to their debs.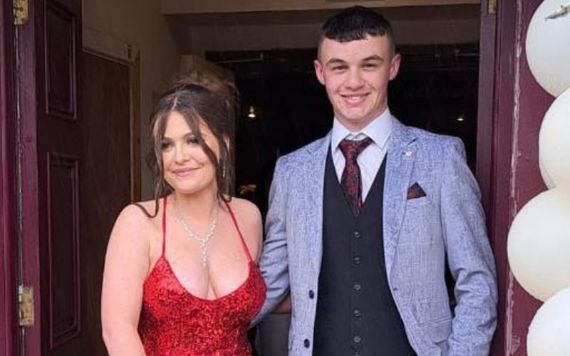 2
Gardaí in Monaghan continue to appeal to anyone who may have witnessed this collision to contact them.
Any road users who may have camera footage (including dash-cam) and were traveling on the N54 between Clones and Smithborough on July 31 between 6:15 pm and 7:00 pm are asked to make this footage available to Gardaí.
Anyone with any information is asked to contact Monaghan Garda Station on 047 77200, the Garda Confidential Line on 1800 666 111, or any Garda station.
Speaking at Clones Garda Station on Tuesday, Superintendent Patrick O'Connell,  who attended the scene of Monday's incident, described it as "particularly tragic" and "particularly harrowing."
He thanked the emergency services who responded, the hospital staff, as well as members of the public "who stopped to render assistance."
Mc Cann's father Frankie Mc Cann told Independent.ie that the teens could have taken a bus to the hotel for their Debs event, "but they wanted to drive in style, and my friend has a white BMW and he agreed to drive them.
"We had put red bows and everything on the car."
Frankie said after he got the call about the collision, he "got out there as quick as I could and tried to revive them with a woman that was there also.
"I had to move from my daughter to her best friend, but there was nothing I could do.
"All I could do was ask that they be put lying together."
Community members formed a guard of honor as Kiea Mc Cann's remains returned home to Clones on Tuesday evening.