You can enjoy the plays of Eugene O'Neill in a newly liked Irish and American festival of his works in Ireland, taking in the local sites and enjoying his artistic legacy in fathers homeland
Eugene O'Neill, the only American playwright ever to receive the Nobel Prize for Literature, once wrote, "The one thing that explains more than anything about me is the fact that I'm Irish. And, strangely enough," he added, "it is something that all the writers who have attempted to explain me and my work have overlooked."
That neglect is finally lifting. Recently Dan O'Neill, President of the Eugene O'Neill Foundation at Tao House in California, gave an illuminating talk titled Eugene O'Neill and Ireland to a full house at the American Irish Historical Society in Manhattan. It's time, he argued, to give O'Neill's Irish heritage and outlook its due.
5
McGovern, the former head of the U.S. Environmental Protection Agency in the western United States and the second-ranking lawyer in the U.S. State Department, is the co-founder with Sean Reidy (Chairman of The O'Neill Ancestral Trust in New Ross, County Wexford) of the Eugene O'Neill International Festival of Theatre in New Ross, the port from which O'Neill's father James emigrated as a small boy.
Read more: How Eugene O'Neill took on the Ku Klux Klan
But the importance of New Ross to the story of America still isn't as widely appreciated as it might be. It's also the town from which President John F. Kennedy's ancestors emigrated in the 19 century, which means that the greatest American playwright and one of the greatest American presidents were both direct descendants of the place.
"O'Neill was very well received early in his career in Ireland and there have been great productions of his work there up until maybe two decades ago," McGovern tells the Irish Voice. "Chris Morash, the vice provost of Trinity College pointed out to me recently that even the great Irish playwrights are not produced as often as they once were because Irish theatre is now director centered not play centered."
5
It was at Tao House in California where O'Neill wrote his greatest plays, including Long Day's Journey Into Night (arguably his most Irish play) and The Iceman Cometh. "O'Neill lived there from 1937 to 1944 and when he moved in he was considered to be a spent force," says McGovern.
"His last play on Broadway had not been a success. And even though he received the Nobel Prize for literature in 1936, I think a lot of people consider it to be kind of a lifetime achievement award and that his achievements were all behind him."
How wrong they were. O'Neill went on to write the greatest plays in the American canon, and Ireland and its troubled history grey mirrored every step he took. Now that longstanding exchange is finally getting its due.
Last year McGovern and Reidy collaborated on the first Eugene O'Neill International Festival of Theater in New Ross, County Wexford. It was an immediate success. "The fact that there is going to be an ongoing cultural relationship now between the Eugene O'Neill festival in Danville, which runs through September and the O'Neill festival in New Ross which will run really makes it one festival, two countries."
5
In Danville, the O'Neill Foundation will stage Long Day's Journey Into Night and then transfer it to New Ross for the sister festival. They will also stage early O'Neill one-acts originally written for the Provincetown Players.
The New Ross festival will welcome both American and Irish festival goers for a cultural and a civic celebration of the strong ties between Ireland and the United States as exemplified by O'Neill's Irish heritage, McGovern says.
The Festival Tour Package, including dinner, bed, and breakfast for five nights at Brandon House, as well as admission to all the festival events, but not including airfare, is $1,000 double occupancy.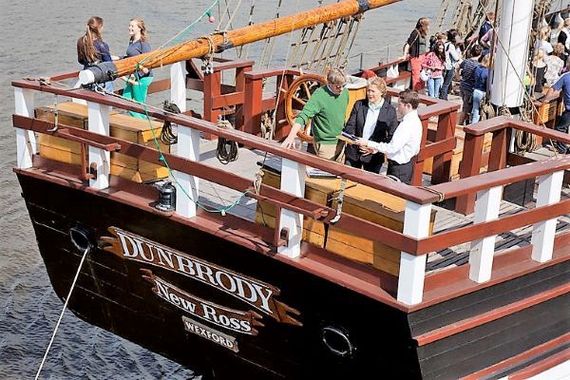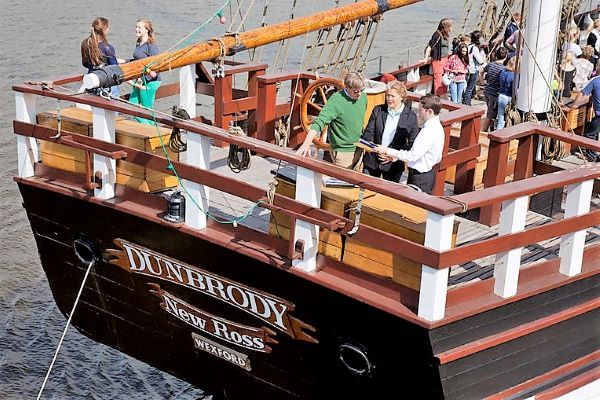 5
Daytime tours during the Festival will include visits to Viking Waterford, the Irish National Heritage Park in Wexford, the Dunbrody famine ship, the Ros tapestry, the Kennedy Homestead and the JFK Arboretum.
You can also opt to attend the Extended Tour After Festival on Oct 14 through the 20, for 11 nights and the price, not including airfare, is $2,600 double occupancy.
The tour includes the famous Newgrange World Heritage Site, the Titanic Exhibit, Belfast City, the Giants Causeway UNESCO World Heritage Site, Bushmills Distillery, the Ulster American Folk Park and it concludes with two days in Dublin.
For further information or a festival tour package go to eugeneoneillfestival.com or contact Sean Reidy, Chair of the O'Neill Ancestral Trust at seanreidyirl@gmail.com.
Read more: Irish and Irish American actors win 2019 Tony nominations