A seasonal operation to combat Christmas tree farm raiders in Ireland has all but eliminated thefts of festive firs by criminal gangs.
Operation Hurdle is now up and running once again in Co. Wicklow, which is home to the highest concentration of Christmas tree farms in the country.
Local gardai and growers said the initiative, which was set up in 2011 following a spate of thefts by Dublin-based criminals, has proved so successful that there was "just one minor incident" last year.
Like previous years, Operation Hurdle will see both an increased Garda [police] presence in the county's isolated uplands area, along with regular air patrols over the region's remote plantations.
Read more: The best places to celebrate Christmas in Ireland
And Superintendent Paul Hogan, who set up the initiative in 2012 following a spate of thefts the previous year, said gardai are once again well prepared to tackle any criminal activity.
Hogan, based at Wicklow town garda station said, "Back in 2011 a Christmas tree grower from Roundwood was tied up and robbed, so a delegation of farmers came to me and we decided enough was enough.
"We started working more closely together and we set up Operation Hurdle, which has worked very well and helped reduce the number of cases drastically.
"We have the assistance of the air corps unit and they're able to cover large tracts of land and spot any suspicious activity.  It's a big deterrent and the focus is on prevention rather than catching people.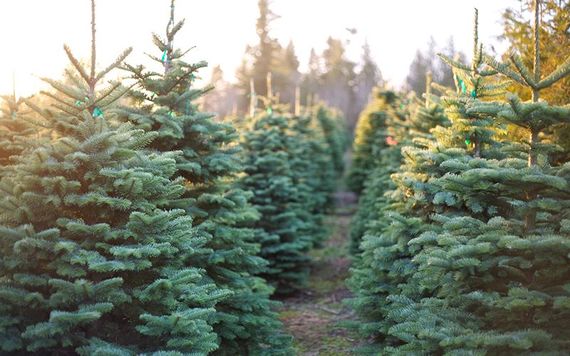 2
"We've upped our game, with regular patrols and more visibility in the Wicklow Uplands area and the gangs know that we are now more proactive than we used to be.
"As well as that, the growers themselves have put in their own security.  Some of them have guys in caravans at the entrance to their farms keeping a lookout.  These measures are needed because it takes the farmers about 10 years to grow a tree and this time of year they're harvesting.  It's basically their livelihood that's at stake at the moment because everything is riding on the success of the harvest."
Gangs that target the Wicklow farms tend to be either Dublin-based or local raiders who are "well-known to gardai" and more familiar with Co. Wicklow's rural terrain.  Typically stolen trees would be sold on for up to $50 each.
Read more: The very special celebration that is an Irish Christmas
"We'll be running Operation Hurdle right up to Christmas. Everyone's on high alert at the moment, because the gangs see this time as a critical window of opportunity," Hogan said.
Meanwhile, grower Christy Kavanagh, who expects to supply around 10,000 trees in total from his isolated farm in Newtownmountkennedy, Co. Wicklow, to both the Irish and export market, said Operation Hurdle had helped change the fortune of the county's festive fir farmers.
Kavanagh, a multi-award winning grower and the chairman of the Irish Christmas Trees Growers Association, said,  "It's looking like there'll be extra demand for Christmas trees this year because more and more people are turning away from plastic, because they know how bad it is for the environment."
The total value of the Christmas tree market to the Irish economy is estimated to be about €21 million.
Denmark is the largest producer of Christmas trees in Europe, but the high-quality crop produced in Ireland have the Irish the biggest exporter of festive firs to the U.K., with strong demand also from France, Germany, Belgium, and Holland.
Read more: No murder charges for Irish man following fatal NYC bar fight