Irish comedian Brendan Grace was remembered by scores of fans at his Dublin funeral on Monday
The legendary Irish comic Brendan Grace, who passed away last week at the age of 68 after a short battle with cancer, was mourned in his native Dublin on Monday by hundreds of fans and friends who turned out en masse for his funeral at the Church of St. Nicholas in the Liberties section of Dublin where he was from.
Read More: Comedian Brendan Grace dies aged 68
"As long as a person's memory lives and as long as we live, Brendan Grace will never die because all of us have enthusiastic, brilliant and long-lasting, life-lasting, and life-changing memories of the wonderful man that he was - the humanity of the man, the generosity of the man, the goodness of the man," chief Mass celebrant Father Brian Darcy said.
"All of his vocation in life was quite simply, nothing more, nothing less than to lift the gloom of the nation and to lift the gloom of the people who came to see him."
Among those in attendance were singers Dickie Rock and Daniel O'Donnell, Fianna Fail leader Micheál Martin and former Taoiseach Bertie Ahern.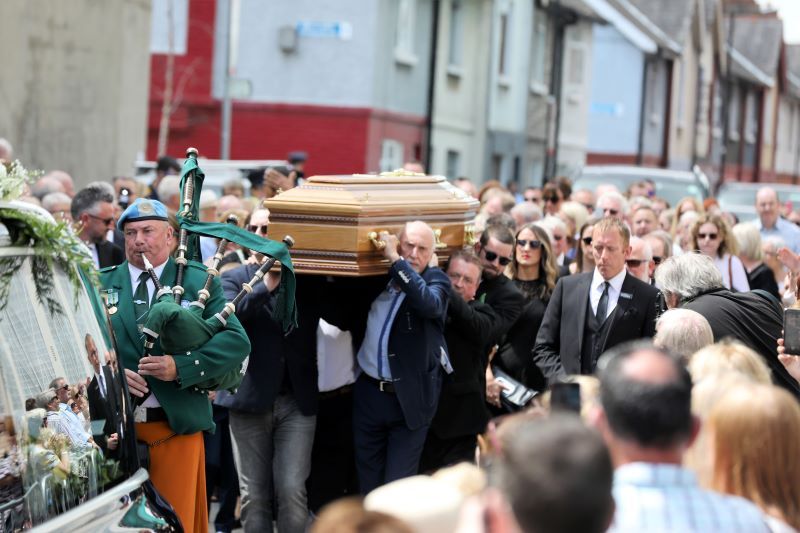 2
Grace had been in hospital for the last four weeks being treated for pneumonia. He was also receiving ongoing treatment for cancer.
His family expressed their gratitude to his fans around the world who have been showing their support since he made his illness public.
He was diagnosed with cancer this summer but continued to perform and tour. He is survived by his wife Eileen, children, and grandchildren. His management confirmed he passed peacefully surrounded by his loving family.
Grace's career in entertainment spans over 50 years but he is probably best known for his character Father Fintan Stack in Father Ted as well as his characters Bottler, and Father of the Bride. His song, "Combine Harvester," was a number one hit in Ireland.
In his later years, he split his time between Ireland and West Palm Beach in Florida. He came back to Ireland when his health failed.
Tom Kelly, his booking agent of 27 years paid tribute to him as "one of the greatest entertainers of this era."
Speaking on RTE, he said, "Brendan Grace was one of the greatest entertainers of this era, no doubt about that. He gave a performance every night that merited the applause he received."
He added, "We can look back with pride on Brendan's lifetime. He was a great family man, very close with them and he was adored by his fans all over the world."
Kelly told the radio show about when Grace had performed for and alongside Frank Sinatra.
He said, "Sinatra fell around the place laughing at him. He then went on to perform with Sinatra in London and in America."
Read More: London Irish gather for funeral of Co Kerry man with no known relatives
Also on Monday, local artist Fink.art decided to honor Grace with a mural immortalizing the Irish stand-up extraordinaire for all of Dublin to see.
It came with a simple yet powerful message: thank you.