Irish president Michael D Higgins has been criticized after paying tribute to Fidel Castro following the Cuban dictator's death at age 90. Independent Senator Ronan Mullen described Higgins' comments as "fawning, offensive and wholly inappropriate." In comparison, Minister for Foreign Affairs Charlie Flanagan called Castro "a dictator who presided over a questionable regime with human rights issues. "He was a very divisive figure, embroiled in controversy for most of his career, and there will be very mixed views on his legacy."
According to Amnesty International, severe restrictions on freedom of expression and free movement remain in Cuba. Critics of the government are subject to "acts of repudiation," while "arbitrary arrests and detentions" are common. The judicial system also remains under political control and journalists and human rights activists are routinely subjected to arbitrary arrest.
Higgins has responded to the criticism with a spokesman stating he personally brought up human rights issues when he met with Castro or other Cuban leaders.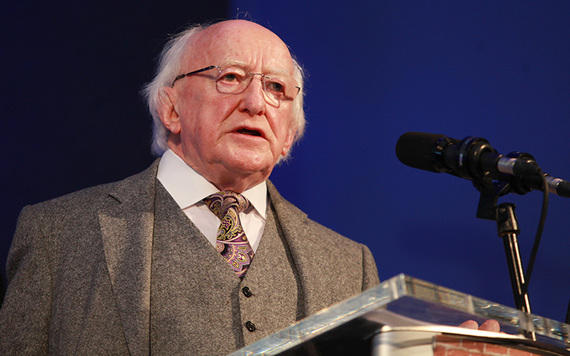 3
"The President has discussed human rights concerns with representatives of the government of Cuba on every occasion he has had meetings in Cuba, Ireland and elsewhere,'' the spokesman added.
"In all of his speeches on human rights, the President has emphasized the universality of human rights and has never shirked from the presentation of that view.''
Higgins issued a laudatory statement on Saturday, saying: "I have learned with great sadness of the death of Fidel Castro, founder of modern Cuba, and its Prime Minister from 1959 to 1976, as well as its President from 1976 to 2008." 
"Fidel Castro will be remembered as a giant among global leaders whose view was not only one of freedom for his people but for all of the oppressed and excluded peoples on the planet," said Higgins, according to the Irish Independent.
"Having survived some 600 attempts on his life, Fidel Castro, known to his peers in Cuba as 'El Comandante,' became one of the longest serving Heads of State in the world, guiding the country through a remarkable process of social and political change, advocating a development path that was unique and determinedly independent," he said.
"Fidel Castro will be remembered as a giant among global leaders." https://t.co/hX84AajZ5l pic.twitter.com/AXciQ6Qcns

— President of Ireland (@PresidentIRL) November 26, 2016
"Cuba achieved 100% literacy many years ago and built up a health system that is one the most admired in the world. With economic growth rates similar to many other Latin American countries, inequality and poverty are much less pronounced in Cuba than in surrounding nations.
"His Governments faced not only issues of Development but also the consequences of an embargo imposed by Cuba's largest neighbor, the United States, which was a regular topic for discussion at the United Nations and which was criticized by a large number of countries in the international community. "
3
The president continued, saying: "He was President of the Non Aligned Movement and a leading figure in international gatherings that sought a more equal world of trade, rejected odious debt and sought an independent path to development.
"He was speaking of how it was possible to eliminate global hunger and of the enormous burden that international debt was placing on impoverished nations. Expected to give a lengthy speech, his very short statement ended with the phrase: 'Let us pay the debt to humanity, not the debt to the banks."
"The restoration of diplomatic relations with the United States in 2014 and the visit of Pope Francis, and the response to it, have been ushering in a new period in Cuba's history, one which seeks to retain the achievements of a social kind with greater freedoms in the civil society."
Fuair Fidel bas. RIP pic.twitter.com/vLuBjBd2gj

— Gerry Adams (@GerryAdamsSF) November 26, 2016
Sinn Féin leader Gerry Adams also paid homage to the Cuban leader saying that he was a "good friend to the Irish people and an admirer of our struggle."
Adams tweeted a photo of himself and Castro in 2001, and later posted a statement describing him as a "global leader."
"He lived long enough to see the vindication of the sacrifices of his people when President Obama commenced the process of normalizing relations between the USA and Cuba," he said.
Read more: Fidel Castro was a strong supporter of Irish hunger strikers and Bobby Sands