An Irish human rights lawyer, who was jailed for drunken abuse of staff on an Air India flight, has committed suicide 13 days after her release
Belfast native Simone Burns (50) was sentenced to six months in jail following a drunken, racist rant on an Air India flight, last November.
A spokesman for Sussex police in England said:
"The body of a woman found at Beachy Head, Eastbourne, on 1st June has been identified as 50-year-old Simone Burns from Hove. The death is not being treated as suspicious and next of kin have been informed. The matter has been passed to the East Sussex coroner's officer."
Burns, who was originally from Northern Ireland and sometimes used her Gaelic last name O'Broin, fell into a deep depression and her  "world fell apart" after her conviction. The human rights lawyer, who lived in Hove, East Sussex, became a hermit in her own home due to harassment following the fact that video of her actions on the Air India Flight went viral. She was the subject of hate mail and internet trolling. 
She was sentenced to six months in prison. She was found dead, at one of Britain's most famous locations for people to take their lives, just 13 days after her release from prison.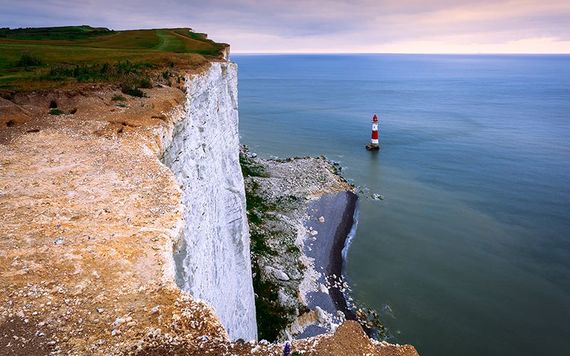 2
During the nine-hour Air India flight, from Mumbai to London's Heathrow Airport on November 11, 2018, Burns was filmed harassing the flight crew for more alcohol after they cut her off.
Flight passenger Tarun Shukla shared his videos of the incidents on Twitter:
Irish lady behaves in such an abusive, racist way with @airindiain crew for being refused extra drinks. Very decent AI crew behaviour. Arrested on landing. Wonder if she should have been controlled onboard with handcuffs. @JitiBhargava @Mohan_Rngnathan pic.twitter.com/kSTDmGOEm5

— Tarun Shukla (@shukla_tarun) November 13, 2018
During her tirade, 50-year-old Burns, who worked as an international refugee lawyer, could be heard saying "I'm a f****** international lawyer," while demanding more alcohol. 
She also called the flight crew "Indian money-grabbing c****."
During her hearing at Isleworth Crown Court, the court heard that following the incident, a flight crew member said: "In the 34 years I have worked for Air India, this is the first time I have been treated like this by a woman. I felt abused."
In court, Mark Kimsey, defended Burns, saying her actions were a result of a "mixture of altitude, the consumption of drink, and anxiety" and that Burns was "totally ashamed of her behavior."
He added: "This is not a lady who has a drink problem. This is not a woman who has a drug problem. This is totally out of character."
Judge Nicholas Wood in court said: "The experience of a drunk and irrational person in the confines of an aircraft is frightening, not least on a long-haul flight and poses a potential risk to safety."
He added that "spitting straight into a crew member's face at close range is a particularly insulting and upsetting act."
Speaking to Burns, Judge Wood said: "You are a woman, not just of good character but a positive and impeccable character - a righter of wrongs. What this has done, thanks to social media, (has meant) you have had death threats and been a hermit in your home."
"The fact remains that you were drunk and obnoxious almost from the beginning to the end. You were abusive, contemptuous and confrontational and used appalling language."
Burns, who pleaded guilty to her actions, was sentenced to two months for assault and six months for being drunk on a plane.
Do you believe more should be done to protect the identity of people featured in social media footage? It the responsibility on social media platforms, such as Twitter? Let us know in the comments section below.
Read more: Vatican denounces potential law mandating priests to report confessions of child sex abuse