There have been people living on the island of Ireland for 9,000 years, give or take a few days.
At any point along this timeline there would have been people living or moving through that part of the island that is today's Dublin.
Lucky them.
No traffic jams, or any of those other annoyances of modern living.
Then again, no pubs, restaurants, stores, theaters, or trains that turn into trams.
If given a choice between the ancient and bucolic and the modern and bustling I reckon on the latter being the better choice.
After all, there are still plenty of peaceful places on the island of Ireland, in and around Dublin included.
And even in the setting of the modern capital you can still savor the ancient, and enjoy new ways of experiencing the old.
That's Dublin then: older every day, new every day.
Which presents an interesting option to the visitor. Which way to lean? In favor of the new, in line with the old.
You could choose the new and never stop looking at your phone.
15
Or you could stand in a Georgian square and imagine an encounter with Jonathan Swift, or composer George Frideric Handel who once made his home here, indeed debuted his "Messiah" in a gathering where ladies were advised to leave the hoops out of their skirts and men were asked not to wear their swords, this to ensure that there was enough room for the capacity crowd expected in the Music Hall on Fishamble Street.
That would have been in 1742. Dublin, at the time, was a go-to place.
Personally, and if I had a time machine, I would go back a thousand years or more and do some trading with some of the local, eh, Danish Vikings.
Their jewelry was exquisite and that is in magnificent evidence in Ireland's National Museum which can be found on Kildare Street in today's city center, not far from the Little Museum of Dublin on St. Stephen's Green, which tells the story of said center, and all the rest of the capital.  
15
It's fair to say that not too many years ago, when Dublin came up in conversation, it was more often than not in the context of an old and proud city, but mostly an old one, suddenly embracing modernity at a pace that seemed to be at odds with its established reputation as a laid-back metropolis on Europe's fringe.
Something happened of course. Or a few things happened.
And then the conversation turned to international investment, a building and infrastructure boom, immigration as opposed to emigration, and a much faster pace of life for a population that was young, younger than most European counterparts.
Then came the bust. Now the recovery.
No big deal. That sort of thing was happening in the 13th century too.
Dublin has a bunch of centuries under its belt.
Back in the mid-1980s the powers that were in the town decided to mark a "Dublin Millennium" year, this on the basis that the ultimately chosen year, 1988, would fall a thousand of them after the local Irish wrested control of the town from the pesky Vikings.
15
It was pointed out at the time that the wresting back had actually occurred in 989. But what's a year here and a year there when you have so many of them to play with?
And so Dublin had its millennium. A lasting memory is of specially labeled milk bottles.
In truth, the millennium marking was an artificial construct.
Dubliners themselves needed no reminding that they daily walked, cycled or drove over ground that had witnessed feet and wheels for a very long time.
And visitors were for the most part aware that this place was on a chronological par with most European cities.
But it is the Dublin story of most recent years that has attracted worldwide attention, even as it has mounted a potent challenge to the long familiar, and decidedly old, Dublin narrative.
These days, a visitor might be in town to engage in the very latest business practices using the very latest technology and moving at a pace that would match the velocities of, say, New York, London, Tokyo or Shanghai.
15
But even the most teched-up arrival would be hard put not to notice that Dublin is a city with a zest for having a good time of it, a place where the "craic" is indeed mighty, and that enjoying a stay can be an alluring blend of the old and the new, all of it linked and enmeshed in an urban core that allows for a lot of ground to be covered in a relatively short time.
As much as places to visit can leave the visitor comparing the old with the new, this is no less the case with Dublin's contemporary culture and cuisine.
Music has been a cornerstone of Irish culture for centuries and today's music scene in Dublin perfectly blends the trad tunes from the past with more mainstream pop music.
There's nothing like the atmosphere of a traditional music session pouring out of the doors of Dublin's liveliest pubs.
Unless, of course, you're inside said door.
But while the thought of Irish music may conjure up images of tin whistles and bodhráns, Ireland has produced some of the most popular and best-selling artists of the pop and rock era.
Favorites like U2 and Thin Lizzy both got their starts on the streets of Dublin paving the way for even more recent pop acts like Kodaline and the Script who have racked up a number of awards and nominations in both Europe and the U.S.
15
The streets of Dublin have been, and always will be, an epicenter of great musicians, both old and new and it's fair to say that if you listen and contribute a euro or two to talented buskers that serenade famed Grafton Street, you may be funding the next Bono or Niall Horan.
As with culture, Dublin has long had its cuisine, and as the city's culinary reputation has soared, its best proponents of the cooking arts have adapted traditional dishes and ingredients to new levels of excellence and sophistication.
Food traditions in Ireland have undergone what many foodies have hailed as an exciting revival, with traditional favorites and high-quality local ingredients combined with the latest techniques and creative chefs.
The result is dishes that taste fresh, modern and delicious, while still staying true to their heritage.
One of Dublin's favorite restaurants is the Woollen Mills, known for offering modern twists on authentic dishes like a bowl of their popular Dublin Coddle - a hearty dish of sausages, bacon and potato that is unique to the city.
15
Food festivals have also made their mark in Dublin with the annual Taste of Dublin and the Big Grill festivals where Ireland's best-of-the-best chefs and eateries showcase their culinary skills.
With the farm-to-table and fresh-from-the-sea movements at the heart of every menu, Dublin's many great restaurants, gastropubs and farmers' markets guarantee that wholesome tradition is still the foundation of today's vastly expanded cuisine.
As for myself?
It's wonderful to see the leaps and bounds in Irish cuisine achieved in recent years, and impressive to see the range of global culinary delights on offer in Dublin's restaurants, but when back in the old town I invariably have one culinary primus inter pares on the mind: that would be smoked cod and chips, salt and vinegar, and a pint of Guinness on the side.
A must for everyone's culinary bucket list.
As with culture and cuisine, the drive towards blending the new with the old has been applied to the city's most famous structures. 
Old buildings are what they are and its best not interfere too much with them if they make the grade for preservation.
But sometimes an old story can best be told in a new setting.
15
Examples of this include Croke Park, a modern stadium that is home to the Gaelic Athletic Association Museum, where the history of Ireland's ancient games is illustrated and explained; the National Gallery, where old masters can be viewed under new light; Kilmainham Gaol, where new understanding of Ireland's fight for freedom can be gleaned from old walls; Leinster House, the façade of which will immediately bring to mind the White House – no surprise given that Leinster House served as an inspiration for Irish architect James Hoban when he designed the White House.
Leinster House has stood since the mid-eighteenth century but thanks to democracy this home of the Irish parliament is continually in receipt of new faces.
The new in the old? Have a fresh pint of Guinness in the Brazen Head, the oldest hostelry in town. They have not called time in this place since 1198.  
15
And speaking of that pint.
Guinness is synonymous with Dublin and many locals will argue vehemently that you can keep the elixir of life and better spend your time imbibing the pint of plain.
The famous stout has been brewed at St. James's Gate Brewery since 1759, but for almost all the time between then and recent years the brewing process was not deemed a must-see visitor attraction.
The Guinness Storehouse, opened in 2000, would change that.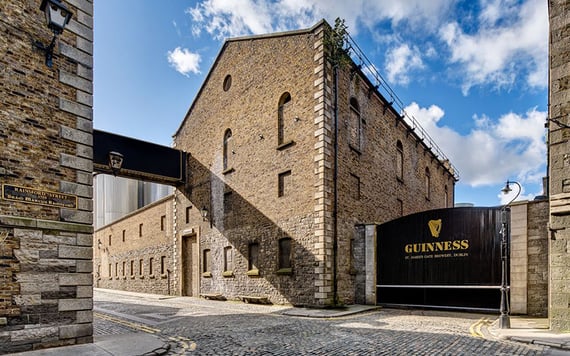 15
The seven-floor Storehouse is a homage to tradition, excellence, and a brew that has been one of Dublin's greatest gifts to the world.
The actual Storehouse building dates to 1902, but today's redesigned facility employs the kind of contemporary technology and people pleasers that have turned this gem into Dublin's single largest visitor destination.
At the other end of town, where the River Liffey widens as it becomes the port of Dublin, another more recently opened lure is EPIC, the Irish Emigration Museum.
The museum tells what is a very old Irish story indeed – that of how so many from the island traveled to all corners of the world and so created the global Irish diaspora, today estimated at seventy million people.
15
But EPIC tells this old story by using the very newest methods and technologies.
The effect is to make the past immediate, within touching and hearing distance, personal and very real.
Arguably, the acid test for any tourism host these days is to make people, younger ones especially, pack away cellphones.
EPIC actually manages this astounding feat, but to find out how it will be necessary to walk through its door on Custom House Quay in Dublin's recently minted Custom House Quarter.
EPIC is not so much old versus new. It is new in the old as its vaulted galleries, wired up to the nines with high tech, date to the building of a bonded warehouse in the early nineteenth century.
But if EPIC's home is among the newest old buildings in town, what is the plain oldest?
That would be Christ Church Cathedral, which dates to the first half of the eleventh century and was founded by King Sitric Silkenbeard, a part Irish, part Norse king who was inspired to build a cathedral after making a pilgrimage to Rome.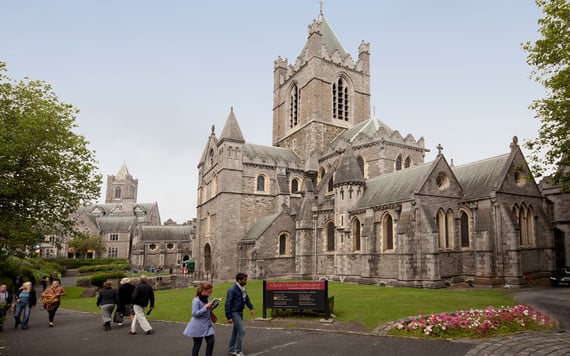 15
Christ Church has had a few makeovers down the centuries but retains its gothic splendor even as its flying buttresses sweep over one vault that dates, with little or no refurbishment, to the twelfth century.
Christ Church predates its near neighbor, St. Patrick's Cathedral, founded in 1191, by a century-and-a-half. But again, what's a century or two in Dublin's story!
That tale would not be complete without reference to a relative architectural newcomer, Trinity College, founded in 1592.
Trinity, as many are aware, is home to one of the oldest artifacts in Dublin, the Book of Kells.
This national, indeed global treasure, is actually in four volumes and typically two of them are on display at any one time in the Trinity library's famed "Long Room" which inspired a scene in one of the Star Wars movies.
15
The Book of Kells dates to about the year 800; not quite a galaxy far far away, though certainly long, long ago.
But Trinity is lately a repository for a quartet of even older illuminated manuscripts which have been restored for our time and future generations.
The Garland of Howth, the Book of Dimma, the Book of Mulling and the Codex Usserianius Primus are early Christian works dating from as early as the fifth century.
That would place them in and around the time of Saint Patrick!
The four, as with the volumes of the Book of Kells, are being put on public display by Trinity on a rotating basis.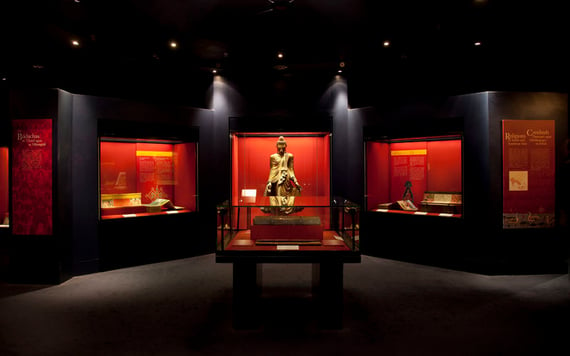 15
And in another example of the new being applied to raise the profile of the old, the manuscripts have been digitized for viewing online.
Imagine trying to explain digital to a monk holding a blank page of calfskin vellum…in Latin!
It's a good deal easier explaining Dublin's traditional and newer lures and attractions, and how the city is today presenting the old in a whole, yes, new light.
Ray O'Hanlon is the Editor of the Irish Echo newspaper in New York.
This post is proudly produced in partnership with Tourism Ireland. Find out more on Ireland.com
15