Ireland's population increased by 8%  (387,274 people) between April 2016 and April 2022, Ireland's Central Statistics Office (CSO) said on Tuesday, May 30.
There were 5,149,139 people in the Irish State on Sunday, April 3, 2022, the night of Ireland's most recent Census, the CSO said on Tuesday.
It is the first time in 171 years that Ireland's population exceeded the five million threshold, the CSO noted.
"After a constant decline since 1851, Ireland's population recorded its lowest level in 1961 when it stood at 2,818,341," the CSO reported. "It then began to increase again and, in 2022, was 83% higher than 61 years previously."
The 2022 figure represents total growth of 8.1% over the six years since Census 2016, or an annual average increase of 1.3%. In the previous intercensal period, 2011 to 2016, Ireland's total population growth was 3.8%, or an annual average increase of 0.7%.
Natural increase made up 167,487 of the change, the CSO said, while the estimate for net migration is 219,787.
The new data was released on Tuesday as part of the CSO's 2022 Summary Results, which detail the Irish population changes in the six years since April 2016.
Commenting on the results, Cormac Halpin, Senior Statistician in the Census Division, said: "Today's publication is based on the Census of Population taken on the night of Sunday, 03 April 2022 and provides insight into Ireland's changing society.
"This release includes summary analysis on a wide range of topics such as population change, health, migration, diversity, employment, education, and dwelling characteristics."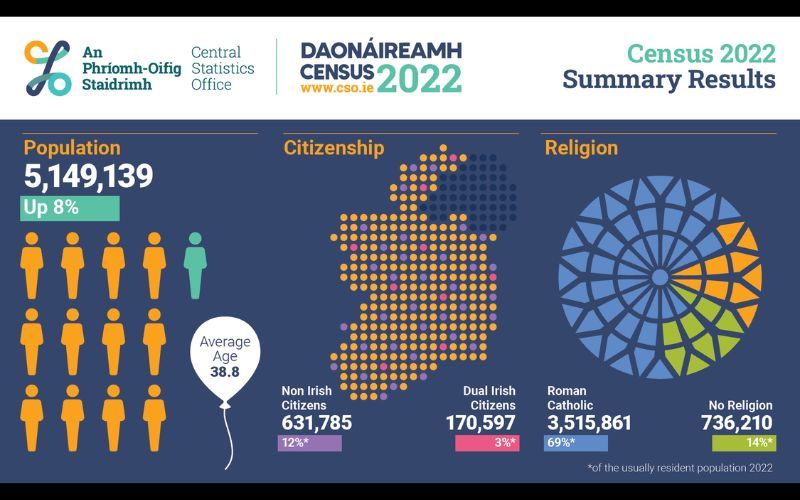 2
Every county recorded population growth between 2016 and 2022, the CSO said. The data collected during Census 2022 shows that all counties experienced both natural increase and positive estimated net migration in the six years since the previous census. 
Increases in population since 2016 ranged from 5% in Donegal, Kilkenny, and Tipperary to 14% in Longford.
Population growth tended to be stronger in the east of the country with Meath growing by 13%, followed by Fingal at 12% and Kildare at 11%.
Population changes by county show that Fingal had the largest natural increase (19,183), followed by Cork (county and city combined) (17,218).
Leitrim (770) and Sligo (1,373) were the counties with the smallest natural increases.
Estimated net migration ranged from 1,847 in Monaghan to 24,070 in Cork (county and city combined).
Ireland's highest increase in population was seen in the over-70s group at 26%, while there was a 4% fall in the number of people aged 25 to 39.
The average age of the population increased from 37.4 in 2016 to 38.8 in 2022, continuing the aging population trend from 2011 when it was 36.1.
There were 2,544,549 males and 2,604,590 females in Ireland, which is 98 males for every 100 females. 
Irish and dual-Irish citizens made up 84% of the population. 
The number of non-Irish citizens increased since 2016 and now stands at 631,785, which represents 12% of Ireland's usual resident population.
The number of people who recorded dual Irish citizenship was 170,597, representing a 63% increase from 2016.