President of Ireland Michael D. Higgins has accused far-right elements of "whipping up fear" at a number of recent protests against the housing of asylum seekers.
"What is unforgivable and must be opposed – publicly, vocally and unequivocally – are those who are trying to take advantage by sowing hate and building fear," Higgins told the Sunday Independent.
"We are in a position now where we have elements who are not interested in solving the long-standing problems within communities or the new arrivals. You mustn't give them the opportunity.
"The best way of not giving them the opportunity is to fill the place up with services. These people who are going around whipping people up and so forth, you didn't see them previously making a case for housing, or for women's rights, or for equal rights of any kind."
Higgins spoke a day after a masked protestor told a crowd of 200 outside Finglas garda station in north Dublin city: "The only way to f---ing deal with these c---s is burn them out of the f---ing place."
The president said he was aware of other similar protests in Dublin and elsewhere in Ireland. Pointing to Ireland's long history of emigration, he called for tolerance.
At the same time as it carried the interview with Higgins, the Sunday Independent also carried an Ireland Thinks opinion poll where 56 percent believe the country has taken in too many refugees in the past year. 36 percent disagreed and 14 percent said they were unsure.
On Monday, two opposing groups held protests in Dublin – one to highlight promoting diversity in Ireland, the other to criticize the media for its coverage of protests in recent times.
The group promoting diversity was about 500 strong in O'Connell Street and was organized by Le Cheile where speakers highlighted the need to accommodate people fleeing persecution. Speakers also criticized the government for not managing the situation and leaving the way open for the far-right to push a hate-filled agenda.
Today the majority came out to show solidarity with refugees and migrants.

ALL OUT on February 18th, it's time to tell the fascists to get back in their box.#DiversityNotDivision#IrelandForAll #RefugeesWelcome

Join us
⏰Feb 18th, 1:30pm
📌Parnell squ https://t.co/LrQnGzfWdk pic.twitter.com/s93Gd7d0fG

— Le Cheile (@LeCheileDND) February 6, 2023
The other group, mainly anti-immigrant protestors up to 1,000 strong at times, marched through the city, stopping outside newspaper offices, radio stations, and government buildings where speakers accused politicians and the media of being liars and traitors with "blood on their hands."
Some of the recent protests are by communities complaining they were not consulted by the authorities in advance of placing groups of refugees in their areas.
But far-right activists making claims of criminality by refugees to which gardai say there is absolutely no basis have hijacked a number of the protests to capitalize on local unrest.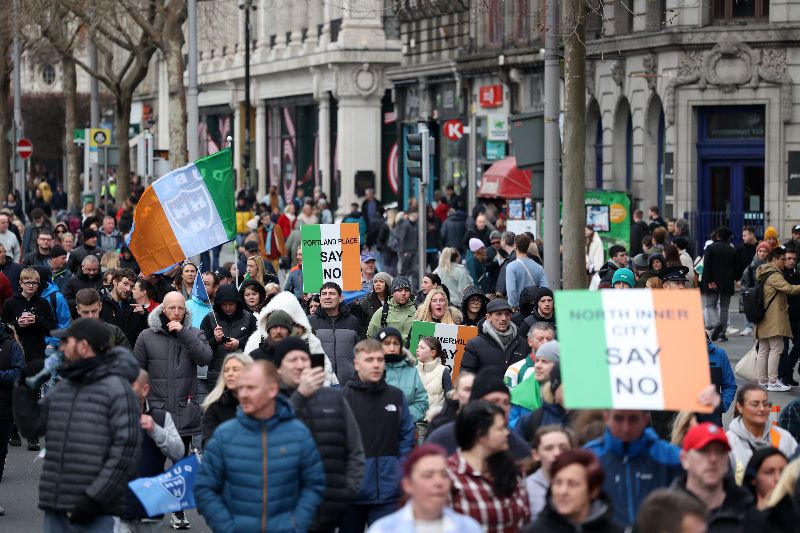 2
Meanwhile, interim Justice Minister Simon Harris has this week sanctioned the resumption of passport checks at the steps of aircraft in an attempt to address the significant numbers of asylum seekers who have lost or destroyed their travel documents while flying into the state.
Gardai are carrying out "doorstep operations" on a twice-weekly basis by checking documentation as passengers disembark from flights at Dublin Airport. The policy was initiated by former Justice Minister Charles Flanagan to prevent passengers without any travel documents from disembarking at Dublin Airport but was discontinued after the change of government in 2020.
*This column first appeared in the February 8 edition of the weekly Irish Voice newspaper, sister publication to IrishCentral.