Iranian ambassador to Ireland rules out Co Clare attack, claiming that General  Qassem Soleimani is held in the same esteem in Iran as Michael Collins is in Ireland.
The Iranian ambassador to Ireland Masoud Eslami stated that President Trump's Doonbeg Hotel and Shannon Airport, both in Co Clare, would not be the target of an Iranian revenge attack. 
He also compared General Soleimani to Irish patriot Michael Collins, arguing that they were both "icons of resistance and bravery" in resisting foreign intervention.
Ambassador Eslami added that to think of the effect of Collins' loss to Ireland was a "glimpse of the sorrow that tens of millions of people are feeling because of his [Soleimani's] loss." 
Read more: American voter asked to point out Iran on world map, picks County Wexford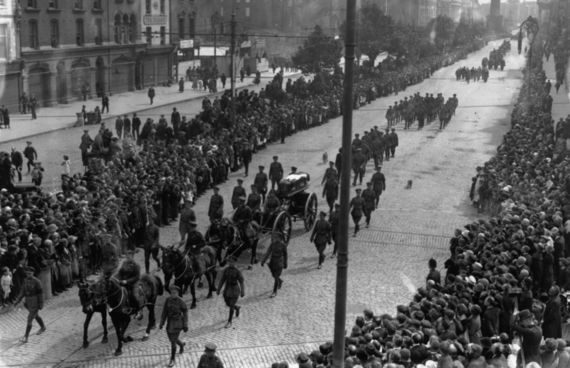 4
Earlier this week, IrishCentral reported on the concerns of a protest group at Shannon Airport who believe that the Iranian regime could target the US President's Irish golf course or the west-coast Irish airport which acts as a layover for US military planes.  
"If the present crisis between the US and Iran escalates, Shannon Airport is one of the possible locations for an Iranian 'counter-attack' to stop it being used by the US military. This is not just scaremongering, this could be a reality," claimed Edward Horgan of Veterans for Peace. 
Ambassador Eslami confirmed to the Irish Independent, however, that no such risk exists for Shannon "for the time being," later "absolutely" ruling it out. 
4
 "I don't want to make a statement that brings worry or makes people worry about this but I can tell you that it is not in the interests of Iran," the Ambassador said.
"Iran is not speculating to target this kind of facilities."
 "It has not been intended… to threaten personal properties of Trump anywhere, and it is definitely not going to be the case in Ireland," he added of a potential threat to Trump's hotel in Doonbeg. 
Ambassador Eslami did, however, warn the Irish government about the continued use of Shannon Airport by the US military and urged them to rethink the agreement. 
Read more: Fears grow that Iranian regime will attack Shannon Airport, claim protest group
He said that the government should "reconsider the use of Shannon Airport to facilitate military action by the US which has been an issue at local level, a national level in Ireland."
The organizers of a monthly protest against the US military's use of Shannon Airport in Co Clare noted a huge surge in interest among the general public across Ireland ahead of the next scheduled vigil at the airport on Sunday (2 pm).
4
The airport in Co Clare, close to President Donald Trump's Irish golf course, has been used by US military planes and civilian carriers transferring troops to and from the Middle East since then-President George W. Bush began his "war on terror" in the wake of the 9/11 attacks in 2001.
After the Iranian regime launched missiles to retaliate for the assassination of General Qassem Suleimani on Tuesday night, the head of Iran's regular military, Major General Mohammad Baqeri, issued a stark warning which was greeted with alarm by protestors in Co Clare.
Did you agree with President Trump's strike? Let us know your thoughts in the comments section below. 
H/T: Irish Independent.