Met Éireann, Ireland's meteorology service, has issued a Yellow Warning for nine counties as Hurricane Lorenzo is expected to hit land by Thursday.
Ireland's weather services, Met Éireann, predict heavy rain in the southwest of Ireland from Monday as the hurricane approaches.
Hurricane Lorenzo, now a category-five storm (the most powerful) will likely weaken to a cyclone as it approaches Europe. If the Hurricane hits Ireland it is likely that most of the country will experience blustery conditions and the potential of further heavy rainfall.
Now Hurricane Lorenzo is moving at wind speeds of more than 260km/h. If it weakens to cyclone status its maximum wind gusts would be around 120km/h, with sustained wind speeds of 100km/h. Lorenzo will arrive off the Connacht coast late on Thursday night and into the early hours of Friday.
Irish Friends, please keep an eye on Hurricane Lorenzo projected to make Ireland on Thursday. Unusually powerful storm in that it's a category 5 this far east in the Atlantic. Ophelia in 2017 was only Cat 2. pic.twitter.com/aUMlN0nYMo

— John Barimo (@JohnBarimo) September 29, 2019
Yellow Status rainfall
A Yellow Status rainfall warning was issued on Monday for parts of the provinces of Leinster and Munster including counties Cork, Kerry, Dublin, Carlow, Kilkenny, Wexford, Wicklow, Tipperary and Waterford. 
Weather forecaster with Met Éireann, Matthew Martin, said these counties are at risk of spot flooding as a result of the downpour but Wednesday can be expected to be bright and dry with temperatures of about 15C.
Martin told the Irish Independent "For rainfall, the total has been 25-35mm, and there could be the risk of some spot flooding from that. Then that rain will begin to fizzle out by tomorrow [Tuesday] morning, and clear away the east and will turn quite breezy for a while.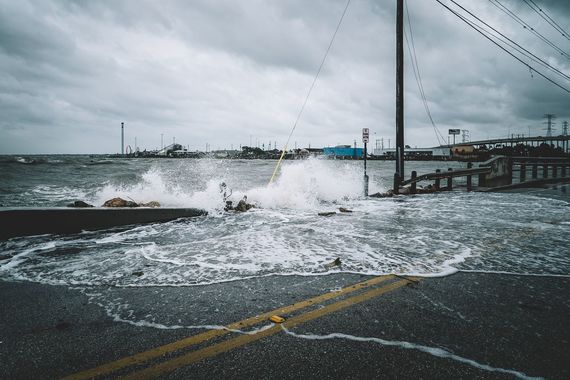 3
Predicting the Hurricane
"Then it will dry up tomorrow afternoon and evening. Then we'll have a cold night tomorrow night, cold and dry with clear skies. That will lead us into a mostly dry day on Wednesday with good autumn sunshine."
Met Éireann's Head of Forecasting Evelyn Cusack told RTE Radio 1's show, Morning Ireland, that it is impossible to predict Hurricane Lorenzo but said the storm's trajectory should become clearer over the next two days. 
She said, right now, there are two possibilities. One that the hurricane would join with a large area of low pressure over Iceland and move to the northwest of Ireland, bringing tropical air on Thursday, or it could track more to the Bay of Biscay and produce heavy winds and rainfall.
Cusack warned that whatever the outcome the hurricane will produce "very dangerous" coastal conditions with heavy sea swells. 
3
"Either it will join up with the large area of low pressure, the trough around Iceland, and move away to the northwest of Ireland, just bringing up warm tropical air on Thursday. Or it could track more towards the Bay of Biscay, or indeed western Europe, so it's all to play for at this stage," Cusack told RTE. 
"Whatever it does, it will bring produce very high swell around our shores, so for Wednesday and Thursday in particular - very dangerous sea conditions around our shores."
International cooperation
Currently, Hurricane Lorenzo is near the Azores Islands, about 948 miles off the coast of Portugal, and is moving at a slow speed. However, there is doubt over where it will track over the next 72 hours. If the storm weakens but continues in the direction of Ireland it will significantly affect the island's weather later this week. 
Met Éireann, the United Kingdom Met Office and the United States National Hurricane Center are holding daily conference discussions in relation to the storm. The NHC said that it was the strongest hurricane on record this far north and east in the Atlantic basin.